Ruka, Finland – On Friday, Vermont's Andy Newell skied his best World Cup since 2013, finishing fourth in a classic sprint in tough conditions.
"It's going to be fun to watch Newell this year," said coach Matt Whitcomb after the race. "He's in form in a way I don't think we've seen before. He demonstrated his savvy today advancing from one heat to the next when he got boxed on the inside track. Instead of merging left into good tracks and more traffic, he snuck right and skied out of the tracks and directly at the coaches that were crowding the trail…Today Newell's quick thinking and ability to adapt on the fly made a difference."
Norway swept the podium in the men's competition: Sondre Turvoll Fossli dominated the final heat to win his first World Cup race, ahead of Eirik Brandsdal and Petter Northug.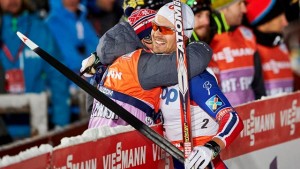 "Throughout the heats I played to the simple strategy of 'hammer the hill into the stadium,'" said Newell after his solid finish. "In the quarterfinal I didn't have a great downhill into the last climb so I got stuck in traffic a little bit. It's never good to be stuck behind people in the big climb. That was also a really stacked heat, so I knew if I pushed hard to the line there would be a good chance to be a lucky loser. It worked out."
In the woman's competition, Maiken Caspersen Falla of Norway won the overall race followed by Stina Nilsson of Sweden and Ragnhild Haga of Norway. Ida Sargent (Orleans, Vt.) and Sadie Bjornsen (Winthrop, Wash.) progressed through each round but did not move onto the finals.
The second race of the Ruka Triple, a 10k/5k Freestyle, takes place today.
After the solid showing from the team, Whitcomb also described the team dynamic as fantastic. "The vibe on the team is as good as we've ever had it. Although nobody here knows what Thanksgiving is, a couple athletes arranged for a 23-person table at the restaurant last night," said Whitcomb. "So we ate pork cheeks (we think), and were thankful for being able to travel the world representing our country."
OFFICIAL RESULTS
FIS Cross-Country Ski World Cup
Ruka, Finland – Nov. 27, 2015
Men's Classic Sprint
Rank
Nation
Name
1
 NOR
FOSSLI Sondre Turvoll
2
 NOR
BRANDSDAL Eirik
3
 NOR
NORTHUG Petter Jr.
4
 USA
NEWELL Andrew
5
 SWE
JOENSSON Emil
6
 SWE
PETERSON Teodor
7
 NOR
KROGH Finn Haagen
8
 ITA
PELLEGRINO Federico
9
 RUS
PETUKHOV Alexey
10
 FIN
STRANDVALL Matias
Women's Classic Sprint
| | | | | |
| --- | --- | --- | --- | --- |
| Rank | Nation | Name | | |
| 1 | NOR | FALLA Maiken Caspersen | | |
| 2 | SWE | NILSSON Stina | | |
| 3 | NOR | HAGA Ragnhild | | |
| 4 | NOR | OESTBERG Ingvild Flugstad | | |
| 5 | SWE | INGEMARSDOTTER Ida | | |
| 6 | NOR | WENG Heidi | | |
| 7 | USA | SARGENT Ida | | |
| 8 | NOR | HARSEM Kathrine Rolsted | | |
| 9 | SWE | SETTLIN Evelina | | |
| 10 | GER | HERRMANN Denise | | |