Ophir, CO – Two brothers skiing in the backcountry south of Telluride, Colo., survived two separate avalanches last Wednesday.
Alex and Brian Holmes, both residents of Ophir and ages 27 and 26, respectively, were skiing from Trout Lake to Ophir and had begun their descent into the north-facing, above-treeline Fatwa Couloir area of Waterfall Canyon when a massive avalanche swept Brian Holmes from sight, according to the San Miguel County Sheriff's Office and the Colorado Avalanche Information Center (CAIC).  As Alex Holmes descended to search for his brother, a second slide ripped out of the mountainside, carrying Alex.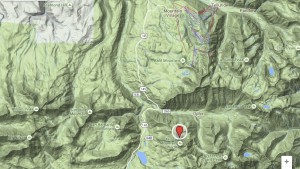 Believing his brother was dead, Alex Holmes skied back to Trout Lake and contacted rescuers, who sent a helicopter and Telluride Ski Resort patrollers with an avalanche rescue dog. Meanwhile, Brian Holmes was only partially buried with his face and one arm exposed after being carried an estimated 1,000 feet down the mountainside. He self-extricated from the avalanche debris and searched for Alex, whom he presumed to be dead as well.
"During the ongoing mission, dispatchers reported that they received calls from a cellphone belonging to Brian Holmes coming from the area of the slide. Dispatchers said they heard someone breathing, but no further communication was established," the Sheriff's office reports.
After an hour of searching, Brian Holmes made it back to Ophir under his own power, when the search effort was called off. Brian Holmes was transported to Telluride Medical Center for further assessment and treatment for what appeared to be non-life threatening injuries.
"The San Juans in general can represent some of the most tenuous snow conditions on the continent," said San Miguel County Sheriff's Deputy Todd Rector. "Given the circumstances and nature of the slide, this skier is extremely fortunate."
Meanwhile, rescuers in Alaska have deemed it too unsafe to conduct a ground search for Dr. Liam Walsh, 33, a backcountry skier from Wasilla who has been missing on Hatcher Pass for more than a week. An Alaska State Troopers helicopter attempted to search for the missing skier last week with Search and Rescue (SAR) and a Hatcher Pass Avalanche Center (HPAC) avalanche specialist, but the search did not result in any clues as to his location.
Up to six feet of new snow has blanketed the search area, covering old debris and making the scene unsafe for a ground search. Warm temperatures, significant new snow, and wind continue to contribute to increasing avalanche conditions.
"An avalanche cycle of this magnitude has not been seen at Hatcher Pass for more than a decade," HPAC officials indicated in a warning issued on Friday.