Big Sky, MT – The 9th annual Turkey for a Ticket will be hosted by Big Sky Resort in Montana on December 11, at the Madison Base Area starting at 8:30 a.m. This annual event encourages guests to give to the local food banks in exchange for a free day of skiing. The Turkey for a Ticket food-raiser will help Gallatin Valley Food Bank, Madison Valley Food Bank, and the Big Sky Food Bank to provide food for people and families in need this holiday season.
Participants will receive a free lift ticket valid for the day of the event in exchange for a minimum 13-pound frozen turkey or 20 cans of non-perishable food. Specific canned items the Food Banks are in need of are fruit, tuna, chili, tomato sauce, and soups.
"We look forward to the Turkey for a Ticket event because it is our chance to guarantee that the shelves will be filled throughout the rest of the year," said Sarah Gaither, Big Sky Community Food Bank Operations Manager. "Because of these Turkey for a Ticket reserves, we are able to cut down on food purchase costs and focus our funds on keeping the lights on and refrigerators running."
Since the inaugural year in 2007, Turkey for a Ticket has collected close to 200,000 pounds of food for local area food banks. As the holidays approach, the need in the area food banks increases. Big Sky Resort is helping the food banks reach this need by incentivizing community members near and far to give to the food banks in exchange for a day lift ticket to Big Sky Resort.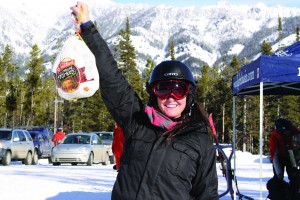 Gold, Bronze, and Moonlight Area Season Pass holders are encouraged to give in exchange for a $20 Moonride demo ski or snowboard rental to be used between December 11 and 25. A regular demo ski rental costs $69 (offer valid at Moonride at Madison Base Area).
"We continue to see nearly 3,000 individuals a month and the Turkey for a Ticket Food Drive helps us meet the ongoing need. We are grateful for such a giving community," said Jill Holder, Gallatin Valley Food Bank Operations Manager.
Food bank trucks, volunteers, and Big Sky Resort staff will be at the Madison Base Area of Big Sky Resort at 8:30 a.m. on December 11, the opening day for Madison Base, to accept the frozen turkeys or 20 cans of non-perishable food in exchange for one lift ticket per person per donation. For more information on Turkey for a Ticket, visit bigskyresort.com/turkey.