Alta Badia, Italy – Austria's Marcel Hirscher won his third-straight Audi FIS Alpine World Cup giant slalom on Sunday, and became the only racer in history to win three times at Alta Badia. Henrik Kristoffersen of Norway was second, followed by Victor Muffat-Jeandet of France in third.
Park City, Utah's Ted Ligety led a recharged men's tech team, just missing the podium in fourth, as the Americans rebounded from a disappointing first run performance. Ligety was followed by Tim Jitloff (Reno, Nev.) in seventh, and Tommy Ford (Bend, Ore.) in 12th.
Following a disappointing first run for the Americans, the athletes and coaching staff made a few changes to re-charge for the second run. Ford was first to start the second run and posted the fastest second run of the day.
"I finally let it go second run and skied really well … skied clean," Ford said.
"We made some good adjustments for the second run by the staff and athletes to find where the speed was on the hill and attack it," said U.S. Head Men's Coach Sasha Rearick. "Absolutely career best run for Tommy Ford on the second run. He was impressive – very, very, impressive!"
Ligety and Jitloff sat 1-2 on the leaderboard midway through the second run after nailing the middle section and carrying speed into a pair of rollers (that will be used for Monday's parallel giant slalom) into the finish. They watched as racer after racer failed to knock them off the leaderboard.
France's Mathieu Faivre and Alexis Pinturault finally split the U.S. leaders, knocking Jitloff to fourth as Ligety still sat atop the leaderboard with three racers remaining. However, the victory wasn't meant to be for Ligety as Muffat-Jeandet moved into the lead, followed by the 21-year-old Kristoffersen, and finally Hirscher, whose victory solidified his lead atop the World Cup giant slalom standings with another 100 World Cup points.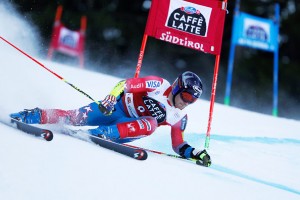 "I knew going into the second run that I needed to throw down a great run, because my performance to this point has just been OK and not up to my capabilities," Jitloff said. "I was very nervous for sure, but that nervousness helped push me."
For Ligety, just getting back toward the top of the leaderboard was a major accomplishment, but he admits he still has a lot of work to do after suffering through back issues for the past couple of months.
"I feel a bit smaller and weaker than I was two months ago," said Ligety, who took three weeks off from training to rest his back. "I don't have any pain anymore; but I just need to get back to being strong again."
Up next, the men tackle a new event, the parallel giant slalom Monday night at Alta Badia.
"I'm not really sure, like everyone, how that's going to work," Jitloff said of the new race format. "But it's still a race and it has points, so we have to charge and do our job there."
World Cup ski racing began in 1967 with events only in downhill, giant slalom and slalom. Then, over the years, different disciplines were added to the program: combined in 1975, City Event in 1975, super G in 1982 and super combined in 2005.  Parallel giant slalom will make its debut tonight.
"It is going to be interesting," Rearick said, adding that the U.S. Ski Team headed off to a secret location to practice starts. "A lot of it is going to be on the start … it's going to be a fun event."
The goal is to showcase head-to-head fights between the best giant slalom racers in a compact product aimed at television audiences. Sixteen racers pre-qualify through the giant slalom WCSL (World Cup Starting List), joined by the best four overall racers present in Alta Badia (Svindal, Jansrud, Weibrecht and Myhrer), and an additional 12 who qualified through Sunday's first run. So in total, 32 athletes start Monday's race.
Match-ups start with 1/16 finals featuring two runs, which means that the athletes ski one run on the red course and one on the blue. Then, from the 1/8 finals on, it's a one-run knockout format:  the fastest advances, the slowest is out. The lower bib number (higher ranked racer) choses the course. The action continues to the big final.
"First of all, we use 23 to 24 meters distances between the gates for course setting, which corresponds to the average distance in giant slalom," explains World Cup Chief Race Director Markus Waldner. "Then the racers must ski with GS skis, so 34 m radius like they used (Sunday). But like in the other parallel events, we will use normal giant slalom gates and panels. Running time will be approximately 20 to 22 seconds."
OFFICIAL RESULTS
FIS Alpine Ski World Cup
Alta Badia, Italy – Dec. 20, 2015
Men's Giant Slalom
| | | | | | | |
| --- | --- | --- | --- | --- | --- | --- |
| Rank | Nation | Name | Run 1 | Run 2 | Total | Diff. |
| 1 | AUT | HIRSCHER Marcel | 1:16.95 | 1:16.39 | 2:33.34 | |
| 2 | NOR | KRISTOFFERSEN Henrik | 1:17.13 | 1:16.40 | 2:33.53 | +0.19 |
| 3 | FRA | MUFFAT-JEANDET Victor | 1:16.90 | 1:17.30 | 2:34.20 | +0.86 |
| 4 | USA | LIGETY Ted | 1:18.34 | 1:16.35 | 2:34.69 | +1.35 |
| 5 | FRA | FAIVRE Mathieu | 1:18.03 | 1:16.74 | 2:34.77 | +1.43 |
| 6 | FRA | PINTURAULT Alexis | 1:18.03 | 1:16.75 | 2:34.78 | +1.44 |
| 7 | USA | JITLOFF Tim | 1:18.66 | 1:16.54 | 2:35.20 | +1.86 |
| 8 | GER | NEUREUTHER Felix | 1:17.55 | 1:17.68 | 2:35.23 | +1.89 |
| 9 | AUT | SCHOERGHOFER Philipp | 1:17.77 | 1:17.53 | 2:35.30 | +1.96 |
| 10 | GER | LUITZ Stefan | 1:18.12 | 1:17.29 | 2:35.41 | +2.07 |