Sutton (QC), Canada – Québec investors, residents of the quaint village of Sutton just north of the Vermont border, today announced an agreement to acquire Ski Sutton Inc., the owner of the Mont Sutton ski resort.
The group consists of true devotees of the resort and the region: Jean Michel Ryan, Mont Sutton's General Manager; and Sylvain Gervais of Entreprises Larry and Pierre Chesnay and a former member of Uni-Sélect's senior management.  The deal, terms of which were not disclosed, was reached with the Boulanger family, Mont Sutton's founders and the resort's majority shareholders.
Ski Sutton Inc.'s shareholders will be called upon vote on the agreement at a shareholders' meeting which will take place in March. The transaction is subject to certain conditions, including the acceptance by the majority of the Ski Sutton Inc.'s minority shareholders.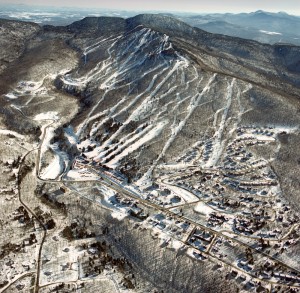 Mont Sutton's prospective new owners also announced an ambitious investment plan that involves projects over the next four years including improvements to the snowmaking and trail maintenance system as well as to the accommodation infrastructures at the resort.
"Our vision of Mont Sutton's development will ensure continued skiing and outdoors activities," said Ryan. "Our approach has at its core the very same values that have given Mont Sutton its enviable reputation. We will safeguard the mountain's DNA and protect its authentic character. The entire community will reap the benefits of these future investments."
As part of another agreement, Nature Conservancy of Canada has agreed to purchase a portion of the mountain's moose habitat to consolidate the Green Mountains Nature Reserve Sutton sector, promising to protect the area while upholding access for hikers. This could ultimately lead to an increase in the number of hiking trails available.
The Ski Sutton Inc. Board of Director President, Benoît Boulanger, is pleased with the agreement. "This is an offer that respects the community, the employees, the shareholders and the customers of Mont Sutton. They will be able to enjoy the impetus of these new developments, led by individuals committed to protecting the distinctive qualities of the resort, a factor we consider essential," he indicated.
Famed for its glade skiing and snowy microclimate in the Eastern Townships, Mont Sutton has been in operation since 1960. The ski mountain employs over 400 during the winter season, making it a key economic force and tourist attraction in the Townships.
"This is an exceptional site and ski mountain which we ensure to develop, with the community's values and support," concluded Ryan.