Salt Lake City, UT – A few weeks ago we told you about an electrically heated jacket and gloves from Gyde Supply.  No sooner did we publish that review than our phones started ringing to tell us about a down-filled alternative.
We tested the down jacket, down vest and gloves introduced by Utah-based startup Ravean and found excellent electrically-heated garments available at a surprisingly low price, but only for a limited time. The company has already raised over $2.7 million via crowdfunding, proving that there is a viable consumer interest in electrically heated apparel, and they're giving early adopters a real deal — but more on that in a bit.
Ravean utilizes patented carbon wires embedded in panels to deliver heat from the garment to the user, but everything is nevertheless fully machine washable. The company's products use both 5-volt and 12-volt battery supplies, depending on the garment, and it's taken a different approach with its gloves than other heated glove manufacturers have done. Rather than use separate battery pack stored in the glove's gauntlet, Ravean's liner-style, touchscreen-compatible gloves plug into the jacket sleeves next to a stretch wrist with thumb hole, and therefore use the same 12-volt battery that powers the jacket. That also means that you can add heat to your existing ski gloves. Zippers on each sleeve retract the connections when not in use into a pocket that can also hold an RFID ski pass.
But Ravean isn't stopping there, for in addition to heated pants and a heated sock, the company currently has an insulated ski glove in development that can also be plugged into the jacket, for those adverse to liner gloves. "We are in the process of developing more gloves," Ravean co-founder Henry Deutsch confirmed. "The gloves so far work great as a liner, or OK for spring skiing, but we need to add a little insulation to have them as a standalone. The good news is with the new system, there will be no battery on the gloves, and it will all come from the connectors on the jacket."
Ravean's hooded down jacket (regularly $269-299 with gloves) and vest ($149) are both insulated with 650-fill duck down (90% down/10% feather), and moisture is kept at bay with a DWR finish on the 400T, 100% nylon outer shell. Both men's and women's styles are available. The hooded jacket that we tested has a two-zone heating system with two heated panels on the upper back and two on the chest connected to one circuit, and the glove connections and heated slash pockets connected to another. Each circuit can be controlled independently via separate buttons located just inside the collar that each have three heat settings, allowing the user to direct heat to where they need it most, and at the intensity they need. The buttons are easily controlled without removing gloves.
The 12-volt, 4000 mAh battery pack sits low on the back of the jacket above the left side of the hem, and has built-in LED indicators to show the charge level. In our testing it delivered heat all day, and while it's admittedly large we didn't particularly notice the battery pack while skiing. A second-generation battery pack we observed in development is actually curved to better fit the contour of the user's back. Another large zippered pocket sits on the right hip to securely stow other essentials.
Both the jacket and the vest feature an inside zippered chest pocket to store your phone or mobile device, complete with a headphone cord port. We would have preferred access to the media pocket from the outside, rather than the inside to eliminate the need to open the jacket to access our phone while still keeping it warm, but that's a minor quibble and the manufacturer was receptive to our feedback. The battery pack can also be used to recharge your phone, and for that purpose there's another wire port leading from the left slash pocket, near the battery, along with a fabric sleeve to help with routing of your phone's charging cable.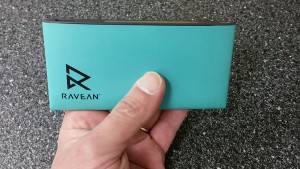 By contrast, Ravean's down vest has a single large back and two chest heating panels, controlled by a single button and powered by a much smaller and slimmer 5000 mAh 5-volt battery that's about the size of a smartphone. This also delivered all-day heat in our tests. Lacking sleeves, it's not possible to power Ravean's gloves with the vest; otherwise, the feature set in the vest is nearly identical to that found in Ravean's down jacket.
We found construction and finish quality of both products to meet expectations, although zipper pulls on our samples were reversed from U.S. standards for male wearers. The vest provided a form-fitting shape, while we found the jacket to fit a bit larger than expected for its stated size — something that was accentuated by the weight of the battery pack. If you order the jacket, when in doubt go one size smaller.
Out on the slopes we found that the vest was more than adequate at temperatures we didn't expect to feel comfortable in. One of our testers who's notoriously cold all the time was perfectly comfortable in a thin base layer, Ravean's vest and an uninsulated shell, even at temperatures in the low 20s. Heating zones rapidly warmed to temperature in about 30 seconds. We learned, however, that because the battery is always on (to be available to the user at the push of the garment's control button) it can't be stored plugged in to the jacket, as that slowly drains the battery even when in storage — something that we learned the hard way. Just keep the battery pack in its zippered compartment and plug it into the jacket prior to loading the day's first chair.
"One of the benefits is when you go inside, and turn it off, the power is still on, so when you want to go back out, there is no warmup period," Deutsch explained.
Even with the heat turned off, Ravean's hooded jacket was incredibly warm. Using the jacket as a mid-layer as we did, we'd prefer to not have a hood, but that's where Ravean's current offering of a jacket with a detachable hood would be the perfect solution.
Ravean products will be exclusively distributed direct to consumers via the company's e-commerce site. All come with a five-year warranty on the heating elements, and a lifetime warranty to the original owner against manufacturing defects in materials and workmanship.
At the beginning of this review we promised you a deal, and it's a whopper. On Ravean's Indiegogo page you can currently buy their hooded down jacket, complete with heated gloves for $199, a substantial discount off the list price and about the same cost as a decent non-heated down puffy. That Indiegogo price is only good until this Saturday, Jan. 30, so you've got to act quickly to score one of our favorite heated garments to date at a great price.