Boston, MA – The U.S. Grand Prix will break new ground this week when it presents the Polartec Big Air at Fenway, a scaffolding big air event situated in the center of one of America's most iconic baseball venues: Boston's Fenway Park. Never before has the U.S. Grand Prix featured a big air-only event, and never before has freeskiing and snowboarding been presented in such an historic American venue.
The Fenway big air event will feature Olympians such as Sochi slopestyle gold medalists Joss Christensen (Park City, Utah) and Sage Kotsenburg (Park City, Utah) and silver medalists Gus Kenworthy (Telluride, Colo.) and Devin Logan (West Dover, Vt.).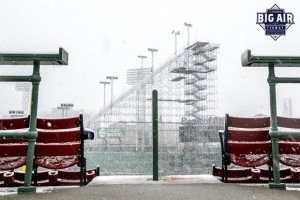 "I've done a bunch of stadium big airs," Kenworthy said from the Park City Grand Prix, "I think that they're really cool events that allow a new crowd to enjoy a ski event that never would have before. The photos that I've seen from Boston look amazing—it's so big and tall that when you stand on top of the drop in you're going to have panoramic views of the city. It's just so cool to be in such an iconic stadium."
The scaffolding drop in at Fenway will reach a height of 140 feet—taller than the stadium lights and nearly four times the height of the famed Green Monster at the 104-year-old venue, the oldest in Major League Baseball. With a festival-type atmosphere, a Boston-themed line-up of musical acts are slated to perform, including the bands American Authors and Bad Rabbits, along with a premiere of Teton Gravity Research's new film The Sammy C Project. Tickets are still available.
"I thing the Fenway big air is going to be really cool," said U.S. Snowboarding athlete Eric Willett. "Boston is going to be a different crowd – you're going to get a baseball crowd that just wants to be in Fenway to check out what the event is going to be along with people that know a lot about snowboarding. There's a lot of history in that park, so for us to be able to be there is a pretty big honor."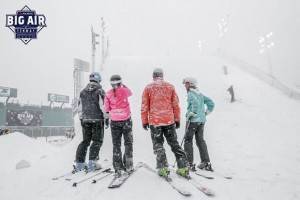 The event will also serve as a World Cup and points will also go towards and the Association of Freeskiing Professionals (AFP) rankings and the World Snowboard Tour (WST) rankings. Both events will be broadcast on NBC and NBCSN along with live streaming of the finals on nbcsports.com and on the NBC Sports LiveExtra app.
EVENT SCHEDULE (times EST)
Thursday, Feb. 11
8:00 p.m. Snowboarding Big Air Finals
Friday, Feb. 12
8:00 p.m. Freeskiing Big Air Finals
BROADCAST SCHEDULE (times EST)
Thursday, Feb. 11
8:30 p.m. – Snowboarding Big Air, Boston – NBCSN
Friday, Feb. 12
8:30 p.m. – Freeskiing Big Air, Boston – NBCSN
Saturday, Feb. 13
5:00 p.m. – Freeskiing and Snowboarding Big Air, Boston – NBC
Friday, Feb. 19
7:00 p.m. – Freeskiing and Snowboarding Big Air, Boston – NBCSN
Sunday, Feb. 21
1:30 a.m. – Freeskiing Big Air, Boston – NBCSN