Golden (BC), Canada – As the US dollar grows stronger, bookings are blooming north of the border. The lure of legendary Canadian mountain destinations, renowned hospitality, and now the "powder discount" is proving too much for American skiers and riders to resist.
The US dollar saw it's 10-year low in July of 2011 and has been climbing steadily since. The biggest boost, however, has been over the past 12 months, which has seen the US dollar rocket from $1.20 CAD to $1.40 CAD, according to exchange rates published by the Bank of Canada. There appears to be no end to this rise in sight, as David Doyle of Macquarie Capital Markets Canada Ltd. forecasts the US dollar to hit $1.50 CAD in 2016 and remain comparatively low "until the end of 2018 and potentially even longer."
With close to a half-dollar bargaining advantage, American skiers are looking at 50% discounts when considering Canadian vacations, an especially attractive price drop when considering high-end ski travel like heli-skiing.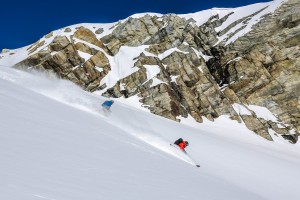 "We've always had a large percentage of American guests, but we've seen a real increase in the past year," says Greg Porter, owner of Great Canadian Heli-skiing in Golden, B.C. "Our operation, located conveniently close to Calgary, has been a favorite with American guests who want booking flexibility, a 5-star hosting experience and lots of skiing.
"The biggest difference we've seen with the recent surge in the US dollar is a number of new American guests and many of our current American guests are booking a multiple ski vacations this winter," Porter noted. "The exchange rate cannot be argued with and we have the reputation for delivering lots of great skiing for people on a tight schedule who want to maximize their precious time in the mountains."
While the rise of the US dollar might seem like bad news for Canadians, in tourism-based towns like Golden and Revelstoke, it means good news for the economy. "We're lucky to have a strong economic base in tourism and we're ready to welcome the influx of American tourists," shares Tourism Golden Manager, Joanne Sweeting. "Tourism brings well over $65 million per year into Golden spent on accommodation, activities, dining, retail and other services – not only are our local businesses hiring more staff but they're able to do renovations, buy more supplies locally, and generally increase the function of the local economy."
In the popular Canadian resort town of Whistler, ski resort operator Whistler Blackcomb Holdings Inc. on Wednesday reported skier visits through February 8, 2016 totaling 1.14 million, the highest year-to-date visits in the company's history and an increase of 21% over visits to the same date in prior year. While winter 2014-15 was admittedly a dismal snow performer in the Pacific Northwest, the strength of the U.S. dollar is likely joining improved snowfall in driving U.S. vacationers to contribute to this winter's record visits at Whistler Blackcomb.
"Looking ahead, we are positioned well for the remainder of the ski season as both season pass and frequency card sales and hotel room bookings are pacing ahead of the same time last year," commented Dave Brownlie, President and Chief Executive Officer of Whistler Blackcomb Holdings.
Visitor spending this winter is allowing the company to plan C$8 million in capital expenditures this year, including restaurant upgrades, enhanced learning terrain and infrastructure on Whistler Mountain and new summer hiking options.
The rise of the US dollar, combined with the absolutely epic winter western Canada is having is making northern ski destinations ever more appealing. "We only have a couple seats left in 2016 and are already approaching capacity for 2017. If you're considering a heli-ski vacation, we'd recommend you choose a date and commit soon, or you'll be waiting until 2018 or beyond," shares Porter. "With the strong US dollar we now have to figure out a way to extend winter!"