Stockholm, Sweden – Lindsey Vonn was looking to distance herself from Switzerland's Lara Gut in the battle for the overall World Cup title, and put on a show for the 7,000 screaming fans at the Audi FIS Ski World Cup city event in downtown Stockholm Tuesday night.
Vonn, Gut and 30 of the best skiers in the world lined up to compete head-to-head in the two-run paneled parallel slalom elimination race. Unfortunately for Vonn and Gut, they were both eliminated in the first round. However, each were awarded 15 World Cup points, so Vonn maintained her 23-point advantage over Gut in the battle for the overall World Cup title.
"I wish I could have made it farther,' said Vonn, who was eliminated in the first round by eventual winner Wendy Holdener of Switzerland. "But I haven't skied a dual slalom in three years, since the Moscow event, so I think I did pretty well considering."
Thrilling the home crowd, Swedish teammates Frida Hansdotter and Maria Pietlae-Holmner finished second and third, respectively in the women's race. Resi Stiegler, of Jackson, Wyo., was the only other American competing, and she was also eliminated in the first round.
In the men's event, overall World Cup leader Marcel Hirscher of Austria was first, followed by Sweden's Andre Myhrer in second and Italy's Stefano Gross in third. Hirscher was awarded 100 points for the victory and extended his overall World Cup lead to 173 points over Norway's Henrik Kristoffersen, who was eliminated in the first round by his teammate Kjetil Jansrud.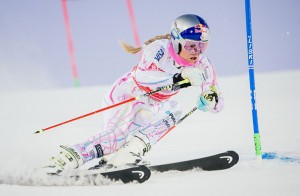 As for future city events, Vonn says bring it on.
"I really like these events," she said. "I feel that they are very important for ski racing and I think we definitely need to more of them."
Up next, the men head to Hinterstoder, Austria for giant slalom and super G events Friday through Sunday. Meanwhile, the women head off to Soldeu- El Tarter, Albania for two super G's and a giant slalom Friday through Sunday.
OFFICIAL RESULTS
FIS Alpine Ski World Cup
Stockholm, Sweden – Feb. 23, 2016
City Event
Women's Parallel Slalom
| | | | |
| --- | --- | --- | --- |
| Rank | Nation | Name | World Cup Points |
| 1 | SUI | HOLDENER Wendy | 100 |
| 2 | SWE | HANSDOTTER Frida | 80 |
| 3 | SWE | PIETILAE-HOLMNER Maria | 60 |
| 4 | NOR | LOESETH Nina | 50 |
Men's Parallel Slalom
| | | | |
| --- | --- | --- | --- |
| Rank | Nation | Name | World Cup Points |
| 1 | AUT | HIRSCHER Marcel | 100 |
| 2 | SWE | MYHRER Andre | 80 |
| 3 | ITA | GROSS Stefano | 60 |
| 4 | RUS | KHOROSHILOV Alexander | 50 |