North Vancouver (BC), Canada – After more than 40 years at the helm, Vancouver's McLaughlin family has decided to sell Grouse Mountain ski resort.
The popular Vancouver-area resort draws 1.3 million visitors annually, but the McLaughlins have nevertheless decided to pursue other interests. They've listed the 1,200-acre, 1,200 vertical-foot resort with commercial realtor CBRE Canada for an undisclosed price.
In addition to the four chairlifts, one surface lift, two aerial tramways and the ski trails, a news release confirms that the sale also includes summer trails, zip lines, the Eye of the Wind turbine and viewing platform, wildlife refuge, and Altitudes Bistro.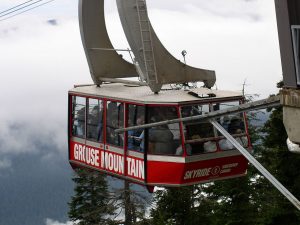 The McLaughlin family first took control of Grouse Mountain in 1974, and acquired full ownership in 1989. Despite the sale, it will be business as usual at Grouse Mountain this winter.
"Grouse Mountain management and staff are very proud of our success and look forward to continuing to deliver world class experiences to Vancouverites," resort president Michael Cameron said in the news release.