Park City, UT – Last month, four U.S. Ski and Snowboard Association (USSA) athletes took time out of their busy training schedules to learn from some U.S. military veterans. As part of a joint effort between the USSA, the National Ability Center (NAC) and the Utah Department of Veterans and Military Affairs, athletes came together with a group of veterans to swap stories about representing their country in different ways and overcoming adversity.
"I've always had a big respect for the military and all the men and women who serve our country," said Cole Johnson, U.S. Snowboarding snowboardcross team member. "I think what they do is awesome, and I'm grateful to have been able to share this experience with them."
The day started off with a tour of USSA's Center of Excellence in Park City, including a trampoline demonstration by U.S. Freestyle Ski Team moguls athlete Nessa Dziemian. The veterans were thrilled to explore what goes into an athlete's training program and the innovative technologies used at the COE.
Next, the group headed to the National Ability Center (NAC)—just a quick walk from the Center of Excellence. The NAC empowers individuals of all abilities by building self-esteem, confidence and lifetime skills through sport, recreation and educational programs. They work closely with several veteran outreach programs to support these national heroes when they return from their service. At the NAC, athletes were able to hear from veterans on their experience representing the U.S. while in the line of duty, including Army veteran Bryant Jacobs. Bryant's prosthetic leg, embedded into his femur, is one of the first of its kind. He was an avid snowboarder before being injured by a roadside bomb in Iraq, and struggled with pain for years before making the decision to have his leg amputated. With his new prosthesis, he hopes to get back to snowboarding this winter for the first time in 10 years. The athletes were fired up to learn that many of the veterans enjoy skiing and snowboarding, and made some plans to hit the slopes together this winter.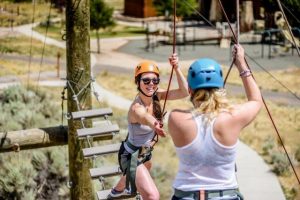 "I think this was a valuable experience. Veterans and athletes are both representing this country but in different ways," said Dziemian. "The stories I heard today were very inspiring, not just as an athlete but as a human being."
Finally, everyone was pushed to work as a team and test their limits to accomplish some difficult obstacles on the NAC's aptly named Challenge Course. The group excelled, with U.S. Alpine Ski Team athlete AJ Ginnis breaking the speed record on the cargo net climb.
"It was an honor to be able to share our day with the servicemen," said U.S. Alpine Ski Team member Ryan Cochran-Siegle. "To learn about their trials and sacrifices while serving our country was an incredibly humbling experience, and it has given me a new perspective on the freedoms that we take for granted."