Broomfield, CO – Vail Resorts, Inc. (NYSE:  MTN) today reported results for its fiscal year ended July 31, 2016 showing significant increases in net income. Additionally, large gains in pre-season sales of its Epic Pass products forecast a strong fiscal 2017 for the company.
Net income attributable to Vail Resorts, Inc. was $149.8 million for fiscal 2016, an increase of 30.5% compared to fiscal 2015 or 46.6%, excluding the $12.6 million after-tax non-cash gain on the Park City litigation settlement in fiscal 2015. Resort Reported EBITDA was $452.6 million for fiscal 2016, an increase of 29.5%, excluding the $16.4 million non-cash gain on the Park City litigation settlement in fiscal 2015.
"We achieved another year of record-breaking results with significant growth across our business," commented Rob Katz, Chief Executive Officer of Vail Resorts. "We are very pleased to complete the year with Resort Reported EBITDA of $452.6 million, which included $1.4 million of transaction expenses related to the pending Whistler Blackcomb acquisition. Our results were driven by the strength of our network and excellent results across all of our resort locations."
Vail Resorts' destination properties are scattered across the western U.S., with a significant presence in Colorado and Utah, both of which saw record skier visits in 2015-16.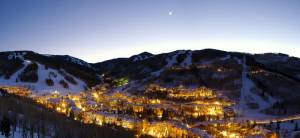 "We experienced another outstanding year in Colorado with visitation and guest spending outperforming last year's results," Katz continued. "In Park City, we met our very high expectations following our capital transformation last summer that combined Park City and Canyons into the largest mountain resort in the U.S.  Tahoe results rebounded strongly as favorable weather conditions helped to reactivate visitation in the region. We officially launched Epic Discovery at Vail and Heavenly this summer, driving significant increases in visitation and revenue in the fourth quarter of fiscal 2016 compared to the prior year. Our summer business will continue to grow as we further build out activities at Vail and Heavenly and officially launch Epic Discovery at Breckenridge next summer."
For fiscal 2016, total net revenue in the company's Mountain division, which includes ski area operations, increased 18.2% to $1.3 billion. Total skier visits, including a full year of Perisher (Australia) results, increased 18.5%, while total U.S. skier visits increased 13.2%. Total Effective Ticket Price (ETP) increased 3.5%, driven by season pass and lift ticket price increases across Vail's resorts, partially offset by higher visitation per pass. The company's ancillary businesses also experienced growth with ski school, dining and retail/rental revenue, up 13.5%, 19.8% and 10.0%, respectively, compared to the prior year.
"Fiscal 2016 was another strong year for our Lodging segment with net revenue increasing 7.9% and Lodging Reported EBITDA increasing 30.0% compared to fiscal 2015," Katz added, "including $3.5 million of Lodging Reported EBITDA associated with the termination of the company's management agreement with Half Moon Resort in Jamaica. These improvements were primarily driven by a 210 basis point improvement in occupancy and a 3.5% growth in average daily rate (ADR), resulting in an 8.8% improvement in revenue per available room compared to the prior year. Our Lodging segment benefited from increased visitation at our mountain resorts during the ski season as well as continued growth in summer visitation."
Turning to Real Estate, Katz commented, "We generated $22.0 million of Net Real Estate Cash Flow in fiscal 2016. For the full fiscal year, we closed on five units at Ritz-Carlton Residences, Vail, three Crystal Peak Lodge units in Breckenridge and two One Ski Hill Place units in Breckenridge. During the fourth quarter we closed on two units at Ritz-Carlton Residences, Vail and one unit at Crystal Peak Lodge. Subsequent to the end of fiscal 2016, we closed on the sale of a land parcel at the base of Breckenridge for $9.25 million. As of September 23, 2016, we have four units at Ritz-Carlton Residences, Vail and two units at One Ski Hill Place remaining to be sold and approximately $94.7 million of real estate held for sale and investment associated with land parcels at our resorts."
Vail Resorts ended its fiscal year with $67.9 million of cash on hand and $75.0 million of borrowings under the revolver portion of the company's senior credit facility. As of July 31, 2016, Vail had available borrowing capacity under the revolver component of its credit facility of $252.8 million. The company's Net Debt was 1.4 times trailing twelve months Total Reported EBITDA, which includes $323.1 million of long-term capital lease obligations associated with the Canyons transaction.
In announcing the company's results, Vail's Board of Directors declared a quarterly cash dividend on the company's common stock of $0.81 per share. Additionally, the company repurchased 485,866 shares for a total of $53.8 million during fiscal 2016.
Season pass sales through September 18 for the upcoming 2016-17
U.S. ski season increased approximately 24% in units and 29% in sales dollars versus the comparable period in the prior year.
"We are extremely pleased with our season pass sales to date," Katz said. "Our growth continues to be driven by our increasingly sophisticated and targeted marketing efforts to move destination guests into our season pass products, with this segment representing over half of this year's growth. As always, we do expect our season pass growth rates to decline through the end of our selling season, given that some of the increase is driven by our efforts to encourage guests to purchase their passes earlier in the year. Last year at this point in the year, we had sold approximately 60% of our season passes for the upcoming ski season, though we believe that figure may be higher this year, given the aforementioned efforts to move purchases earlier in the selling cycle."
Katz estimated that Resort Reported EBITDA for fiscal 2017 will fall between between $480 million and $510 million, based on net of between $165.5 million and $194.5 million. These estimates exclude any operating results from the pending acquisition of Whistler Blackcomb, including associated transaction-related and integration costs.