Reno, NV – Mt. Rose-Ski Tahoe, high above Reno just 25 miles to the east, and Lake Tahoe a few miles to the west, announced at the beginning of this year that it's going on the market. Now a Reno-based group is trying a new approach to buying a ski area: crowdfunding.
Last month, Reno local Govind Davis launched One Reno with the intent of gathering investors to puchase the resort from long-time owner Fritz Buser, despite possessing no ski resort operating experience himself.
"Outside interests are also interested in buying the mountain, and we cannot let that happen," One Reno cautions on its Facebook page. "If you want to be involved at the ground floor, contact us right away."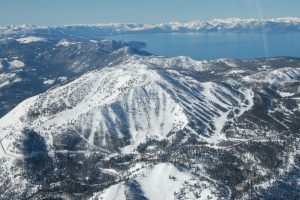 News reports indicate that One Reno has set a crowdfunding goal of $15 to $30 million to attract other large-scale investors. Enthusiasm, however, may outweigh realistic expectations at this point. While the Facebook page already touts over 1,000 "likes", One Reno promised to release a full prospectus and launch its crowdfunding campaign in the beginning of September. Neither has yet happened. Web conferences scheduled this month to promote volunteering and investing, and to provide public information on the proposal received attendee confirmations that could be counted on one hand.
Mt. Rose-Ski Tahoe is operated in part on land owned by the U.S. Forest Service. In addition to satisfying the seller, any prospective buyer would need to demonstrate that they possess the funding and the experience necessary to successfully operate the resort.
Still, at the very least, organizers appear to remain committed to the attempt.
"The ski resort itself is an intelligent investment, at every level. As with all things in life, you get back commensurate to what you put in.
We will keep the mountain locally owned, and never allow it to become McSki-Resort."
Attorneys for Mt. Rose-Ski Tahoe have been quoted as saying that although the resort has received some interest from potential purchasers besides One Reno, no written offer or letter of intent has been received to date.