Lake Placid, NY – The annual Flaming Leaves Festival returns to the Olympic Jumping Complex in Lake Placid this Saturday and Sunday, Oct. 8-9. As crowds take in blues, brews and barbeque, the nation's top ski jumpers will soar off the Olympic Jumping Complex's 90-meter ski jump, competing in the NYSEF K90 ski jump competition and 2017 U.S. Ski Jumping Championships.
Flaming Leaves offers much more than blues, brews and ski jumping. The weekend-long event has plenty of entertainment for all ages to include lawns games, craft vendors and a combined chairlift and elevator ride up the 120-meter ski jump.  At the top of the 26-story tower, visitors can experience magnificent views of peak Adirondack Fall foliage as surrounding hills and mountains are highlighted by brilliant reds, oranges and yellows.
The Flaming Leaves music line-up kicks off, Saturday, at noon, when Mojo Dogs takes to the jumping complex's stage for their first of two sets, noon-1 p.m. and 2-3 p.m.  Soul Sky is also slated for two shows Saturday, the first from 1-2 p.m. and the second from 3-4 p.m.
The music continues into Sunday with Funky Blue Roots, and more Soul Sky.  Funky Blue Roots' first set is from noon-1 p.m. and then they're back from 2-3 p.m.  Then Soul Sky follows with two more sets from 1-2 p.m. and 3-4 p.m.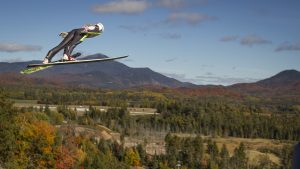 The annual Flaming Leaves Festival takes place from 10 a.m.-4 p.m. Saturday and 9:30 a.m.-4 p.m., Sunday.  Admission costs $16 for adults and $10 for juniors and seniors.  Two-day passes are also available, $27 for adults and $16 for juniors and seniors. Purchasing online earns a $2 discount, and admission is free when you buy the Olympic Sites Passport.
Schedule of Events:
Saturday
10 a.m. —  Festival Opens
Noon — Trial Round of Jumping
12 – 1 p.m. — Live Music with Mojo Dogs
1 – 2 p.m. — Soul Sky
1 p.m. — NYSEF K90 Ski Jump
2 – 3 p.m. — Live Music with Mojo Dogs
3 – 4 p.m. — Live Music with Soul Sky
Sunday
9:30 a.m. — Trial Round of Jumping
10 a.m. — Festival opens
11 a.m. – U.S. Ski Jumping Championships
Noon – 1 p.m. — Live Music with Funky Blue Roots
1 – 2 p.m. — Live Music with Soul Sky
2 – 3 p.m. — Live Music with Funky Blue Roots
3- 4 p.m. —  Live Music with Soul Sky