Angel Fire, NM – Angel Fire Resort, in northern New Mexico's Enchanted Circle, will expand its terrain parks and widen several of its most popular ski trails for the resort's 50th anniversary season in 2016-17.
Under the direction of one of the most prolific terrain park designers in the country, Angel Fire Resort's Liberation Terrain Park is expanding for the second season in a row. Jon Eppler, who has created parks for major events including The Winter X Games and The Burton U.S. Open, completely redesigned Liberation Park last winter and is now developing plans for a new boarder-skier cross course for the park.
"Boarder cross courses are the fastest growing areas of interest for skiing and snowboarding families," explains Eppler, Angel Fire's slope operations manager. "We did an experiment and left the course up that we built for the USASA Boarder-Skier X Games for our guests to try out, and it was so popular we are now creating New Mexico's first and only season-long, lift-accessed boarder-skier cross course."
Eppler, a second-generation terrain park developer, is also expanding the popular Stash Parks he built last season. The Stash Parks use non-conventional terrain park features, such as natural snow and logs to ride through as skiers and riders make their way down the mountain. Thanks to the popularity of these new parks, the resort will be adding several more Stash Features along various green and blue trails.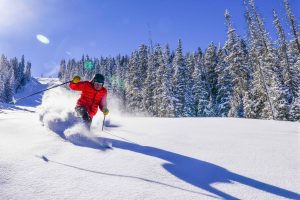 Before the snow hits, mountain operation crews are busy clearing trees and widening critical areas on some of Angel Fire's more popular slopes, such as "Headin' Home" and "Highway," to reduce pinch points, which will provide more room and less crowding on the most traveled trails.
The resort has also purchased two brand new PistenBully 400 snowcats that will carve the deepest corduroy possible. The new snow grooming equipment has fourth generation engines that provide the most fuel efficient and environmentally friendly grooming.
"The winter weather in New Mexico can be unpredictable, which is why adding these more efficient, top performing snowcats to our fleet of grooming machines will allow us to make the best trails and cover the most terrain regardless of snow conditions," explains Andy Whitacre, the resort's mountain operations manager.
To celebrate its 50th anniversary season, Angel Fire Resort will host a weekend-long celebration January 19-22, 2017. To mark the resort's Golden Anniversary, a select number of lift tickets will be just $5.50 each on Saturday, January 21, and Sunday, January 22, 2017. This is the same price the lift tickets were when Angel Fire Resort first opened back in 1966, and is limited to the first 550 skiers/boarders each day.
The weekend kicks off with a cocktail welcome party and an open house featuring selected pieces showing the resort's rich history over the last 50 years. The night party will also include a live performance by Atomic Balm. The weekend celebration includes fun parties, such as the Vintage Ski Suit Après Ski Party on the deck, free night skiing and will wrap up with a spectacular firework show.
Angel Fire Resort continues improvements to its full-service Children's Ski School and on-site day care, known as Snow Bear Camp. Several programs are in place to help parents get the most of their time on the slopes while their children are actively engaged learning to ski and board, making new friends and having fun. The interchangeable Parenting Pass allows two parents to take turns coaching and skiing with their child, or it also allows parents to take turns on the mountain in a single day while the other stays behind to care for an infant or toddler who is too young to ski. For the tiniest of tots just learning how to ski, the resort is adding the PreSki Program this winter that offers three- to five-year-olds a short private lesson, lunch and snacks, plus snow play and activities at Snow Bear Camp. Additionally, the resort offers the 'Lil Chile Ski Program, which is a full ski day for ages 4-5, and for this first time this season there will be a 'Lil Chile Poppers Snowboard Program added for 5 year-olds as well, incorporating Burton Riglet Boards and "Feature Enhanced Learning."
Angel Fire Resort is a member of the Powder Alliance, which allows all season pass holders three days of free lift tickets at 14 partner resorts, including Crested Butte, Colo.; Snowbasin Resort, Utah; Sierra-at-Tahoe, Mountain High and China Peak, Calif.; Stevens Pass, Wash.; Timberline and Mt. Hood Skibowl, Ore.; Schweitzer, Idaho; Bridger Bowl, Mont.; Arizona Snowbowl, Ariz.; Silver Star and Whitewater, B.C.; and Kiroro, Japan. Additionally, Angel Fire Resort season pass holders are offered three days of free lift tickets at Brian Head, Utah; Powderhorn and Ski Cooper in Colo.; and Ski Apache, N.M. By partnering with a total of 18 resorts this winter, Angel Fire Resort season pass holders will receive a total of 54 free days of skiing at partnering resorts.