Tignes, France – In many ways, Donna Weinbrecht was an unlikely hero. An Olympic ski champion from West Milford, New Jersey? But on a snowy day high in the mountains above the Tarentaise Valley in the French Savoie, she became her sport's first gold medalist.
After a demonstration sport introduction in Calgary four years earlier, freestyle moguls found its way into the 1992 Games in the popular ski village of Tignes, not far from Val d'Isere, where the men's downhill was held.
On the fifth day of the Games, in the midst of heavy, blowing snow, freestyle skiing made its debut as a full medal event. Moguls skiing brought a new era to the Olympics – music mixed with skiing, athletes flying down the bumps and launching themselves into the air, twisting and turning. It seems commonplace today, but in 1992 freestyle was in stark contrast to the traditional Olympic events.
It was a matchup between two of the powerhouse nations: the USA and the host nation of France. In the men's debut, France went gold-silver. But Steamboat Springs skier Nelson Carmichael made history with bronze.
Now it was time for the girls. Weinbrecht, a former art student and waitress at Killington Mountain in Vermont, came into the Games with headlines blazing. Her blonde ponytail was a signature cover shot embodying the freeness of the new sport. She had started skiing moguls as a teen, as her parents had a ski home near Killington. Now, at 26, she was poised for history.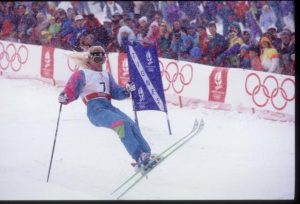 In qualifications a day earlier, she had been second to French favorite Raphaelle Monod. So Weinbrecht skied second to last in the finals. She pounded her way down the course through the swirling snow to the sounds of Robert Gordon's Rock Billy Boogie, launching her trademark daffy-twister-spread at the bottom to take the lead. Then, it was wait and watch as Monod came down to deafening cheers – succumbing to the pressure at the bottom of the course as Weinbrecht was crowned her sport's first Olympic champion.
Weinbrecht and Carmichael went on to join the U.S. Ski and Snowboard Hall of Fame. Since that historic first official Olympic performance, the U.S. Freestyle Ski Team has continued to win a medal in moguls in each successive Winter Games – the only nation with a perfect medals record.
The Jersey girl still cherishes that medal she won 20 years ago in Tignes and is still passionately engaged in skiing. She's a regular at freestyle events and an annual attendee at the New York Gold Medal gala – still proud to show off her sport's first ever gold medal.