Ludlow, VT – The annual Okemo Ski and Snowboard Swap to benefit Okemo Mountain School is scheduled November 18 to 20 this year. The swap is the place to gear up for winter with new and used gear and clothing at great prices.
Skiers and snowboarders will find everything they need to enjoy the snow: skis, snowboards, boots, bindings, helmets, goggles, outerwear, and more.  The swap takes place in the Clock Tower Base Lodge at Okemo Mountain Resort on: Friday, November 18, 4-7 p.m. (3-4 p.m. is the early-buy hour; $5 admission or free for Okemo employees); Saturday, November 19, 9 a.m.-5 p.m.; and Sunday, November 20, 9 a.m. – 1 p.m.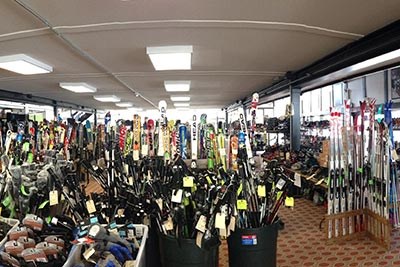 Skiers and riders interested in selling used gear (no skis, boots, or bindings older than seven years) can sell it on consignment at the swap. The seller will receive 75 percent of the selling price and 25 percent will go to Okemo Mountain School. Equipment donations are also accepted and are tax-deductible. Equipment drop-off is at the Sitting Bull Restaurant (please use slope-side entrance near First Aid) in Okemo's Clock Tower base lodge Saturday, November 12, 10 a.m. – 3 p.m.; Sunday, November 13, 10 a.m. – 3 p.m.; and Wednesday, November 16, 10 a.m. – 3 p.m. All gear must be dropped off during specific hours and not brought to the swap during sale hours.
Okemo Mountain School is a non-profit educational institution dedicated to the academic and athletic development of serious snow sports athletes. Student-athletes train in alpine ski racing, snowboarding and freestyle skiing while pursuing a rigorous course of academic study. Okemo Mountain School relies heavily on fundraisers like the swap to help keep tuition affordable.