Quebec City (QC), Canada – In addition to the cross-country World Cup Finals just announced, the FIS World Cup will also be visiting Quebec this winter for Snowboard and Freestyle Ski World Cups, including an urban Big Air competition in downtown Quebec City.
Work is now well underway to erect the big air structure at L'Îlot Fleurie downtown. This 12th edition of the Jamboree presented by Vidéotron Mobile takes place February 9–12, 2017, and with less than a month to go, crews of more than 50 people are hard at work for 10 weeks to build the ramp. The 125-ton structure is 131 feet (40 meters) high, and 300 feet (91 meters) long. It's one of the only Big Airs on the World Cup tour to integrate the natural environment into the ramp structure, so less scaffolding is needed. Workers will also haul in 10,000 cubic feet of snow for the finishing touch. Setup work is slated to be completed on February 7.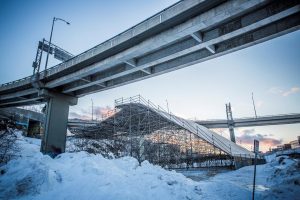 Snowboarders won't be the only ones ripping their way down the impressive structure this year, as for the first time the Jamboree will also host Canada's first-ever FIS Freestyle Ski World Cup Big Air.
FIS Snowboard and Freestyle Ski World Cup slopestyle competitions, also part of the Jamboree, will be held at nearby Stoneham Mountain Resort.