Seiser Alm, Italy – With the 2016-17 snowboard slopestyle World Cup season already in full swing, it's time for the tour's third event this week. Some of the best riders in the world have traveled straight from the Laax Open to Seiser Alm to take over control of one of the best terrain parks in Italy.
The World Cup competition, which is scheduled from today through Friday, will be the first for the South Tyrolean resort; however, local organizers have already left their marks in the snowboard scene. Last year, the Europa Cup stopped in the terrain park with a continuous 1.5 km line including over 70 features, and the Junior Worlds slopestyle and big air were contested here as well.
This week's field is led by reigning world champion Ryan Stassel of Anchorage, Alaska, who is hoping to score some more points in the race for the snowboard freestyle overall World Cup title which is currently led by Max Parrot (CAN, 2,800). As Parrot, the Laax Open 2017 winner, will skip Seiser Alm to compete at the X Games in Aspen,  Stassel has an opportunity to add to his current World Cup tally of 2,520 points and take over the lead.
Stassel, however, will have to face Belgian rider Seppe Smits, as the 2011 world champ is also within reach of the lead with 2,060 points. In addition, Roope Tonteri (FIN; 1,928.80) is also within striking distance.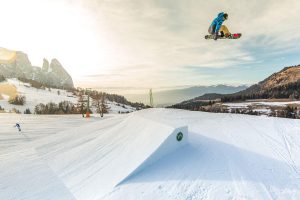 The Seiser Alm field will also include the talents of Mans Hedberg (SWE), Moritz Thoenen (SUI) and Max Eberhardt (CAN), who had a strong showing in the Laax World Cup event a few days ago.
In addition, Peetu Piiroinen (FIN), Carlos Garcia Knight and Tiarn Collins from New Zealand, Torgeir Bergrem (NOR) as well as Billy Morgan and Jamie Nicholls from Great Britain are also on the list to watch.
The World Cup's top-ranked women will also be competing at X Games this week, leaving the door wide open for Sarka Pancochova (CZE), Cheryl Maas (NED), Lucile Lefevre (FRA) or Swiss team members Lia-Mara Boesch, Sina Candrian, Isabel Derungs, Carla Somaini and reigning big air world champion Elena Koenz. It's a list of names which promises some pretty decent riding in the women's competition, too.