Wildwood, MO – Peak Resorts, Inc., the owner or operator of 14 ski resorts across the Northeast and Midwest, today announced that season pass sales from the beginning of the ski season through January 29, were up 28 percent in units and 23 percent in dollars, compared to the prior year. In addition, paid skier visits at the company's resorts were up 40 percent through January 29, compared to the same prior-year period — although that should surprise few given the dismal 2015/16 winter throughout the region.
"This season has been a welcomed improvement compared to the significant weather challenges we faced during the 2015/2016 ski season," commented Timothy D. Boyd, president and chief executive officer. "Although season-to-date weather trends have still trailed historical average levels, we are very pleased with the strong customer reception of our Peak Pass, which has driven additional traffic to our Hunter Mountain and Mount Snow resorts. We are also encouraged by the ski conditions and resort traffic this season at each of our 14 resorts. Weather has been better than last year and we believe we have benefited from the pent-up demand because of the poor weather conditions last year.  These results reflect a noticeable improvement over last year, as we have been especially pleased with the cross-property utilization of the Peak Pass across our New England portfolio."
Unveiled for the 2016/2017 winter season, the new Peak Pass features a total of six pass options valid at seven different mountain locations across four states in the Northeast. Resorts include Mount Snow in Vermont; Attitash, Wildcat and Crotched Mountains in New Hampshire; Hunter Mountain in New York; and Jack Frost and Big Boulder in Pennsylvania.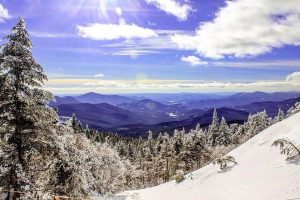 "The 2016/2017 ski season marks the first full season with Hunter Mountain, which we acquired just over a year ago, and the new multi-resort Peak Pass," continued Boyd. "We continue to view this season as the catalyst that will drive our future performance, as we remain committed to building a strong foundation and providing long-term, positive results for our shareholders. Additionally, the recent EB-5 approval will help to fund organic growth through Mount Snow's West Lake Water Project and the Carinthia Ski Lodge Project, while we remain well positioned to take advantage of opportunistic and strategic acquisition opportunities."
In addition to the resorts already mentioned above, Missouri-based Peak Resorts also owns or operates: Alpine Valley, Boston Mills/Brandy Wine and Mad River Mountain in Ohio; Hidden Valley and Snow Creek in Missouri; and Paoli Peaks in Indiana.