Girdwood, AK – Chugach Powder Guides (CPG) will begin cat skiing operations tomorrow at Alyeska Resort. This is the first time in three years that lower valley snow in Girdwood has been sufficiently deep to construct a cat road to access the cat skiing terrain near Alyeska.
Construction of the cat road requires a minimum snow depth of three to five feet, which Girdwood now has at the lower elevations.
"In the last month, conditions have really turned on at the low elevations in the Girdwood Valley," explains Henry Munter, CPG's General Manager. "Our snow cat trips, which start and end at The Hotel Alyeska, get into some of the best tree-skiing in Alaska. We're extremely excited to resume cat ops for the first time since 2013."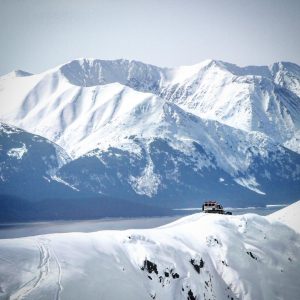 During a typical cat skiing day, guests average 10,000 vertical feet of skiing over eight runs. CPG cat guides draw upon a variety of terrain options for guests, including gladed trees, steep bowls, open powder fields, rock features, pillows, and more.  Expected group size is 8-12 guests with two guides per snowcat group, and guests receive an avalanche beacon to use for the day.  The cat skiing trips depart directly outside the Alyeska Resort Aerial Tramway, a convenient location for guests.
Chugach Powder Guides and Alyeska Resort have teamed up to offer a ski and stay package starting at $299 per person/double occupancy; single person packages are available starting at $349. Included is a one-night stay at The Hotel Alyeska and day out in the snow cat. To book call (907) 754-2111 or visit AlyeskaResort.com for more details.