Feldberg, Germany – Italy's Michela Moioli, and Pierre Vaultier of France each claimed victory in the first of back-to-back snowboard cross World Cup races staged in Feldberg, Germany over the weekend.
Moioli defeated World Cup leader Belle Brockhoff of Australia start-to-finish in the women's final. It was Moili's fourth World Cup win, while Meryeta Odine of Canada took her career's first podium by finishing third. After crashing after the first jump, Alexandra Jekova of Bulgaria had to settle for fourth.
"It was very difficult today, a lot of fighting in the semis and finals. I'm really happy," said Moioli. "I needed this victory as the last races didn't turn out as I wanted them to."
Over in the men's event, the big final – also raced as a heat of four – was even closer than the thrilling spectacle the ladies had delivered before. Vaultier, who had lost the Bansko race in a photo finish decision last weekend, had luck on his side on Saturday, crossing the finish line barely ahead of Lucas Eguibar of Spain.
"It was tough here at the beginning though with the adverse weather in qualifiers which was challenging. But today everything came together to make it a perfect one," Vaultier commented, adding, "I haven't been thinking about the photo finish in Bansko, but yes, it is a good redemption today even though it has been another rival."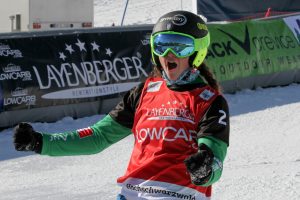 Italy's Omar Visintin, who has reached every big final thus far this season, rounded out the podium in third ahead of Spain's Regino Hernandez, thereby taking the lead in the men's World Cup ranking with 2,650 points over Alessandro Haemmerle (AUT; 2,500), who finished in fifth position on Saturday. In the women's ranking, Brockhoff (3,200) has now a comfortable lead over Olympic champion Eva Samkova (CZE; 2570), who placed eighth on Saturday.
OFFICIAL RESULTS
FIS Snowboard World Cup
Feldberg, Germany – Feb. 11, 2017
Women's Snowboard Cross
Rank
Name
Nation
Result
FIS Points
WC Points
 1
MOIOLI Michela
ITA
 1000.00
 1000.00
 2
BROCKHOFF Belle
AUS
 800.00
 800.00
 3
ODINE Meryeta
CAN
 600.00
 600.00
 4
JEKOVA Alexandra
BUL
 500.00
 500.00
 5
JACOBELLIS Lindsey
USA
 450.00
 450.00
 6
MANCARI Rosina
USA
 400.00
 400.00
 7
BRUTTO Raffaella
ITA
 360.00
 360.00
 8
SAMKOVA Eva
CZE
 DSQ
 320.00
 320.00
 9
GULINI Faye
USA
 290.00
 290.00
 10
BERGERMANN Zoe
CAN
 260.00
 260.00
Men's Snowboard Cross
Rank
Name
Nation
FIS Points
WC Points
 1
VAULTIER Pierre
FRA
 1000.00
 1000.00
 2
EGUIBAR Lucas
ESP
 800.00
 800.00
 3
VISINTIN Omar
ITA
 600.00
 600.00
 4
HERNANDEZ Regino
ESP
 500.00
 500.00
 5
HAEMMERLE Alessandro
AUT
 450.00
 450.00
 6
DILMAN Daniil
RUS
 400.00
 400.00
 7
OLYUNIN Nikolay
RUS
 360.00
 360.00
 8
HUGHES Jarryd
AUS
 320.00
 320.00
 9
ROBANSKE Christopher
CAN
 290.00
 290.00
 10
BROCHU Baptiste
CAN
 260.00
 260.00