Washington, DC – If the climate records of late 2016 were any indication, January 2017's balmy global temperatures — and record-small polar ice extents — will come as no surprise.
January's average global temperature was 1.58ºF above the 20th Century average of 53.6 degrees, according to the analysis by scientists from NOAA's National Centers for Environmental Information. This was the third highest for January in the 1880-2017 record, behind 2016 (highest) and 2007 (second highest).
More noteworthy findings for January included: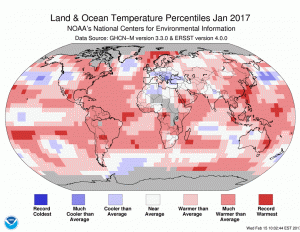 Record-low sea ice extent at the poles
The average Arctic sea ice extent was 8.6 percent below the 1981-2010 average for January, and the average Antarctic sea ice extent was 22.8 percent below the 1981-2010 average. For both regions this was the smallest January sea ice extent since the satellite record began in 1979.
Above-average snow cover in the Northern Hemisphere
The Northern Hemisphere snow cover extent was the sixth largest in the 51-year period of record. North America had its 13th largest and Eurasia had its seventh largest.
Warmer-than-average lands and oceans 
The globally averaged sea surface temperature was the second highest January on record, 1.17ºF above average.
The globally averaged land surface temperature was the third highest January on record, 2.77ºF above average.
Continents experienced temperature highs and lows
North America had its fourth warmest January on record; South America had its second; Asia tied as sixth; Oceania had its 13th; and Africa had its 21st. Cooler-than-average conditions engulfed much of Europe in January, which had its coldest winter since 2010.