Ludlow, VT –For the first time ever, Peace Park — a unique, ever-evolving elite snowboard park that expands beyond traditional competition-style courses — will host a qualifier event at Okemo Mountain Resort in Vermont March 11-12.  The qualifier will offer a select number of amateur snowboarders an opportunity to earn a spot to attend the Peace Park event in April at Grand Targhee Resort in Wyoming.
"I am excited to announce our first-ever qualifier for the Peace Park, and to be hosting it at Okemo Mountain Resort. Vermont is very special to me, so it only made sense to bring this opportunity to the place where I first got my chance to become a pro rider," said professional snowboarder and Peace Park visionary, Danny Davis. "I am stoked to see which rider makes the best overall impression and invite them to ride with me and other world-class snowboarders at the main event in April."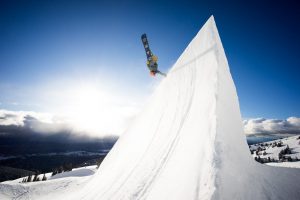 Peace Park originated six years ago when Davis imagined a place that transcended standard slopestyle and halfpipe courses. Since then, he has continued to team up with Mountain Dew and his friends at Snow Park Technologies (SPT) to create one-of-a-kind courses that merge superpipe transitions, park jumps, and banked slalom berms with skatepark and surf-inspired features. The variety of elements and options aim to push style and creativity to the forefront like no other event in snowboarding.
"We are thrilled to have the opportunity to work with Danny, SPT and Mountain Dew to host the first-ever Peace Park Qualifier at Okemo Mountain Resort," said Okemo Terrain Park manager, Mark Fiori.  "Hosting such a talented group of riders and introducing them to Okemo's world class terrain park is a huge honor."
Registration for the Okemo Peace Park Qualifier opens March 5 at Okemo.com. Competition eligibility requirements, contest format, and judging criteria will be available on site and online.