Angel Fire, NM – Northern New Mexico's Angel Fire Resort has announced they will offer a longer ski season, are making several mountain improvements, adding nighttime ski and snowboard lessons, and will be adding a new black diamond trail this winter.
Angel Fire Resort is planning to extend their season a week by keeping the ski mountain open through March 25, 2018.  This offers season pass holders an additional seven days on the mountain and also ties into many southern states' Spring Break calendars.
"For the past few winters we've seen the best snow come in March," explained Andy Whitacre, director of mountain operations, Angel Fire Resort. "These late winter storms are often the driest powder and create the perfect late season skiing for spring break families. We've decided as long as the weather cooperates again this year, we will be open an additional week."
Angel Fire Resort will open a new hike-to black diamond trail this winter, to be named C-4.  Located in what was previously out-of-bounds territory north of the ski mountain, C-4 is a new nine-acre challenge with a 1,000-foot vertical drop for the expert skier and a must-hit on a bluebird powder day. From the top of the Southwest Flyer quad chairlift, skiers and snowboarders will need to hike for 15 minutes to reach this isolated trail, which will be opened when snow conditions allow. Additionally, skiers and snowboarders can enter the black diamond trails Nitro, Detonator, and Baa-Da-Bing via the same hike-to-access as the C-4 run, which all descend into the Back Basin.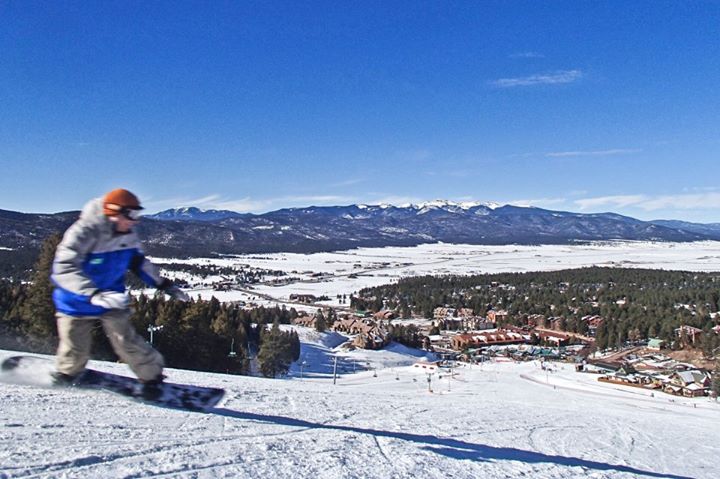 Under the direction of terrain park designer, Jon Eppler, Angel Fire Resort's three parks – Liberation Park, Sweet Street, and Night Rider – will be expanded with new or improved features and jumps. Eppler, who has created parks for major events including The Winter X-Games and The Burton U.S. Open, completely redesigned Liberation Park in 2014 and has continued to develop and improve the parks each season.
New Mexico remains the only resort in the state to offer night skiing and snowboarding. The terrain includes 50 acres of groomed trails on the front facing side of the mountain, as well as, the Night Rider terrain park.  Now the resort is offering new skiers and boarders an opportunity to learn under the stars with Sunset Private Lessons. Whether you're arriving mid-day and can't wait to hit the mountain or just have extra energy to burn, the Sunset Special provides a one or two-hour lesson and a lift ticket but is only available during night skiing weekends and holidays, weather permitting.
Angel Fire Resort has improved its snowmaking equipment this season with two new TA-40 fan guns, a newly released TR8 demo fan gun, and some new state-of-the-art stick guns. Additionally, the resort has installed 2,900 feet of new snowmaking lines on the popular blue run, Jaspers. Alongside Exhibition and Headin' Home, this improved groomed run will offer skiers an alternate way down the mountain in the early season.
Furthermore, the resort's Chile Express, a high-speed, detachable quad chairlift is receiving an electrical upgrade. Built in the mid-1990's, the upgrade will allow the scenic chairlift ride to run smoother and with more efficiency.
"This year we're adding brand new way finder signs on the mountain," explained Whitacre. "While it offers our mountain an updated look, it will also help our guests navigate the newer named trails."
Angel Fire Resort continues improvements to its full-service Children's Ski School and on-site day care, known as Snow Bear Camp. Several programs are in place to help parents get the most of their time on the slopes while their children are actively engaged learning to ski and board, making new friends and having fun. The interchangeable Parenting Pass allows two parents to take turns coaching and skiing with their child, or it also allows parents to take turns on the mountain in a single day while the other stays behind to care for an infant or toddler who is too young to ski. For the tiniest of tots just learning how to ski and snowboard the resort offers an additional unique program for 2-3-year-olds. These programs offer little ones a short private lesson, lunch/snacks, plus daycare and activities at Snow Bear Camp. This allows the parents a full day on the slopes themselves, knowing their children are in good hands for the whole day.
Additionally, the resort offers the Lil' Chile Ski Program, which is a full ski day for ages 4-5. The Lil' Poppers Snowboard Program is full-day for 4-5-year-olds to complement the Lil' Chile Ski Program.  Lessons will incorporate Burton Riglet Boards and "Feature Enhanced Learning."
Angel Fire Resort also has a large selection of non-ski family activities including Tubing Hill (the Polar Coaster complete with a 700' surface lift to take the hiking out of tubing), a traditional sledding hill, indoor pools and a hot tub. A full Nordic Center offers rentals and lessons for classic and skate styles and snowshoe hiking. Additionally, in the Village of Angel Fire, horse-drawn sleigh-rides, ice fishing and snowmobiling are also available.
Angel Fire Resort is a member of the Powder Alliance, which allows all season pass holders 3 days of free lift tickets at 15 partner resorts including – Crested Butte, CO; Sierra-at-Tahoe, CA; Stevens Pass, WA; Timberline, OR; Schweitzer, ID; Bridger Bowl, MT; China Peak, CA; Mountain High, CA; Arizona Snowbowl, AZ; Mt Hood Skibowl, OR; Silver Star, BC; Whitewater, BC; Bogus Basin, ID; La Parva, Chile; and Kiroro, Japan. This is a total of 45 free lift tickets.
In addition, Angel Fire Resort season pass holders are offered three days of free lift tickets at Brian Head UT, Powderhorn, Monarch Mountain and Ski Cooper in CO, Snow King in Jackson, WY and Ski Apache, NM. By partnering with a total of 22 resorts this winter, Angel Fire Resort season pass holders will receive a total of 66 free days of skiing at partnering resorts.
Angel Fire Resort's winter season will run from December 8, 2017 through March 25, 2018.