Bromont (QC), Canada – It
seems that small dogs don't understand their size. What other explanation
could there be for a Chihuahua that attacks a Rotweiller? You'd think that
the little guy would pick his fights more carefully, but he doesn't. The
fur on his back rises, and he stands his ground. The Rotweiller, recognizing
that he could easily crush the Chihuahua with his superior size, usually walks
away, leaving the Chihuahua standing proud.
Bromont is a Chihuahua. The resort in Québec's Eastern Townships
has its advantages, to be sure, but the mountain's management has taken limited
resources – a smallish mountain with low elevation, a relatively short vertical
drop, and limited natural snowfall – and transformed them into a ski area
much bigger than it appears at first glance. OK, so maybe Bromont's neighbors
Mont-Orford, Owl's Head, and Mont Sutton aren't exactly Rotweillers in the
skiing world, but it's my analogy, and I'm sticking to it.
n
Talk about waking up on the wrong side of the bed!  It was
Friday the 13th.  It was a warm period in late spring.  It rained
buckets on Thursday afternoon as I wandered aimlessly around Montréal after
my plane arrived at Mirabel Airport.  It drizzled as I sped eastward Thursday
night along the Eastern Townships Autoroute in a rented car, the headlights
struggling to illuminate the dark, wet highway.  Unpacking my bags in the
nearly deserted Auberge Bromont, I watched the lights of two groomers working
their way up and down the hill before closing the drapes to sleep, surprised
that they'd stick the heavy machines on a soft, wet, unfrozen surface.
It was gloomy as I awoke, threatening to rain at any moment. 
It seemed that the gods were conspiring against me.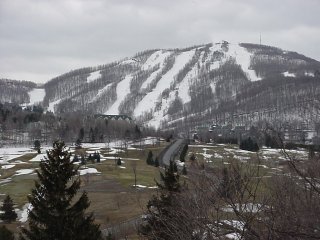 Unblemished ribbons
of White
But wait!  As I peeled back the curtains covering my room's
sliding glass door, my eyes glazed across the green and white patchwork of
winter's remains decorating the golf course and saw, much to my surprise,
unblemished ribbons of snow on Bromont's trails.  The Chihuahua's fur was
up, and he was standing proud.
Bromont President Charles Désourdy may be no Chihuahua, but
he skis like an animal.  Rumor has it that he drives the same way.  Determined
to show us the mountain's full potential, we yo-yo'd Bromont's base-to-summit
detachable quad, speeding down each and every trail in succession.  Making
a wrong turn was never an issue, because I never managed to get in front of
him.
And on a day like this, with warm, howling April winds driving
swollen, gray clouds across Bromont's summit, elbow room was never an issue. 
If there were 100 people there that day, I'm a Chihuahua's uncle.  On many
runs, we never spotted another soul.
Désourdy is justifiably proud of what his construction-business
family has created at Bromont since its inception in 1964.  Like most neighboring
mountains, Bromont is a monadnock, and despite its low elevation, delivers
remarkable 360-degree views across the Québec plain from its summit.  Views
reaching Jay Peak, Vermont to the south, New York's Adirondack Mountains to
the southwest, Mont-Orford to the east, Lac Brome, Mont-Glen and Mont Sutton
beyond to the southeast, and downtown Montréal a mere 50 miles (83 km) to
the west.
Bromont's proximity to the thriving metropolis of Montréal
is one of its selling cards.  Night skiing after work is big business here,
illuminating 75% of the available terrain, and several times per year skiers
and snowboarders can even make the short trek out the Autoroute to ski into
the wee hours of the morning, partying with fast runs back to a base filled
with jovial music.  On any given day or night, Bromont supplies the closest
vertical drop over 1,000 feet to these city dwellers.  Désourdy explained
that while Bromont caters primarily to families during the day, a completely
different crowd of teenaged and young adult night owls descends upon the slopes
after the sun sets.  A remarkable 40% of Bromont's skier visits occur after
dark, a testament to the fact that Bromont is the only significant resort
in the Eastern Townships to offer night skiing.  Mont Saint-Sauveur, north
of Montréal in the Laurentian Mountains, represents Bromont's biggest competition
for the city's night skiing dollar.
Our isolation this day was clearly not Bromont's norm.  The
hill saw nearly 300,000 skier visits in 2000-2001, a 30% increase over the
previous season and over 4% of the entire ski and snowboard market in Québec
– the fastest-growing ski area in the province after Tremblant.  These numbers
make Bromont the 5th most popular ski area in all of Québec.  As
if we needed further evidence of Bromont's popularity, the cavernous base
lodge houses an extensive cafeteria line, a sizeable bar, and a comfortable
dining area unusually decorated by a realistic tree in the center, sporting
a full summertime plumage of leaves.  The downstairs is a sea of lockers,
while a neighboring building houses ski rental, repair and retail, as well
as the administrative offices.
Snowguns are another ace up its sleeve.  The mountain understands
that Mother Nature doesn't always cooperate in these parts, so it has embarked
upon an ambitious program to upgrade and expand its snowmaking capacity. 
 The ski hill has added 200 snowguns over the past 3 years, and with each
of those years, increased its snowmaking capacity an additional 50%. Over
that three-year span, Bromont's ability to convert water into snow increased
from 500 gallons per minute to a whopping 2,500 gallons per minute.  For the
2001-2002 season, they expect to hit 3,000 gallons per minute, and pipes line
90% of the mountain's skiable terrain.  "We've got a great snowmaking system,
so we can always open early," Désourdy enthused, clearly beaming about his
resort's ability to make snow.  "We're 100% open by mid-December."  Other
improvements this past season included brand-new Rossignol rental equipment,
new night lighting on additional trails, and two new groomers including a
winch cat for the steeper terrain – for a total investment of CDN $1,500,000
last year alone.
Speaking of grooming, you've heard of powder hounds, those
who wait for the patrol to drop the rope on a fresh stash of nirvana.  Well,
Désourdy related the tale of the corduroy hounds at Bromont.  The mountain
maintains a policy of re-grooming the trails mid-day, even three times per
day on weekends.  They close a trail, groom it, and continue in succession
from one end of the resort to the other.  Such is the level of attention to
guest satisfaction at Bromont.  "Our number one objective is for grooming,"
explained Désourdy.  Where a powderhound may wait for his or her rope to drop,
the corduroy hounds at Bromont wait for the rope to drop on their own type
of stash.  Such folks follow the grooming crews across the hill, reaching
their own nirvana as they carve high-speed arcs down the unblemished surface.
Bromont's trump card, though, is its terrain.  You'll find
no blasted superhighways here!  The mountain's initial planners took advantage
of a naturally undulating topography to create trails that ebb and flow with
the Zen of the mountain.  You'll never find 1,329 feet (405 m) of vertical
drop that skis bigger than Bromont.  Every trail descends the full vertical,
too, such that runs like Waterloo and Sherbooke with steep, mogulled faces
turn into true thigh-burners – especially when you're chasing Désourdy.  Bromont
has managed to pack 134 skiable acres into that vertical, too.  Every trail
is different, every trail has its own character – and every trail is a hoot
in its own right.  The vertical is truly consistent from top to bottom.  "There
are no flat spots, there are always different angles," Désourdy confirmed. 
"Everybody who comes out here, that's what they like about the mountain. 
At 130 acres it's not that big, but every ski area has to find its niche –
and this is ours."

The liftline on
Bromont's east side has already been cut
The Désourdy family corporation that controls Bromont owns
a sizeable chunk of real estate in every direction from the mountain's summit
– 2,200 acres in all – and its unique topography allows for skiing and snowboarding
on every side.  While the skiable terrain on the main mountain, Mont Brome
(el. 1,854 ft./565 m.) faces primarily north, the resort is in the process
of developing terrain on the mountain's east side.  A chairlift line has already
been cut, as have several trails and glades.  For the coming season, one will
be able to ski partway down the east side to a cat track returning you to
the Cowansville trail.  Once the lift is installed, however, Bromont will
replicate its existing vertical drop on an entirely new side of the mountain. 
With any luck, this fixed-grip quad may be in place by 2002-2003.
We previewed the new terrain during our visit, and found
a character unlike anything on the main face.  Punctuated by cliff bands and
minor hillocks, the east side offers a delightful mix of short steeps, narrow
and winding cruisers, and moderately tight glades.  The east face of Bromont
will offer an entirely different dimension to the mountain experience starting
in 2001-2002, and by itself is enough to warrant a return visit.
Mont Brome is not the only summit at Bromont, though.  Beautifully
separated from the corduroy speed demons on the main mountain is Mont Soleil,
a west-facing enclave of primarily gentle novice trails served by their own
chairlift and rope tow.  Entirely illuminated for night skiing, these slopes
are the ideal location to learn to ski or snowboard without the fear of experts
screaming down from above.  Bromont's ski school offers flexible programs
for all ages, tailoring their lesson menu to virtually any schedule.
Désourdy understands that his mountain primarily serves a
day market, and accordingly the resort owns no lodging properties.  Surprisingly,
despite the plethora of shopping, restaurants and boutiques lining the drive
in from the Autoroute, few hotels, motels or inns are available at all.  Several
notable exceptions to this rule include the Chateau Bromont,
a large, well-known hotel and spa immediately adjacent to the ski area's parking
lot, and the Auberge Bromont, a comfortable inn about a mile from the slopes
and immediately adjacent to the resort town's golf course.  Despite its proximity
to the skiing, Chateau Bromont primarily markets itself as a business hotel
for conventions, and maintains little business interaction with the ski area. 
Look for this dearth of ski lodging to potentially change in the future, however,
as Bromont has drawn up plans for 120 condo units, and potentially 1,000 beds
over the next decade including hotel rooms.  They're actively seeking investors
to fulfill their goal.
This lack of overnight business is in large part responsible
for Bromont's recent absence from the Ski East (Ski dans l'Est) program,
a marketing association amongst Eastern Townships resorts offering an interchangeable
multi-day lift ticket.  Under the program, ski week visitors buy a ticket
good at Orford, Owl's Head, Sutton and – formerly – Bromont.  (At one time,
decades ago, Jay Peak just across the border in Vermont was also a participant.) 
"Sutton and Orford have close to 5,000 beds," Désourdy explained.  "Owl's
Head has close to 2,000 beds, and we have about 200 beds."  Accordingly, Bromont
was responsible for selling only about 1% of the association's ski week programs,
and Bromont and Ski East parted ways when Bromont's returns failed to come
close to meeting their required investment in the program.
Ultimately, the weather closed in upon our visit to Bromont. 
While we watched several showers approach throughout the day, only to see
them narrowly skirt past to one side or another, the main wall of rain hit
with full force by mid-afternoon.  Reluctantly, we squeezed the excess water
from our clothes, dumped the water from our helmets, and packed up to head
to the car.
Maybe my Chihuahua analogy was an inappropriate one.  Perhaps
the story of David and Goliath would have been more tactful.  But the Chihuahua
is my analogy, and I'm sticking to it.