Val d'Isere, France – Imagine a resort nearly four times the
size of Whistler-Blackcomb with terrain to suit all standards of skiers and
boarders, no matter how extreme your tastes. A resort with off piste possibilities
so vast that books have been written about it. A resort with 300km of groomed
runs, 97 lifts, two snowboard parks and two glaciers. A resort you could spend
a whole season in, and still not fully explore.
n
Imagine. Who needs to imagine? The legendary l'Espace Killy
in the French Alps is a mecca for skiers and snowboarders who flock here in
hoards every year in search of the white stuff. There are few areas in the
world that can rival this one for sheer size and diversity of terrain. I'm
getting excited just sitting here writing about it. The off-piste possibilities
are completely mind boggling and a visit to this place should be on any skier
or snowboarder's top-ten wish list.
The Tuffs Couloirs above Tignes Val Claret are skiable
under the right conditions.
The worst start to the European season for as long as I can
remember didn't make for a particularly relaxing prelude to our first trip
to Tignes. Shortly after Christmas, eight of us packed our bags, hopped on
the snow train and headed off with high hopes of some serious powder action.
We liked it so much, we went back in March. As if to reassure us, it was even
snowing as we pulled into Bourg Saint Maurice station, covering the whole
resort in two feet of snow and sending the avalanche risk through the roof.
VILLAGE OPTIONS
There are two main towns in L'Espace Killy, and believe me —
they couldn't be more different. The first of these, Val d'Isere (1850m) is
a hugely popular travel company destination, especially popular with the skiing
masses. This results in a very overcrowded village, full of miniscule self
catering apartments and overpriced bars and restaurants. Val d'Isere also
has a certain reputation for attracting multitudes of objectionable British
skiers. These delightful people usually roll out of bed at noon and crowd
into one of the many mountainside restaurants wearing fluorescent one-piece
ski suits and avalanche transceivers, just for effect. After chugging down
several bottles of wine with their three-hour lunches they ski down a green
run and stagger into Dicks Tea Bar for a spot of après-ski while still in
their ski boots. Now, I'm not saying there's anything wrong with this, so
long as their drunken skiing antics don't cause any accidents. If they want
to subsidize my lift pass for one of the best ski areas in the world, then
I say, "let them." This phenomenon thankfully seems to be limited
to the runs directly above Val d'Isere, which are seemingly populated only
by skiers and are probably best avoided. In fact, only about a quarter of
the visitors to the l'Espace Killy are British, although almost everyone seems
to speak English. I've actually never been to a French resort with so many
Anglophones.
We wisely stayed at 2100m in Tignes which, apart from the obvious,
has many other advantages over Val d'Isere. The three villages which make
up Tignes are at a higher altitude for more dependable snow cover. Tignes
is also more centrally located for the lifts, allowing you to traverse the
huge area with relative ease. Of the three villages in Tignes, Tignes Le Lavachet
is generally home to most of the seasonaires and resort staff, and as such
consists of smaller self catering apartments aimed squarely at the budget
end of the market. Having said that, a lot of people choose to stay in Le
Lavachet, as we did on one of our two trips during the 2001-2002 season. There
are a few decent bars and restaurants, more notably Harry's where we seemed
to spend most of our time (Crowded House in Val Claret is also deserves a
mention). It's possible to get to Le Lavachet via the slopes, but a five-minute
walk is required to get to the lifts. Alternatively, free buses link all of
the villages, including the the smaller ones served by the lower lifts.
Tignes Val Claret
A five-minute walk from Le Lavachet is Tignes Le Lac, which
is located right in the heart of the lift system and is home to a wider selection
of accommodation, restaurants, shops and bars. A short bus ride around the
lake (or a 30-minute walk across it) leads you to Tignes Val Claret, which
is a similar size to Le Lac and allows easy access to a number of lifts, including
the funicular to the Grande Motte which sits atop the l'Espace Killy at 3656m.
Up until a few years ago, the Grand Motte glacier used to be open all year
round This has changed in the last couple of years, however, and the glacier
is now closed for roughly six weeks of the year.
Overall, the three villages are fairly similar, and there's
the usual collection of small supermarkets for those of you requiring cheap
beer. The queues at these can get fairly big, however, so get there early
in the evening. Restaurant options are fairly decent, despite the expected
overabundance of Savoyard and pizza restaurants. Vegetarians beware, though,
as options can be limited for the non-meat eaters amongst you, but there are
plenty of self catering apartments and catered chalets at your disposal. Prices
overall are fairly reasonable, although prices in Val d'Isere are higher than
in Tignes, especially in some of the classier establishments.
Two million bed nights were recorded in Tignes last year alone,
so whether you're looking for a luxury hotel, a cheap apartment or something
in-between, there'll be something suitable for you. A full list of accommodation
is available from the Tignes website. As far as non-skiing activities go,
both Tignes and Val d'Isere fare quite well, the highlight of which has to
be ice diving beneath the frozen lake in Tignes. Other activities available
include dog sledding, skijöring, horse back riding, paragliding, ice climbing,
snowshoe hiking, hang-gliding, paragliding, and helicopter trips, as well
as the usual shopping and all-day après-ski options. We used Evolution
2 for ice diving and off piste guiding, but there are a number of different
companies offering these activities.
NEARLY 100 LIFTS
The lift system in l'Espace Killy is quite well organized, considering
the size of the task that it has to carry out. The lifts include two funiculars,
four cable cars, four gondolas and 48 chairlifts, with the rest of the resort's
97 lifts made up of drag lifts. Its really easy to get around without having
to resort to drag lifts, and an increasing number of chairlifts are being
converted to high speed chairs. Some of the lesser used lifts, though, are
particularly slow. Overall, the hourly capacity of the whole system is 170,000,
which keeps lift queues to a minimum. The only really bad queues are for the
Grande Motte glacier, which can easily be avoided, although some of the more
long ranging off-piste terrain is accessed from the top of the glacier. Crowds
increase a lot during the French holidays, so those times are best avoided.
Its easy to tell which are going to be the busy weeks, because all the accommodation
prices increase for no apparent reason.
We were in Tignes over the New Year holiday and at the end of
March, and neither time were the queues anything to write home about. After
a heavy snowfall or high winds, large amount of the resort are susceptible
to closure until avalanche control has been carried out. Generally speaking
the Val d'Isere side of the area seemed to be less affected by high winds.
During periods of closure, lift queues can increase to almost stupid levels,
but there'll be no fresh powder anyway, so the best thing to do is pick a
lift, sit in the nearest bar and wait for it to open. Newly opened terrain
can get tracked out pretty quickly, especially the stuff close to the lifts,
so you'd best be on the ball or you'll miss out. Having said that, if you're
with a guide you'll have no problem finding fresh tracks, because a large
proportion of the best terrain is a long way from the lifts and requires a
large commitment to reach.
Several different lift passes are available for different sections
of the whole area. If you know what you're doing you could probably buy one
of the cheaper passes, otherwise you'll be better off buying the whole Espace
Killy pass which will allow you to explore the area freely without having
to worry about ending up in the wrong place. The off-piste terrain is spread
throughout the resort, and there is something accessible from almost every
lift, either directly from the lift or via a short hike. To take advantage
of the truly spectacular nature of the off-piste possibilities, you'll really
need a guide, because this place will hit you hard if you venture where you
shouldn't.
As far as mountain restaurants go, they're all fairly similar,
some are smaller and quieter than others, but that's a matter of personal
preference anyway. For those of you on a budget, cheaper food is generally
available from the take-away places at the bottom lift stations in both Tignes
and Val d'Isere. Piste grooming (if that's your thing) is frequent and comprehensive,
with some of the busier runs being groomed constantly throughout the day.
A major criticism lies in the dodgy piste grading, which is notoriously inaccurate
in l'Espace Killy. Generally speaking, you'll need to be careful if you're
an intermediate and are not comfortable riding moguls or steeper runs, because
the color coding system does seem to go awry at times. One final thing to
watch out for: if you end up stuck in the wrong place at the end of the day,
buses are not available between Tignes and Val d'Isere and a taxi will set
you back a lot of money, so make sure you've got plenty of time to
get back to where you should be.
The huge snowfall that preceded our first trip sent the avalanche
risk up to 4 to 5 for the first few days we were there. Huge slab avalanches
were everywhere, although the majority of these were on the steeper slopes,
especially the wind loaded slopes at the Tignes end of the resort. The nature
of l'Espace Killy, though, is such that you can still find powder to ride
on the shallower slopes. The lure of some of the steeper, better looking stuff
was hard to resist on the first trip, but we got our fair share of powder
while giving the steep avalanche covered slopes a very wide berth. The powder
at the Val d'Isere end was much more stable, especially as the week wore on
and the avalanche risk went down from 4 to 5 at the start of the week to 3
to 4 by New Year's Day. Even so, I quickly developed a habit of constantly
looking over my shoulder after every turn. By March the snowpack was thankfully
much more stable, and we got to tackle some of the juicier stuff that we'd
been denied on our first attempt.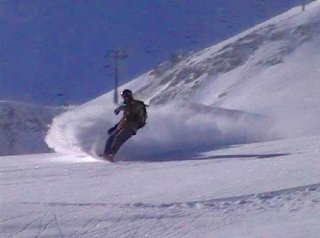 The author, looking stylish at Tignes.
Backcountry routes like these at Tignes (a couloir,
above; and Le Vallon de Sache, below) are hard to come by without
a guide.
The safest and best way to ride by far is to hire a guide. We
spent a day with a guide from Evolution
2 ascending small hikes and then riding down to the road which runs round
the lake outside Tignes. As soon as we arrived at the road, a bus would mysteriously
appear, as if by magic. The buses don't actually run very frequently, and
it was only the knowledge of our guide that let us get in so many runs. The
service of a guide was worth every penny.
Over the two weeks we spent in l'Espace Killy we barely did
the same run twice, and I couldn't even begin to pick a favorite. The first
trip we spent mostly on the Tignes side and the second trip we were mostly
on the Val d'Isere side. They're really almost like being in two separate
resorts.
The terrain is vast. The glacier area above Le Fornet is generally
quieter than some of the other areas, mostly due to its more remote location,
and has some good terrain, as does the area above Solaise. The terrain between
Val d'Isere and Tignes, especially around the snowpark is probably best suited
to piste cruising, with the notable exception of the Col du Fresse which is
worth the hike. A large amount of the more severe off piste itineraries are
accessed from the Grande Motte Glacier, including the stunning run down the
Dome de Pramecou. The area around the Aiguille Percee above Tignes is home
to some of the steeper terrain. including the Vallon de Sache and the runs
down to the lake. Generally speaking, the off-piste runs are long and can
take you a long way from the lifts, providing you with seemingly endless powder
runs through spectacular terrain for a minimum of effort. I won't go into
detail of every good powder run that we found, because there were far too
many and to be honest, the place is so big that I probably couldn't even remember
where they were. You'll just have to go and find out for yourself.
Tell them I sent you.
GETTING THERE:
There are a number of ways to get to Tignes and Val d'Isere. Both are roughly
two and a half hours drive from Geneva airport (3 hours from Lyons) either by
hire car or public bus. If you're driving your own car, be aware that parking
is expensive, but you can drive down to some of the more remote villages and
get the free bus back to save yourself some money. Alternatively you can get
the snow train from London to Bourg Saint Maurice, either overnight as we did,
or during the day. This option allows you 2 extra days on the slopes (although
in reality it's more like two half days) and you'll get to experience the joy
of spending 14 hours on a train with a bizarre cross section of the British
skiing public (I can thoroughly recommend it, although if you've got kids I
might be tempted to fly). Tignes and Val d'Isere are also situated close to
Les Arcs and Saint Foy, both of which are less than 30 minutes drive away.