Salt Lake City, UT – Let's get a few things straight here: ladies, we've already got a closet full of ties that we never wear, anyway. And guys, we'll enjoy our turns more on women-specific ski and snowboard gear that's more valuable to us than baubles and beads.
Are you shopping for a skier or snowboarder in your life this holiday season? Look no further than our Holiday Gift Guide for some of the best gift ideas in snow country. And unlike some other publications out there, we actually test, use and abuse the gear that we review, so you'll get the straight skinny from First Tracks!! Online. From small to big, from cheap to expensive, you'll find great gift ideas to fill the stocking or place under the tree this holiday season.

SportValise's
new Core Pro Padded Multi Ski/Snowboard Bag features generous
protective padding, ample room, and high-quality wheels for rolling
your gear conveniently through airports.
(photo: SportValise)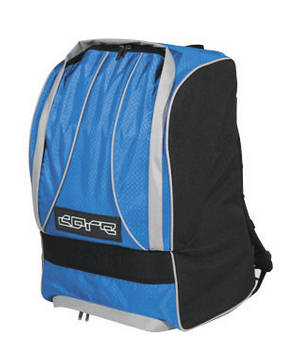 The
matching SportValise Core Pro Boot Bag/Backpack thoughtfully places
the separate compartment for wet boots on the bottom level, keeping
your other gear dry.
(photo: SportValise)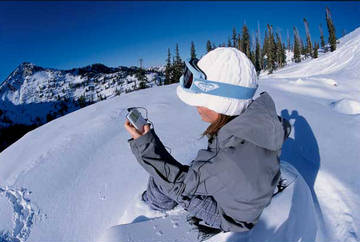 Roxy's Broadway goggle features a frame sized
for a woman's facial features.
(photo: Roxy)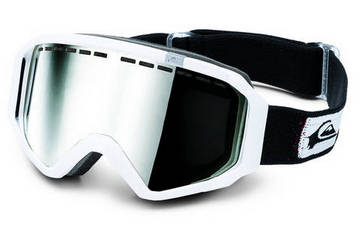 Oversized lenses on Quiksilver's new Q-1
goggle provide ample peripheral vision.
(photo: Quiksilver)
The Iris X is a new goggle from Swedish manufacturer
POC's debut collection.
(photo: POC)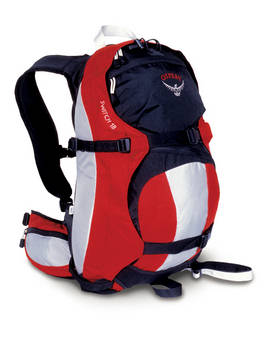 Osprey's Switch series represents some
of the finest ski-specific packs that we've come across.
(photo: Osprey Packs)
The Stash series from Backcountry Access also
features a winter hydration system protected from the elements
within the shoulder strap.
(photo: Backcountry Access)
Dakine's Axis backpack is well-suited to a day
of lift-served skiing and riding.
(photo: Dakine)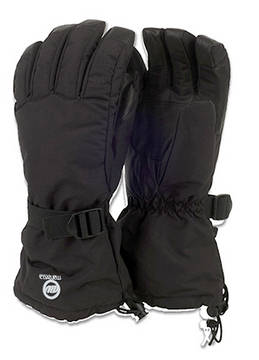 Thoroughly developed technical features make the
new Denali glove from Manzella well worth its $100 purchase price.
(photo: Manzella)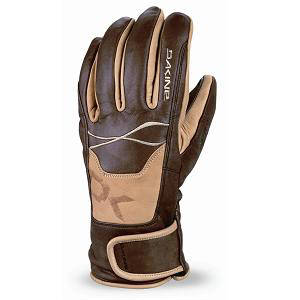 Dakine's new Mule glove features supple leather
construction.
(photo: Dakine)
Ron LeMaster's new book could well serve as the
next bible of skiing.
(photo: VeloPress)
Dan DiPiro eschews the PSIA "one size fits
all" approach to teaching mogul skiing.
(photo: Dan DiPiro)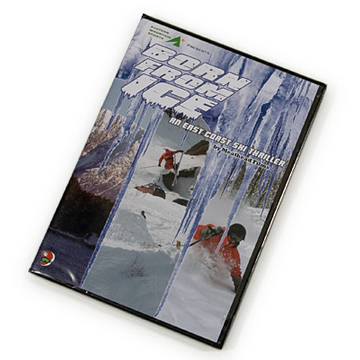 "Born From Ice" is the latest East
Coast ski video from Vermont-based Meathead Films that captures
the soul of eastern skiing.
(photo: EMS)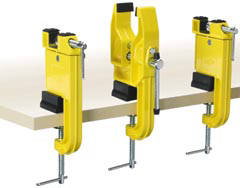 Toko's Ski Vise World Cup holds Alpine or Nordic
skis securely in both vertical and horizontal positions.
(photo: Toko)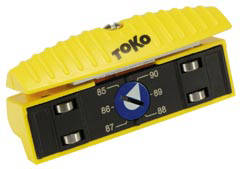 Toko's Ergo Multi Glide makes obtaining that
perfect edge angle a simple process.
(photo: Toko)
Toko's System-3 hot wax is available in single-color
or mixed blister packs.
(photo: Toko)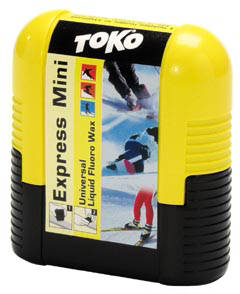 Toko's Express Mini pairs a highly flourinated
liquid wax with a sponge applicator that fits in your pocket.
(photo: Toko)
POC's Spine is a new piece of body armor designed
to protect the back from injury. (photo: POC)
The Tracker DTS from Backcountry Access is an
easy-to-use, all-digital avalanche transceiver.
(photo: Backcountry Access)
The Ortovox X1 combines the best of digital and
analog technologies in a single avalanche transceiver.
(photo: Ortovox)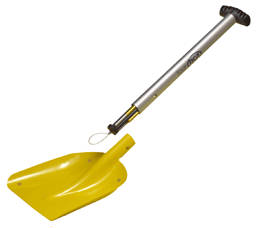 The Tour System from Backcountry Access combines
a probe and shovel in one unit.
(photo: Backcountry Access)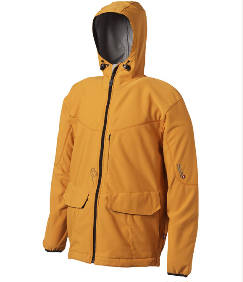 Quiksilver's new Hot For Teacher is a soft shell featuring Gore
Wind Stopper fabric. (photo: Quiksilver)

The Prowler from Quiksilver is a heavy weather jacket featuring
a multitude of pockets for gear storage and organization. (photo:
Quiksilver)
Roxy's new women's ski line features (L to R)
the PolkaDots.com, Snow Angel, Sidewalk Surf and Palm Beach Polka.
(photo: Roxy)
And don't forget, while you're out there shopping for your honey, it's OK to pick up a little something for yourself, too! There's an entire winter ahead, but the season's too short to spend it on inferior gear.
TRAVEL IN STYLE
If your sliding sweetie spends as much time in an airport as on the slopes, perhaps some quality ski or snowboard luggage is just the ticket. Boulder, Colo.-based SportValise has added a new wheeled Pro Padded Multi Ski/Snowboard Bag (MSRP $149.99) to its Core collection for 2005, and it's one of the most thoughtfully-designed pieces of ski luggage that we've ever come across. "Seasoned travelers will appreciate the meticulous detailing in this bag," says company president Marita Matissen. "This luggage is designed to go the distance in style."
Matissen is right. This bag may be pricey, but sometimes in life you get what you pay for. Constructed of durable 900 D polyester with a PVC laminate and unique EVA molded foam trim, it's generously oversized to carry a snowboard or a couple of pairs of skis up to 175 cm in length, plus still have room to stuff clothing as well. Its thick padding protects your gear, while molded bottom support rails and corners protect against wear while conveniently wheeling the loaded bag around the airport or out to the rental car via its inline skate-type wheels. Skis or a snowboard provide the necessary rigidity, held securely in place via one internal and two external cinch straps, and so despite its wheeled design it folds neatly and compactly in the condo closet when not in use. Internal access is provided by one beefy full-length two-way zipper. A separate zippered side pocket keeps small essentials like wax and screwdrivers handy, and a padded shoulder strap and cargo handles are provided for carrying the bag up and down hotel stairways.
The perfect travel set may be created by matching the Core Pro Padded Multi Ski/Snowboard Bag with the line's Boot Bag/Backpack (MSRP $69.99). With separate compartments for ski or snowboard boots and another for gear, there's plenty of room to transport your helmet, gloves, goggle and other essentials to the slopes conveniently and comfortably on your back, along with your boots. SportValise thoughtfully put the boot compartment at the bottom, keeping your other gear dry, and generous zipper flaps keep everything protected from inclement weather. Waist and sternum straps and a padded back distribute the load and prevent shifting and swaying.
SportValise's entire Core ski and snowboard luggage line is available through online and brick-and-mortar specialty retailers worldwide.
SEE AND SKI
Who can't use another pair of goggles? Whether for defining terrain features in flat light, or providing UV filtering from the sun's glare on snow, goggles are an essential component of every skier and snowboarder's gear bag. Several new pair are available this season, and they make the perfect stocking stuffer for that snow-sliding sweetie.
Roxy, a pioneer in women's specific gear, clothing and accessories, has released a number of new goggles for the 2005-06 winter season. We tested the "Broadway" (MSRP: $45), a double-lens model featuring 100% UV protection, distortion-free and shatter-resistant ventilated double lenses, and anti-fog treatment, all wrapped by a PVC injected frame designed to fit a woman's more petite facial features. It comes in fun, feminine frame colors of white, light blue, pink, orange and lime green, in addition to standard-issue black, and all but the lime green frame feature orange lenses that we found ideal for flat light definition (the lenses in the green frames are pink). An essential addition, too often neglected by other goggle manufacturers, is an abrasion free drawstring poly bag to protect your eyewear.
For the guys, Quicksilver's new Q-1 goggle (MSRP: $79.95-89.95) features a polycarbonate and acetate perforated double lens combination with anti-scratch and 100% UV protection. The oversized reflective bronze CHR lenses, treated with an anti-fog agent, provide excellent peripheral vision on bright days, while the included spare cylindrical lens provides low-light visibility. Other lens colors (MSRP: $19.95) are sold separately for varying light conditions. The goggles and spare lenses are protected by the included hard-shell Goggle Bank case. Available frame colors include black, rich red, white, and lime in addition to the funky military camo fatigue pattern on our test model. Side clips flex outward for helmet compatibility, although like all goggles you should double-check fit with your particular helmet model. We encountered difficulty getting the large frame size to fit comfortably with Giro's popular Nine.9 model as it generated undue pressure across the bridge of the nose.
POC is a first-year ski and snowboard protective gear manufacturer based in the Stockholm suburb of Saltsjöbaden, Sweden. In addition to body armor  the company is marketing a new line of goggles. We sampled the Iris X ($125), a double-lens goggle with blue reflective coating on orange lenses for a clean, aesthetically pleasing shape. Air circulation to minimize fogging is ample, with a vented lens and foam vents top and bottom. For fit and comfort, the face foam includes a fleece lining against the skin, and the company has thoughtfully added two rubberized strips on the inside of the goggle strap to prevent shifting when worn over either a helmet or a hat. Helmet clearance is sufficient, yet the goggle provides good peripheral vision. Frames come in white, orange or black, each with matching straps.
PACK IT IN
There's nothing like the convenience of a small daypack to carry the essential water, food, and spare fleece along on the slopes, or even to pack your skis or snowboard along on a sidecountry or backcountry expedition in search of fresh lines, and there are a number of ski- and snowboard-specific models available with appropriate design features.
Perhaps some of the best skier-specific packs we've found are produced by Osprey Packs, based in the fertile testing ground surrounding the tiny southwestern Colorado mountain community of Cortez. Their Switch line contains no fewer than five ski and snowboard packs, ranging in size from 14 liters of volume for lift-assisted sidecountry skiing, to 55 liters for full-on backcountry overnight touring. All include the capability to carry skis in A-frame or diagonal configurations, or snowboards and snowshoes in vertical or horizontal positions, as well as hydration systems with the hose and bite valve completely enclosed within a zippered and insulated shoulder strap for protection against freezing. Even the smallest 14-liter Switch 14, which we tested, includes zippered hip belt pockets on both sides and heavily-reinforced Hypalon ski carrying straps to prevent wear from sharp ski edges. The unique clamshell design permits expansion for carrying larger loads, yet cinches down to an incredibly thin profile to minimize interference while riding chairlifts. All but the Switch 14 and Switch 18 feature a removable AquaSource Snow hydration pack which can be worn on its own, or inserted into the full pack for easy access. Heavy-duty zippers include generous storm flaps to prevent fouling by ice and snow. Larger models include separate compartments for snow safety items such as avalanche shovels and probes. Construction is of a mix of materials, with heavier materials used at high wear points, and lighter materials used elsewhere to conserve weight (2 lb. 8 oz. for the Switch 14, to 6 lbs. 5 oz. for the Switch 55+5).
These packs are pricey (the Switch 14 is widely available for $99.95), but well worth the investment. Our staff members who have used an Osprey Switch will never venture off-piste without one again.
The same type of insulated hydration system employed by the Osprey Switch series is used in the Stash Pack series from Backcountry Access — in fact, they pioneered the approach, and Osprey and others followed. A total of seven Stash models are offered, ranging from the 19-liter Stash for lift-accessed and out-of-bounds skiing, to the 40-liter Stash Alp40 for full-on alpinism and mountaineering. We tested the smallest Stash (MSRP: $109.95), which  includes reinforced strapping for a diagonal ski carry but lacks any obvious method to carry a snowboard or snowshoes. The Stash can be retrofitted to carry a snowboard via an optional $15 add-on, or the attachment comes standard on the Stash BC Rider. It includes a 70 oz./2-liter reservoir for its insulated hydration system, and sealed zippers provide protection against fouling by snow and ice without the use of storm flaps. Diagonal lacing and a pair of daisy chains on the exterior provides an ideal carrying position for wet gear, there's a separate internal tool tube for avi gear, and an internal mesh pocket as well as a separate external pocket to keep essential items readily available. An ice axe can be carried via the use of a BCA ice axe loop, sold separately. Smart use of materials keeps these packs light – they range from 1 lb. 13 oz. for the Stash to 3 lbs. for the 2500 cubic-inch Stash Alp40. The low profile and lack of external straps keeps the Stash very chairlift-friendly.
Smallest and simplest of the ski packs we tested is the Axis from Dakine. Like the Switch and the Stash, Dakine's Axis has a hydration system fully protected within an insulated, zippered shoulder strap, as such a feature appears to be becoming standard insnowsports packs. We were disappointed, though, to find zippers unprotected against fouling by ice and snow. The Axis is suitable for strictly lift-served skiing and riding, as there's no means by which to carry skis or a snowboard, but its small size and light weight makes it ideal for its intended purpose without complication by backcountry features for those who don't need them. At $70, its MSRP was also the least expensive of the group. The axis includes a Nalgene 70-oz./2-liter Flowlock hydration reservoir with quick disconnect, fleece-lined sunglass and goggle pockets, and a removable waistbelt, although we're hard pressed to imagine a situation where its use would not be desired. A blend of 420D ripstop nylon, 630D nylon and 800D nylon in high-wear areas keeps the weight of this 650 cu. in./11-liter pack down to a nominal 1.5 lbs. Curved shoulder straps and a light back padding provide comfort and stability when hammering through the bumps. A large external pocket includes a mesh divider for organizing gear.
WARM HANDS, WARM HEART
Nothing ruins a ski day more readily than cold, wet hands. We tested two new pair of gloves designed to keep your day on the slopes pleasant and cozy.
Tops on our list this year is the Denali from Manzella due to performance, comfort and versatility. These component-style gloves feature a lengthy gauntlet, with a cinch strap around the wrist and an elastic drawstring and cord lock at the end to keep heat in and the elements out. The black ripstop nylon shells, insulated with 70 g. Thinsulate and a Gore-Tex waterproof-breatheable membrane, are augmented by removable Gore-Tex Windstopper fleece glove inserts that may also be worn separately. A Pittards leather grip lends durability against slicing by ski and snowboard edges. When it comes to ski gloves, you get what you pay for, and the $100 MSRP is a small price to pay for warm, dry hands.
The Denali is a highly technical glove. On the other end of the spectrum, but still sporting quality materials and construction, is the black and brown (or brown and tan) all-leather Mule Glove ($65) from  Dakine. There's still a suppleness and style in an all-leather ski glove, and the Mule is no exception to the rule. Fixed pile fleece lining provides the insulation, and a hook-and-loop closure on the short gauntlet keeps out snow, ice and moisture. Pre-curved fingers provide a low-profile fit. While we'd be hard pressed to venture out with these on bitter Northeastern days, when the mercury struggles to rise above negative double-digits, the Mule would be a comfortable and stylish alternative in fairer Rocky Mountain climates.
KNOWLEDGE IS KEY
We took the opportunity to review a couple of new ski books and a DVD that would make a welcome addition to any skier's library.
The Essential Guide to Skiing: 201 Things Every Skier Must Know (ISBN 0-9746254-1-8) is a new release written by Ron LeMaster for Peak Sports Press, a divison of Boulder, Colo.'s
VeloPress. This virtual ski encyclopedia may well become the new skier's bible, as it covers virtually every ski subject imaginable, from finding that special deal on ski gear to learning how to put your skis back on powder after cratering. Ample black-and-white photographs provide guidance on every subject from layering clothing against the cold to carrying your poles on a chairlift. LeMaster ought to know – he has been an instructor, race coach, writer and photographer, and regular contributor to North American ski magazines. It's impressive how LeMaster sought to tackle such a broad range of topics within a single 259-page paperback. The list price within the U.S. is $21.95, and it may be found in bookstores everywhere.
Wannabe bumpers unite! Everything the Instructors Never Told You About Mogul Skiing (ISBN 1-4208-6159-X) is mogul master Dan DiPiro's effort to break the mold for mogul skiing instruction. We wondered if this would be a typical bump skier's criticism of the Professional Ski Instructors of America (PSIA) skiing model, or if we were about to read a complicated and unfathomable description of how to ski bumps that most recreational skiers would never be able to follow. Thankfully, neither scenario is the case.
Instead, DiPiro's book is a concise and well-written handbook filled with techniques that are essential to good mogul skiing, and drills to practice them. DiPiro is a former USSA mogul competitor and his grasp of good bump technique is therefore solid, but do not make the mistake of assuming that his book is only for those who want to ski moguls competitively. To quote DiPiro, "Whether you want to ski gentle moguls with comfort and confidence, turn heads on your local mogul run, or compete in mogul contests, this book will give you the specialized knowledge you need to reach your goal." This book is for any strong intermediate to expert skier who wants to improve their bump skiing.
The book begins with a frank discussion of the fact that skiing bumps requires special techniques that are not generally taught by the PSIA teaching establishment. Groomed trail techniques do not translate well to mogul fields, and PSIA mogul lessons often end with frustration and disappointment for the student. DiPiro is careful to avoid criticizing PSIA, and he does not say that one technique is better than the other – just that PSIA-taught techniques are best suited to groomed trail skiing and mogul techniques are best suited to skiing bumps.
Chapters two through seven are devoted to describing essential mogul skiing techniques, and include drills, many of which start out on groomed gentle terrain, to help the student master each skill. DiPiro's book is well worth the $10.80 price tag for any aspiring mogul skier.
If you're buying for a skier or rider who'd rather be entertained than learn, a ski or snowboard DVD makes the perfect stocking stuffer. The big production houses, however, often overlook or ignore eastern skiing and riding. That's the niche filled by Vermont-based newcomer Meathead Films.
It is like they say…you can't beat the meat. Breaking away from some of the soulless, bland, and homogenized ski movies produced by the big boys, Meathead Films offers up real skiing experiences featuring their closest buddies instead of pro skiers that huck cliffs for a living.
The soul of New England really shines through in the Meathead's productions. Skiers in New England do more with less by cutting stashes in the woods and seeking out rare snow-filled gullies. Meathead Films brings the essence and soul of this dedication and mind set to the screen.
Founded in 2001, the production outfit grew out of a University of Vermont-aired sketch comedy series. Elements of comedy remain in the ski movies; however, the production value and quality is substantially higher than a college version of "Jackass." While the budget of Meathead Films does not provide for helicopters and ultra-zoom cameras to capture the best angles, the production outfit has the technology to make their well produced and well directed films worth every penny of their $19.95 selling price.
The video roster of Meathead Films includes four titles. Born From Ice is their newest release now available on DVD, as are previous releases Schooled and Epoch. Elevated, their first effort, is sadly no longer available.
Schooled is a full-on ski movie featuring both new school jibbing and back country action. The soundtrack is well selected, featuring tracks that fit the scenes, from the grace and precision of a steep couloir descent to the heart-pounding jams that a 720 inspires. Generally, the selections trend along the more soulful and folkish side of the spectrum, bucking yet another trend of typical soundtracks from the current major ski flicks. Schooled brings to life the journey to find the goods, in addition to the descent itself, with an especially cool segment featuring the Chic Choc range of Quebec's Gaspé Peninsula. The Meatheads pay homage to their college years by dressing and playing the part of your generic high school stereotypes. The biggest problem with Schooled is that the movie is too short, clocking in around one hour in length.
Epoch is more of a documentary and journey than a true ski movie. The film chronicles a small group of skiers who commit to ascending and skiing the highest peaks from five Northeastern states, including Mount Greylock (Mass.), Mount Washington (N.H.), Mount Marcy (N.Y.), Mount Katahdin (Maine), and Mount Mansfield (Vt.). Each peak features historical segments utilizing old maps, interviews, vintage photographs and film, interspersed with live action segments documenting the ascent and descent of the mountains as well as the journey to and from the various trailheads. The crew was limited on days and available time, so unfortunately bad weather and poor conditions occasionally hamper the typically perfect shots you would expect in a ski movie. These difficulties,  however, add substance and a large dose of good ole' reality to the film, New England style. Less than half of the film features actual skiing footage, but a lot of great extra footage is located within the bonus features. One especially interesting bonus documents the trails the crew ascended and descended utilizing topographic maps and voiceover descriptions.
SHARP EDGES, SHARP SKILLS
There's a certain pleasure to be derived from maintaining your own skis or snowboard. Properly-tuned gear, including smooth, sharp edges and fast, freshly-waxed bases, ensure a pleasurable day on the slopes, and that joy is enhanced by the knowledge that your gear is performing well because you did the maintenance yourself. Furthermore, you're certain that your gear is prepared precisely as you like it, not ruined by some pimple-faced shop tech spending his first day testing your precious skis on a grinding belt.
The Swiss company Toko has produced a complete line of waxes and ski maintenance products for decades, and their 2005 product line provides the depth of equipment necessary for any ski or snowboard repair task. We tested and used a number of their products in preparation for this holiday shopping guide, including their Ski Vise World Cup (MSRP $130), a professional ski clamping device that holds a ski either horizontally or vertically via a center vise and a pair of outrigger vises, one on each end. A set of ski vises is essential to hold the ski steady on the workbench while filing edges or waxing bases, and Toko's Ski Vise World Cup holds both Alpine and Nordic skis securely, with or without angled sidewalls. We found it to be one of the most stable and versatile ski vise sets that we've used. Straps for holding ski brakes out of the way are included right in the box.
For keeping edges smooth and sharp, Toko offers its Ergo Multi Glide ergonomic sharpener (MSRP $72) which allows the side edge angle to be adjusted anywhere between 90º and 85º in one-degree increments, depending on your preference, using a large dial on the device. It can be used to file both base and side edges, and the file is easily fastened within the holder by a single large screw. The Ergo Multi Glide features four rollers to glide effortlessly along the base of the ski, and its large shaped handle fits comfortably in the hand to minimize fatigue while filing.
After edge filing comes waxing, and Toko made its name as one of the world's largest and most respected manufacturers of ski wax. Waxes come in several varieties, ranging from the traditional, durable and inexpensive bar waxes to expensive high-speed fluorocarbon waxes that are applied sparingly to a racer's skis, and last only for a couple of runs. Toko produces both.
The Toko System-3 is a traditional bar wax in yellow, for snow temperatures ranging from 25 to 32ºF, red for snow temperatures from 14 to 25ºF (both $12 for 120g of either or as a mixed pack), and blue for 14 to -22ºF ($8 for 100g) that makes a terrific, inexpensive stocking stuffer that's sure to be welcomed by any skier or boarder. Bar waxes are applied with a hot iron, but the holes in the base surfaces of household steam irons render them nearly useless for ski and snowboard maintenance. Toko produces an 800-watt Wax Mouse ($74), a small smooth-plate waxing iron with an infinitely variable temperature adjustment to  prevent overheating the wax during application and a control light for thermostat function. The Wax Mouse's patented hourglass-shaped hotplate design enables even wax distribution without dripping on side cheeks.
For those with a true need for speed, Toko manufacturers and distributes several varieties of fluorocarbon-based wax. Unlike traditional waxes, these are simply applied to ski and snowboard bases as a rub-on solid or a liquid with a provided applicator. Dibloc HF Rub-on wax is rubbed on with even pressure and polished with the Thermo Pad included in Toko's Rub-on Set. Fluoros aren't cheap: the Rub-on Set retails for $22. Alternatively, Toko's Express Mini, 75 ml of a fluorinated liquid wax with a sponge applicator available for $8.60, is the perfect size to slip into a Christmas stocking hanging from the fireplace mantle.
MAKE IT BACK ALIVE!
Skiing and snowboarding are inherently risky pursuits. For those playing in the park, pipe or skiercross course, it's important to protect both the head and the spine. On the other hand, for those who would rather strike out on their own, into the backcountry and away from the crowds, having the proper avalanche safety gear – and the knowledge of how to use it – can minimize those risks, and maximize the odds of making it back home alive.
To minimize the impact terrain park play has on our bodies, POC has introduced a full line of safety gear to protect both the head and the spine in the form of helmets and body armor. The new Swedish company's development lab is staffed by a number of spine physicians, former ski racers and neurological engineers out to provide the best protection available. We sampled the Spine ($160), the basis for POC's modular  system that consists of a flexibly jointed back shield that's constructed of lightweight and durable injected polyurethane. It attaches to the body via elastic shoulder straps and a wide elastic waist belt that closes via hook-and-loop fasteners. Urethane foam pads the body. While we found spinal flexion to be virtually uninhibited while wearing the device, it does its job of preventing overextension of the spine admirably. Its light weight and ample ventilation made it no more bothersome to wear than a lightweight day pack. Separate cervical and coccyx protectors are available as add-ons for the Spine.
Moving our safety gear review from in-bounds to out-of-bounds, avalanche rescue follows a specific ordered protocol: use of an avalanche transceiver or "beacon" to narrow the search area, use of an avalanche probe to locate the buried victim, and use of an avalanche shovel to dig the victim out. In a conscious effort to promote snow safety, we reviewed products involved in each rescue step for our Holiday Gift Guide.
Avalanche beacons by default transmit a radio wave on the same frequency as all other avalanche transceivers: 457 kHz. When a victim is buried in an avalanche, all those not buried, including outside rescuers, switch their beacons from "transmit" to "receive." Signal strength and audible alert frequency both increase as the searchers get closer to the victim.
We got our hands on two transceivers to test: the Tracker DTS from Backcountry Access (BCA) (MSRP $310), and the Ortovox X1 (MSRP $289), which was updated last season with a faster, more efficient micro-processor. Both have digital capabilities that point in the direction of the buried victim and a numeric LED display that shows the distance to the victim in meters. For those accustomed to a grid search using an old analog beacon, the development of the digital avalanche transceiver represents a quantum leap in ease of use. The digital capabilities are where most similarities between the Tracker DTS and the X1 end, however, and the differences begin.
The X1 has an advantage over the Tracker DTS in that it utilizes both digital and analog technology – digital for pinpointing the victim's location, and analog for longer-range grid searches from up to 70 meters away. By contrast, the digital-only Tracker is limited in range to 50 meters, but we found the Tracker DTS easiest for a novice to use. The Ortovox's directional arrows turn on when the victim is 15 meters away, and shut off once the victim is within two meters of the searching transceiver. The distance-to-victim  measurement display begins to function at approximately 40 meters, once the digital signal takes over and the audio tone changes as a result. We also found the chest harness of the Tracker DTS simpler to use, and it includes a moderately protective case for the transceiver that the X1 lacks. The X1 includes an earphone port for noisy situations, while the Tracker DTS does not.
The choice between the Tracker DTS and the X1, therefore, is as much a matter of personal preference as anything else. No matter which unit you're using, though, any avalanche transceiver requires practice to use quickly and effectively, especially when locating multiple victims. That's a point that cannot be overemphasized.
Once the victim's location is approximated via a transceiver, the next step in avalanche rescue is extrication. A probe is used to pinpoint the victim's location before digging the victim out with an avalanche shovel. We tested a single device that suits both of these tasks: the Tour Shovel System ($79.95) from Backcountry Access. A six-foot avalanche probe stores within the handle of this 24.5-inch fixed length shovel. The blade is made of 6000-series aluminum, allowing the entire kit to tip the scales at only 22 ounces, the lightest probe-shovel combination available. We found leverage somewhat limited by the shovel's fixed handle length, and therefore would have preferred the longer 34.4-inch extendable model that adds only five ounces to the unit's weight. We also found the six-foot probe a little short for our liking, although quick access in an emergency situation from within the shovel handle is far superior to digging it out from within a pack. We also much prefer the Tour Shovel's aluminum blade to the Lexan models offered by some of BCA's competitors. For those for whom pack space is an issue, the Tour System is a logical choice.
Finally, consider giving what is perhaps the ultimate gift: an avalanche safety course offered by any one of the many qualified Alpine guide services across the U.S. and Canada. The best avalanche safety tool is to practice avalanche avoidance, and avalanche gear is only useful in the hands of those who know how to use it. Consult your local backcountry outfitter or the Internet for a list of courses offered in your area.
DRESS FOR SUCCESS
Style and function need not be mutually exclusive, as two new jackets from surf-trendy Quiksilver showed in our evaluations.
The Hot for Teacher (MSRP: $350) is a new soft shell featuring Gore Wind Stopper to block the elements, rendering the jacket a warm outer layer despite its thin and comfortable elasticity. The result is a highly breathable, water repellent fabric on the outside with a soft fleece backing on the inside. Pocket options are somewhat limited, with two zippered front pockets and a chest pocket with an invisible zipper. A fixed hood is sewn in for rough weather days. Younger freestylers will appreciate the mod graphics silk screened onto the rear hip, and the jacket comes in black, bright orange, and chino.
For more difficult climates, Quiksilver manufactures their signature heavy weather jacket, the Prowler (MSRP: $450). This insulated outer layer comes with all of the bells, buzzers and whistles necessary for a comfortable day on the slopes, including magnetic storm flaps over zippers, a powder skirt, pant loop connectors to close that breezy gap, and a Recco avalanche detection system sewn into one shoulder. Separate pockets are provided on the interior for an MP3 player (complete with headphone slit), and outside on the chest for a two-way radio or other necessities. In fact, this jacket has separate pockets everywhere: on a sleeve, on the sides, and just inside the main zipper. Gore-Tex fabrics and Velcro cuffs keep out the elements, as does a fixed hood with drawstring closures for a customized fit. For warmer days, zippered vents on either side provide ample ventilation.
IT'S A WOMAN'S WORLD
Women's skis occupy one of the hottest gear segments in the industry, and manufacturers are stepping up to the plate and responding to a growth opportunity by crafting skis, snowboards and boots to suit a woman's different physiology. For skis, the ramp angle, waist position, mounting points and weight are all tailored to respond to the lower center of gravity and differing physical characteristics of a woman.
One equipment manufacturer has even begun a ski line catering exclusively to women.  Roxy, the women's clothing and surf company, has this winter debuted four models of skis manufactured by Dynastar – as well as boots, bindings and poles – labeled and marketed under their own name. The models cover all ability levels, from the PolkaDots.com for novices to the Snow Angel and Palm Beach Polka for intermediate to advanced skiers. In between, we tested the Sidewalk Surf.
Emblazoned with hot pink flower graphics, the Sidewalk Surf (MSRP: $399) features a wide shovel and dramatic sidecut (110-69-95) for easy turn initiation to help intermediate women skiers progress. Our test pair was a 158 cm length, although it's also available in 148, 153 and 163 cm models as well. Matching pink Look bindings also sported the Roxy logo.
The skis are surprisingly light to appeal to a woman's more petite frame. They feature Dynastar's
Autodrive W construction, which is a cap structure with an integrated heel lift to increase ramp angle for better balance and easier turn initiation. Sidewalls are vertical under and slightly behind the binding heel piece, to provide greater edge hold where women exert most of the pressure on the ski. Our testing confirms that the ski suits its purpose well, as intermediates appreciated the easy turn initiation, but experts found soft  torsional rigidity when pressured too far, although that may in part be attributed to the 158 cm length of our test model.
After years of extolling the virtues of women's-specific ski gear, acknowledged female ski guru Jeannie Thoren has joined Dynastar Skis as the company's Women's Category Manager, and had a hand in the development of the Roxy Ski line. "Dynastar has been one of the few companies that truly listened to me and women, in their efforts to create better ski products for women," Thoren says. "I'm confident that together we can really make a difference for women skiers everywhere."
Jim Garson, Marc Guido, Patricia Lesage
and Steve Rheaume
all contributed to this report.