Banff (AB), Canada – During my salad days as a bachelor, well-meaning friends would occasionally set me up on blind dates with "someone you'll really like." You know the drill; they tell you that she's beautiful, smart, funny, loves the outdoors, cooks canada goose Män Canada Goose like Mario Batali, has a great career, etc. In fact, their descriptions are so convincing that for the next day or so, you build elaborate fantasies about the undiscovered model you're about to meet – the one who scored a 1580 on her SATs. But more often than not, after you walk into a pre-appointed meeting place and set eyes on the person in question, the description from friends doesn't quite match up with your perception of reality.
Anyone who says that Alberta's Sunshine Village is just blue-square skiing hasn't skied there lately.
(photo: Sunshine Village)
If you think about it, going to ski areas for the first time – especially when you're basing a cross-country trip on someone's suggestion – is kind of like a blind date. You get incredible reports leading to unrealistic expectations, followed by disappointment when things don't live up to the hype or you're the recipient of "once-in-a-decade" crap conditions. The short version of this story is that Sunshine Village was never on my front burner for places to visit. I figured that if I ever got out to Alberta or eastern British Columbia, my wish list canada goose Manitoba Jackor would probably consist of Lake Louise, Fernie, Red Mountain, or maybe Kicking Horse during a big snow year.
I'm not sure why Sunshine wasn't more of a draw for me, as even on paper, the place looks pretty good. With more than 3,300 skiable acres and a reported snowfall average of more than 350 inches a year, the resort has one of North America's longest and most dependable lift-served ski seasons, from early November through the end of May. Even more enticing for the late-season crowd, Sunshine gets a serious amount of snow in March and April. In addition to reports about allegedly snoozy "Vail-like terrain," as the closest major area to Calgary (a smaller Alberta version of Denver), for some reason I started conjuring up /images of Colorado's I-70 gauntlet with crowds of Front Range-types, a busy interstate highway in clear view from the tops of most lifts, overbuilt bases with faux Tyrolian designs, pay parking lots, etc. While Sunshine Village was the first stop on my Banff-area trip, to be honest, I was already looking ahead to my headline act: Lake Louise.
Goatchicken Glade(photo: FTO/James Michaud)
I arrived in Calgary late on a Saturday night at the end of March after one of those indirect itineraries they give you when you cash in frequent flyer miles. Heading up through the dark mountains lining Highway 1, a light drizzle developed into a steady rain, so around 12:30 a.m., I turned off the highway at the Canmore exit. Too tired to drag myself and my bags into a hotel, I found a deserted side street, parked under some low-hanging pines, reclined the seat, and called it a night. As the rain drummed against the rooftop, I realized that the destination-skier jackpot — a nice dry dump of snow the night before my arrival — was only a few hours away.
At 7:30 the next morning, I pulled up to the base station at Sunshine Village to find about 40 people already queued up in front of the gondola, licking their chops at the eight inches of dry, midwinter-like snow that had fallen overnight. An hour later, as the two-stage gondola took us 1,600 vertical feet up to Sunshine Village itself, I got a quick introduction to the lay of the land from a local sitting next to me.
He talked about how, until about 12 years ago, Sunshine had what many people thought to be a well-deserved reputation as a big blue square – a great place to cruise, avoid the crowds, and enjoy the great snow and scenery. But if real challenge was your goal, you generally headed west to steeper pastures. Since then, the resort had opened three freeride zones with some of the most demanding inbounds terrain anywhere, along with an entire mountain face of mostly single-black terrain.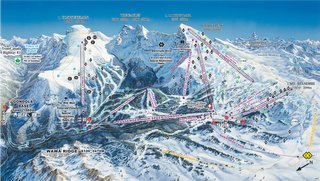 Click image to open a full-size Sunshine Village trail map in a new browser window.
First up to our left was Wild West, a long cliff band crowning very steep trees. Even from below, some of the entrances appeared stomach-knottingly tight. Further up on the left was Delirium Dive, Sunshine's first freeride area with 1,000 vertical feet of legtimate steeps and cornice drops accessible via a short hike. The most recent addition, Silver City, situated on the far left shoulder of Delirium Dive, looks like a deathwish for most skiers or boarders. A few days before I arrived, a slide carried a patroller over a cliff there. The other members of his crew arrived within minutes, dug him out, and he made it out alive. Without avy equipment and a partner, you can't access any of these three areas – and the patrol can refuse you entry for any reason — but since I had neither the gear nor the cojones for most of it, I was happy to spend the next two days checking out Sunshine's main menu of offerings, which was looking great.
As I got off the gondola, everyone seemed to be heading to the high-speed lifts on Mount Standish and Lookout Mountain. To my right was the deserted Wawa fixed-grip chair with a quick 600 vertical feet of virgin powder. Figuring that an untracked and empty anything was a good place to warm up after a 10-day break from skiing, I lapped this lift for the next hour, starting on Wawa Bowl, then moving right to hit "Bird Cage" and the well spaced trees of "Star Trek," all of which were sporting soft, calf-deep powder. Then I headed over to Mount Standish and floated through a handful of short, single-black shots to the skier's right, none of which had seen any traffic. "Dirty Little Corner," "Garbage Chutes," and "Layrx" were all in gorgeous shape.
Upper Sunshine Coast(photo: FTO/James Michaud)
Next, it was time for Sunshine's marquee terrain, Lookout Mountain and Goat's Eye. Straddling the Continental Divide, the wide open upper section of Lookout is one of the more stunning settings you'll ever ski in North America. Very Alps-like in its extent with views stretching out over miles of rolling meadows crowned by spiked spires off to the left, about the only thing missing was the possibility of skiing into a neighboring village for lunch. This isn't an option because the ski area's location in Banff National Park means that there's no "next village over." Just like Lake Louise, Sunshine has a whole lot of nothing surrounding it besides stunning Canadian Rockies scenery.
By the time I reached the top of the Continental Divide Express a little after noon, most of the snow on Lookout had been tracked out, but there were still pockets of smooth powder in Bye-Bye Bowl and further down in Boundary Bowl, which passes briefly into British Columbia. Certainly one of the highlights of my season was opening up the throttle and blasting down "South Divide" with that wide-open panorama to my left and no need to put the brakes on.
Finally, it was time to hit Goat's Eye. Opened in 1995, the upper half of this face is ski-wherever-you-want terrain interrupted by a huge pair of rocks in the middle — the run that goes through it is fittingly named "Cleavage" — while the lower portion features twisty, rolling trails cut through pines. Most of Goat's Eye is a solid single black in pitch with things getting progressively steeper the further you go to the skier's left, along with a nice blue cruise on Sunset Coast to the far skier's right. Goat's Eye is often raked by winds up near the summit, so you'll see a fair amount of Sunshine's 18 miles of snow fences to keep that low-moisture poweder from blowing away. Even after the previous night's dump, you could see spots at the very summit that were scoured clean to the ground, but the snow from top to bottom was in near-perfect condition.
Sunshine Inn (photo: Sunshine Village)
(photo: Sunshine Village)
About the only thing I regretted during my two days there was not having reserved in advance at the 84-room Sunshine Inn, which was completely booked. In addition to the convenience of not having to drive over from Banff, staying overnight at the Inn, right at the base of Lookout and Standish, is an easy way to beat the locals to the goods in the morning.
The following day, I met up with a local ski host, Niels, who took me to a bunch of off-the-beaten-track places I had missed the day before. Even though I figured that the previous day's big crowds had ripped through most of the new snow, he sniffed out untracked or barely tracked up shots underneath the Tee Pee Town double chair, in Goatchicken Glade, even in a set of mellow knolls alongside the old Strawberry triple chair.
As we ate lunch in the Chimney Corner Lounge, I asked him about my impression that similar to Little Cottonwood Canyon skiers in Salt Lake City who are partial to either Alta or Snowbird, the Banff ski universe seemed to be similarly divided into Sunshine or Lake Louise camps. I mentioned two locals I had met the day before who went on about Sunshine's runs being too short as we were sitting on the Goat's Eye Express, a lift covering almost 1,900 vertical feet. Since when is that considered a short run? Maybe that's what happens when there are lots of great ski choices within a few hours drive – you can get really selective about what qualifies as your favorite area.
Even though it has all the infrastructure accoutrements of a major ski area, including five high-speed chairs to keep things moving, Sunshine felt noticeably more relaxed than the hardcore destination-skier ambiance of Lake Louise. For a place so close to a metropolitan area, it didn't have much in common with places like Keystone or Vail, even on a busy weekend day. With consistently excellent conditions, uncrowded terrain, all natural snow, few liftlines, limited on-mountain accommodations, and gorgeous scenery, Sunshine came off as a larger and more varied version of Grand Targhee, Wyoming. It's the kind of low-key place that I'd call home if I lived in Calgary.
For more information: www.sunshinevillage.com