Carrabassett Valley, ME – High winds derailed the lift cable on Sugarloaf's Spillway East chairlift on Tuesday, sending a number of holiday skiers and riders plummeting to the ground.
Sugarloaf officials indicate that a total of six injured lift riders were treated and transported from the mountain to area hospitals following the incident, which occurred around 10:30 a.m. Eastern Time as approximately 220 riders were on board.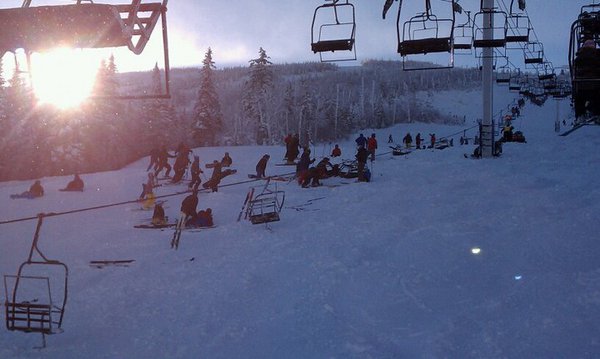 Emergency officials respond to a lift cable derailment at Sugarloaf ski resort in Maine on Tuesday. (photographer unknown)
All available mountain safety personnel responded to the scene. Other lift riders were evacuated from the lift following the incident in an operation that took two hours to complete. No information was available at press time regarding the injured, although none of the injuries are reported to be life threatening. One victim reportedly required helicopter transport to Maine Medical Center in Portland.
The cause of the incident is still under investigation, but it is widely believed that high winds at the time resulted in the derailment.
The 4,013 foot long Spillway East chair is a two- passenger monocable fixed grip chair manufactured and installed by Borvig in 1975. This lift, which rises 1,454 vertical feet, was modified in 1983. The lift's 162 chairs weigh 140 lbs. each and are spaced 50 feet apart.
"The chairlift receives routine daily inspections for safety. Additionally, the chairlift receives weekly, monthly and yearly maintenance and testing," Sugarloaf officials said in a prepared statement following Tuesday morning's incident. "The lift is also inspected annually for its safety from the State of Maine Board of Elevator and Tramway Safety.
"Sugarloaf Mountain and its employees are concerned for the people involved," the statement continued. "Additionally the resort like to express gratitude to all the safety personnel that have responded to this incident. Sugarloaf Mountain is absolutely committed to the safety of its guests and employees."