Salt Lake City, UT – Skeptics liken long-term weather forecasting to spinning a roulette wheel. But while it's a long way off, meteorologists are taking note of the persisting effects of the La Niña phenomenon that was credited with a memorable winter across most regions of the U.S. in 2010-11.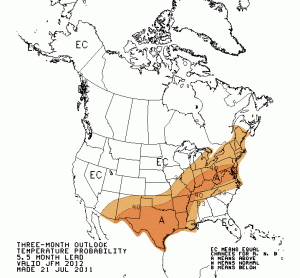 Last winter set attendance records at U.S. ski resorts and is regarded as one of the best seasons for snowfall nationwide in recent memory. U.S. resorts tallied 60.54 million skier/snowboarder visits in 2010-11, the coldest winter in 30 years in many parts of the country. Nationally, snowfall at resorts was up 29 percent last winter, and was the deepest logged in 20 years of record keeping by the National Ski Areas Association (NSAA). According to the NSAA, most regions in the U.S. experienced significant increases in snowfall last winter, including the Pacific Southwest (up 43 percent), Northeast (up 35 percent), Rocky Mountains (up 33 percent), Midwest (up 27 percent), and Pacific Northwest (up 19 percent).
The National Weather Service Climate Prediction Center (CPC) earlier this month reported that while all of the latest Niño index values were generally near average, pointing toward neither El Niño nor La Niña, the atmospheric patterns continue to reflect La Niña-like conditions. Surface sea temperatures also reflect the strengthening of the below-average temperatures at depth in the east-central Pacific Ocean, according to the CPC.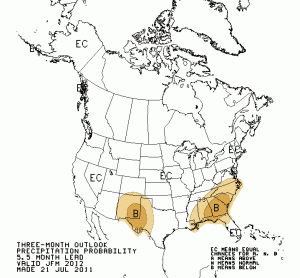 While the majority of ENSO models indicate that neutrality will continue into the Northern Hemisphere fall, the forecasts are less certain beyond early fall. Half of the models predict persisting ENSO-neutral conditions continuously through early 2012 but the latest runs from the NCEP (National Centers for Environmental Prediction) Climate Forecast System models predict La Niña to re-develop during the fall. This forecast is also supported by the ongoing La Niña-like tropical atmosphere, subsurface sea water temperature trends, and the historical tendency for significant wintertime La Niña episodes to be followed by relatively weaker La Niña episodes the following winter, staffers at the Center indicate. They're giving equal odds to an ENSO-neutral or La Niña winter in 2011-12 but nonetheless last week issued a formal La Niña Watch.
Other meteorologists are more bullish on La Niña. The folks at ExactaWeather.com credit the Pacific Decadal Oscillation (PDO), a pattern of Pacific climate variance that recently switched to negative (cold) and is predicted to remain that way for the next two to three decades, with their prediction that La Niña will return more frequently during this time period as a negative PDO results in stronger La Niña (cooling) and weaker El Niño (warming) episodes.  Their weather models are currently showing a particularly harsh winter for many parts of the U.S. during 2011-2012. Large parts of Central and North America will face prolonged periods of below average temperatures with above average snowfall throughout this winter, ExactaWeather says, with many Eastern and Western parts also facing periods of below average temperatures with above average snowfall amounts.
"We expect North America and the Pacific Northwest region to experience a very severe winter, the Cascades snowpack is likely to see increased levels due to the negative (cold) phase of PDO," ExactaWeather published in June. "Our weather models are also showing an increased likelihood for major snow events in Northeastern and Midwestern parts of the U.S. throughout December 2011 and January 2012, that could see severe blizzard conditions hit New York City and Chicago."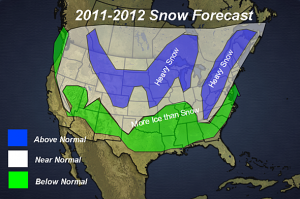 The folks over at AccuWeather, however, aren't so sure. AccuWeather Canadian forecaster Brett Anderson, who issues his own long-term winter forecast in late September, just had a look at the long-range ECMWF. "In terms of ENSO, the model is split between neutral and weak La Niña for the winter, but it has trended more toward the more weak La Niña idea," Anderson wrote on Monday.
"Last year, we had a strong La Niña with blocking over Greenland that lead to a very snowy winter across the Midwest and Northeast. While the pattern will be similar to last year, there will be changes in the pattern," the company's severe weather expert, Henry Margusity, wrote last week. "I am not convinced that blocking will be prevalent across Greenland this winter, however, with the trough axis predicted to be in the Midwest, that will lead to storms developing along the East coast and racing northeast. The cold will be back in the Appalachians, and that will lead to heavy snow in that area.
"A storm track coming out of the Rockies will lead to storms moving through the western Great Lakes and a band of above-normal snowfall across the Midwest and western Great Lakes," Margusity continued in making his prediction for the coming winter. "I also went with an above-normal snow area along the Front Range of the Rockies due mainly to arctic air masses coming down from Alberta. The mountains in the West should see the normal amount of snow and not the extreme snow that fell last year."
Meterologist Larry Shick is monitoring the situation closely from his home in Washington State and last week noted the persistent snow pack in the mountains of the Pacific Northwest this summer. "It's not as strong or as definitive as last year, but we may be leaning back toward La Nina!" Schick, an avid skier, wrote enthusiastically. "Due to the cool, cloudy and sometimes rainy/snowy spring and summer the snow has not completely melted above 5,000 feet here in the Cascades – that is pretty rare.  Some areas are reporting their highest August 10 snow depth – snow will stop melting by September and already melt is slowing in higher elevations (and no heat waves in sight) so I expect carry over snowpack – this is how ice ages begin!"
However, Jim Steenburgh, a Professor in the department of Atmospheric Sciences at the University of Utah and another avid skier, notes that the average Arctic sea ice coverage was the lowest ever recorded by satellite in July. He also acknowledges, though, that the pace of the loss of sea ice has slowed.
Reflecting on the CPC predictions, Steenburgh is rather ambivalent. "The bottom line is that we have some forecast tools suggesting ENSO-neutral conditions, and others suggesting a return to La Niña conditions for this winter (a.k.a. the double-dip La Niña)," Steenburgh blogged earlier this month on Wasatch Weather Weenies. "The CPC is understandably calling for ENSO-neutral conditions for the fall and either ENSO-neutral or La Niña conditions during the winter."
About his own backyard, Steenburgh added, "What does this mean for winter in the Wasatch?  Practically nothing.  The ENSO phase does not strongly correlate with snowfall in the Wasatch.  Some years are big (like last year), others not, others near normal. Even if things end up on the dry side," Steenburgh quipped, "it's always good to remember that a bad year in the Wasatch is better than a good year just about anywhere else."
While it might be too soon to predict what will happen this winter, one thing's for sure: winter will be here before you know it. Now go wax those skis.