Pagosa Springs, CO – A powerful early season snowstorm covered parts of the western U.S. this week, allowing the country's ski and snowboard season to kick off in both Colorado and Nevada.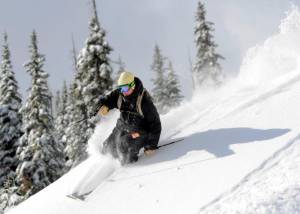 Roughly 1,500 skiers and snowboarders made the trip for opening day on Saturday at Wolf Creek in Pagosa Springs, Colo., where the previous record early opening was on October 26, 2007. .  Excitement was in the air as the people amassed early, vying for the first lift tickets with hopes of the first lift ride in Colorado, on possibly the earliest opening date in Colorado history.  Some even slept in their vehicles in the parking lot to gain that extra edge.  With eight inches falling overnight to complement the three feet already on  the ground, skier and riders had much to be happy about.
A snow depth of 35 inches at the summit and 32 inches midway is quite respectable, considering many aspen trees still have their beautiful foliage.  The three lifts open at Wolf Creek over the weekend serviced a variety of beginner, intermediate and expert terrain, including the ski area's Alberta Peak and neighboring Step Bowl.
Wolf Creek will remain open through Monday, and then reopen for Saturday and Sunday, October 15th and 16th, after not operating Tuesday through Friday. It joins Timberline ski area in Oregon, a nearly year-round which resumed weekend operations on the permanent Palmer Snowfield last month, as one of only three ski areas open over the weekend in the U.S.
The third is Las Vegas Ski & Snowboard Resort (LVSSR) in Nevada. The resort opened its Chair 3 at 7:30 a.m. Saturday morning, beating out Wolf Creek for the title of first to open after supplementing nine inches of natural snowfall with manmade snow from the resort's snowmaking system. Both weekend days featured a terrain and jib park that features a series of rails and boxes that was created for the special occasion.
"We have received nine inches of snow since Wednesday and the humidity and temperatures allowed us to utilize our snowmaking ability to add to the natural base," explained Kevin Stickelman, LVSSR's president. "It's rare for this region to receive snow so early, so we felt it was important to offer our season pass holders and guests a chance to come together, celebrate and get excited about the season," which Stickelman added is scheduled to begin on Friday, November 25.
Backcountry skiers, however, were earning turns across the U.S. as mountains from the Pacific Northwest, through Lake Tahoe to Mammoth Mountain, and across Utah into Colorado amassed snowfall totals of up to two feet from the cold weather system. In California, Boreal Mountain Resort began making snow on Friday, while on Colorado's Front Range, Copper Mountain did so on Wednesday night while Loveland Ski Area followed suit on Thursday afternoon.
It typically takes about two weeks for Loveland's snowmaking team to cover the opening day run with an 18-inch base for opening day.  Loveland opened on October 24th last season.
"Firing up the snow guns in the middle of a blizzard is a great way to kick off the countdown to the season," said John Sellers, Marketing Director.  "The start of snowmaking means that opening day is just around the corner.  Both employees and guests alike have been eagerly awaiting this day and we are excited to get started.  We are starting a little bit later than previous years, but we are still optimistic that cold temperatures will allow our crew to be very productive and keep us on track for our typical October opening."
On the East Coast, both Bretton Woods in New Hampshire and Sunday River in Maine also test-fired their snowmaking systems this week.
More photos:
[nggallery id=21]