Editor's Note: Yes, we realize that we're a ski and snowboard periodical. This trip, however, relives an epic journey that would please any outdoors-oriented person and has thus been chosen for publication at First Tracks!! Online.
Moab, UT – The jet boat weaves from one shore to the other as its captain seeks out the deepest channel as the boat speeds up the Colorado River. It's carrying my gear and Jon's, including our two sea kayaks strapped to an impromptu rack fashioned to the roof. The red, white and green canyon walls flash past in a perspective remarkably different from the slow pace we've enjoyed over the past week spent paddling down the Green and Colorado Rivers. We've traveled for eight days covering 101 river miles, all the while descending through numerous layers of the earth's crust, passing through two seasons, exploring human dwellings ranging from 100 to 800 years old, and meeting river people from four other states and two countries. Throughout it all, though, the river has been our constant yet moody companion. At times our lover and best friend and at other times our worst enemy, the river is alive; a living, breathing creature that has dominated our lives for days on end.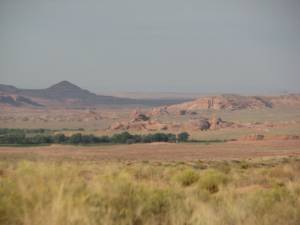 A little more than a week ago we were rumbling down a dirt road in a Chevy Suburban through the high desert of eastern Utah. We trade tales – some tall, some not – with our driver Doug, a seasoned employee of Tag-A-Long Expeditions of Moab, Utah, until we enter a startling green oasis set among the low pale yellow sandstone lining the banks of the Green River. Doug explains that Ruby Ranch grows alfalfa for equestrians in the desert cities of Phoenix and Las Vegas, but it also serves as a boat launch for those looking to paddle Labyrinth and Stillwater Canyons to retrace the route first mapped by John Wesley Powell over a hundred years earlier.
Mileage beyond expectations
The water gently laps the river's left bank as we unload a week's worth of gear, clothing and food before bidding Doug farewell. Our last connection to civilization heads back out the double-track road, the sound of the vehicle's engine replaced by the occasional crow of a raven as we load our boats and lather on sunscreen. Beside us at the boat ramp is one other river party from Colorado who are loading two canoes and an inflatable kayak. Their gear includes a guitar to pluck as a father is enthused to introduce his pre-teen son to a river he'd first enjoyed himself many years earlier.
Jon and I shove off at 10:15 a.m., two hours after leaving Moab, and adjust our boats as we drift with the river's current past low sand bars and irrigation water intakes. Having launched ahead of me, Jon waits for me on a sand bar to tell me that he realizes that he left his bags carrying culinary water behind in Moab. Left untreated the river water is unsafe to drink and in this desert environment the body's water needs are substantial. It's not a problem, however, for I have a six-liter bag myself and we're each carrying a water filter for daily refills. We laugh at our mistake, thankful that it's not a potentially lethal one.
Before long the sandstone lining the river banks grows in height. It's not much further before the first red clay walls of Labyrinth Canyon rise above them. We're now entering the canyon that we came here for. The sun beats down through cloudless skies, and temperatures are in the mid-80s, about 10 degrees warmer than normal for this first week of October. The river is also flowing briskly as flood control managers have released water from an already full Flaming Gorge Reservoir a hundred miles or so to our north in preparation to accept snow melt in spring. We've got a good two mile-per-hour current, much stronger than we're entitled to expect this late in the season, and we're pleasantly surprised at the pace that we're making. Still, we struggle to find the deepest water, and therefore the strongest current. The river looks like a chocolate frappe, and its silt obscures visibility to only a few inches. It's nearly impossible to ascertain its depth and we instead use land features to estimate where the river's true channel must be.
We make our first landing on the river's right bank at Tri-Canyon, named by Powell for what appear from the river to be three impassable alcoves across from what Powell named Trin-Alcove Bend. It's here that we first discover the river's silted muck, perhaps one of the evil substances known to humanity. With the consistency of what's contained in a baby's diaper and the holding power of quicksand, the river mud clings to everything and thereafter hardens like concrete if you're not able to quickly flush it away. We learn to choose our landings quickly, for at times it's only a foot or two across but at others it stretches for many yards before yielding to drier sand beyond.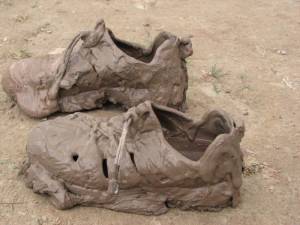 We land here for our first planned hike of the trip. Tamarisk, an invasive nuisance species of tree, lines virtually every inch of waterfront soil along the river. It's so thick in places that it even bars the region's native mule deer from reaching the river to drink. We use the semi-dry wash from Tri-Canyon's creek bed to venture far enough from the canyon mouth to pass the Tamarisk barrier and begin hiking over land, but our progress is further thwarted by thick, high reeds that promulgated in the unusually wet first half of the Utah summer. A trip up the right branch of Tri-Canyon quickly dead-ends in a beautiful grotto formed by what is now a dry waterfall, and we're unable to venture much more than a mile up the main branch of the canyon before the reeds become virtually impassable. An hour and a half later we return to our boats having accomplished little, and are surprised to find a busy river filled with not only the folks we encountered at the launch, but also a group of seven kayakers from Colorado who had launched a day earlier in the town of Green River, 23 river miles upstream from Ruby Ranch.
We had no idea how much progress we would be able to make on this first day of our journey considering the logistics of working with Tag-A-Long to reach Ruby Ranch with our gear, so we're thrilled to have covered 17 river miles on our first day to reach Keg Spring Bottom before dusk. Bottoms along the river are flat expanses once used to water cattle and allow them to range for forage in the plant growth made possible by the river's moisture. We compete with a young couple on an oar raft and the Colorado kayakers for the few attractive camp sites along the stretch, but we succeed in commandeering a small sandbar along the left bank. We wade through the river muck lining the sandbar to unload our gear. The rafters land a few hundred yards downstream on the opposite bank and the kayakers disappear around a bend in the river.
We set camp, determining that our tents are unlikely to need a rain fly on this warm, clear evening. We start the charcoal to cook what will be our most perishable meal on this trip, a couple of New York Strip steaks and baked potatoes slathered with melted butter. We put a disproportionately large dent in our supplies of red wine and whiskey over dinner, and quickly fall asleep at an unlikely early hour after a quick dip in the silty water of the river.
(Go to next page below)