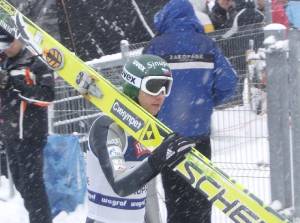 Nizhny Novgorod, Russia – Russian media is reporting that Pavel Karelin, the country's top hope to medal in ski jumping at the 2014 Olympic Winter Games in Sochi, died in a car accident on Sunday in his home town of Nizhny Novgorod.
There are conflicting reports of how the accident occurred. Local emergency services are reporting the loss as a multi-vehicle collision on a motorway in the town 250 miles east of Moscow, while media reports indicate that Vladimir Slavsky, a deputy head of Russia's Federation of Ski Jumping and Nordic Combined, says that Karelin's vehicle left the roadway after he fell asleep or lost control. Two friends in Novgorod's Mercedes-Benz are said to be in serious condition in an area hospital.
"Pavel Karelin's tragic death is a huge and irreplaceable loss for Russian sport," the federation said in a prepared statement released on Sunday.
Karelin, 21, has reached the podium three times in 79 World Cup starts. He finished the 2011 season in 23rd place in the World Cup standings.