Lincoln, NH – Officials at Loon Mountain ski resort in New Hampshire are investing $1.4 million to add four new trails (an additional 17.5 acres), and an additional 170 of the latest technology Low-E tower snow guns for the 2011-12 ski and snowboard season.
In the past two seasons, Loon has added 600 of the highly efficient Low-E HKD tower snow guns to its arsenal, increasing overall snow production by as much as 150%, and maximizing snow output at a wider range of temperatures.  Loon has the largest installation of these snowmaking guns in North America.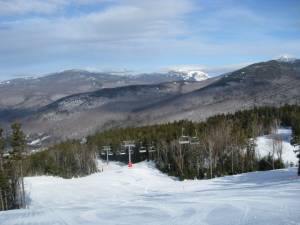 A new Prinoth "Bison" grooming machine has been added to Loon's fleet, which also includes a Prinoth "Beast," added last season.  The "Beast" features 40% more grooming surface and pushing power than a standard machine.
Four new trails will debut at Loon this season: Upper and Lower Twitcher and Jobber, which are expert trails on South Peak; and Dropline, a novice trail and the new home of Loon's Burton Progression Park.  The new trail names are all logging terms that follow the naming convention of many of Loon's classic trails, such as Walking Boss, Flume and Ripsaw.  Upper and Lower Twitcher and Jobber will add more terrain variety on South Peak.
This winter, the parks lineup at Loon changes with new and improved locations on the mountain.  The Burton Progression Park, formerly on Little Sister, has been moved to the new Dropline trail located off Bear Pause, next to Grand Junction.  Little Sister Park has been renamed as Springboard Park and moves to the trail formerly known as Race City. Springboard – in addition to Brookway Extension and Flying Fox – showcases some of the mountain's best jibs and intermediate features. NASTAR will move from the former Race City trail to a new location on Lower Twitcher on South Peak. Missing Link Park, the natural terrain park that debuted last winter and features elements made from materials from the surrounding woods, moves to skiers' right of the new Dropline trail.  The signature Loon Mountain Park  stays put in its location off the Seven Brothers lift.
Loon plans to open for the 2011-2012 winter season in early to mid November.