Salt Lake City, UT – Utah logged its second busiest ski season in history in 2010-11 with 4.22 million skier days, a mere 0.62 percent off the state record set in 2007-08. Given the current state of the economy that's truly saying something. Industry officials are hoping to build on that momentum for the 2011-12 season that gets underway in Utah this week.
With 36 inches of snowfall thus far this season both Brighton and Solitude will kick things off this week in Big Cottonwood Canyon near Salt Lake City.
"Solitude's opening day is on Thursday, Nov. 10, with three lifts — Moonbeam, Apex and Link," says Nick Como, spokesperson for the resort, who adds that snowmakers are trying to get the Eagle Express quad chairlift added for this weekend. "It will be $49, so you're going to get a pretty good discount of $19 off the normal ticket window rate. Winter is here!"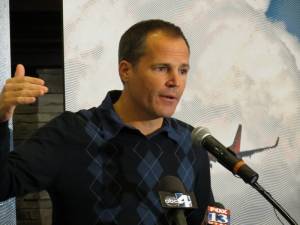 "We're looking good, we're really excited!" adds Jared Winkler of nearby Brighton Resort, which will also open its season on Thursday morning. "We have about 24 inches of snow  in our mid-mountain area, so it should be pretty fun. We're planning on opening the Explorer, Crest and Majestic chairlifts with limited runs off of each."
Winkler says that in addition to runs covered by snowmaking the resort will open some limited terrain on natural snow only, "but bring out your rock skis and tread lightly. Opening day prices are $38 or two for $75" in honor of the resort's 75th anniversary, he adds, noting that active military will get to ski or ride Brighton for free on Veterans Day this Friday.
State tourism officials are hoping that the rebirth of La Niña will mirror last winter's record snowfall in Utah. "La Niña is back, and that was the weather phenomenon that brought all the snow with it last year. If we get half of the snow we had last year we'll have a great year," says Nathan Rafferty, president of the marketing group Ski Utah.
Wasatch ski resorts logged 90 inches in November 2010 and 130 inches in December. "Early snow is really, really important for us. It gets locals excited, it gets destination guests excited, and more and more our locals are our biggest marketing ally. They're out taking photos and videos and letting people know that it's the real deal," Rafferty explains, noting that Snowbird Ski & Summer Resort tallied 783 inches of snowfall over 202 days of operation last winter, beating its previous record annual snowfall by nearly 100 inches. That equates to some 65 feet of snowfall, the equivalent of a seven-story building.
While the economy still struggles, Rafferty remains cautiously optimistic about business levels for the season ahead. "If there's bad news it's that economic uncertainty still exists," he acknowledges. "2007-08 (Utah's record ski season) was at the peak of economic times. Couple that with great snow and that's where you're going to get records. But there are reasons to be optimistic, and in our industry momentum plays a huge part. When you stop skiing three months ago, and people have fresh in their minds the incredible winter we had last year. Season pass sales are off to a great start, bookings are certainly up.
"We look to MTRiP (the Mountain Travel Research Project) to see what bookings are like throughout the western United States in the ski areas, and those numbers are saying that the next six months October to March is up overall 8.4 percent compared to the same period last year. January is up 18 percent and February up 10.3 percent, so these are really good numbers going into the ski season," Rafferty concludes. "As we've seen in the past travel performs better than the overall economy. There's a lot of consumer dedication to our sport."
Utah still reaps the benefit of the Winter Olympic Games held in the state in 2002. In the decade since the Games, skier days in Utah have grown 42 percent while direct expenditures from visiting skiers and snowboarders have increased by 67 percent, from $704 million in 2002-03 to $1.2 billion last winter.
"It did a lot for our economy and our industry, and it was a catalyst for some incredible economic growth," notes Rafferty.
According to the Utah Office of Tourism, visitors to Utah through all tourism segments pump enough money into the local economy to provide tax relief of $973.75 per Utah resident, and Ski Utah says that its 300 member organizations generate some 20,000 jobs annually.
Other Utah ski resort opening dates are presently scheduled as follows:
Alta Ski Area: Nov. 18
Beaver Mountain: TBA
Brian Head: Nov. 19
Canyons Resort: Nov. 25
Deer Valley: Dec. 3
Eagle Point: TBA
Park City Mountain: Nov. 19
Powder Mountain: Nov. 24
Snowbasin: Nov. 24
Snowbird: Nov. 19
Sundance: Dec. 9
Wolf Mountain: TBA