Calgary (AB), Canada – Twelve of the nation's most talented young skiers have been selected to represent Canada at the 2012 FIS Alpine Junior World Ski Championships in Roccaraso, Italy, later this month.
Seven women and five men, three of whom made their World Cup debuts earlier this season, will compete against athletes from more than 60 countries in the Abruzzo region of central Italy from Feb. 29 to March 9.
Canada's team includes hot prospects such as Trevor Philp, of Calgary, Alberta, Madison McLeish, of Whistler, British Columbia, and Sarah Freeman, of Pincher Creek, Alberta. But most of the skiers selected to compete in Italy are not as experienced internationally and are competing for the first time at the world junior championships. With next year's event due to take place at Mont-Sainte-Anne and Le Massif, Quebec, it's a great chance for the youngsters to gain valuable experience before they try to push for the podium on home snow.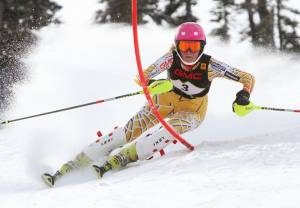 "There are high expectations for Trevor Philp," said Jean-François Bélisle, head coach of the men's team. "For the four other guys it's going to be their first experience at world juniors. The expectations are not as high and we are mostly investing in their short- to long-term development, giving them exposure at the international level and preparing them for next year."
Philp, a member of the Banff Alpine Racers ski club, is having a breakthrough season at the Nor-Am Cup level, where he has claimed three podiums in three different disciplines – slalom, giant slalom and super combined. The University of Denver student also made his World Cup debut in Adelboden, Switzerland, in January, where he was 44th after the first run. A veteran of two previous world junior championships, Philp's best result was an 11th-place finish in the slalom last year in Crans Montana, Switzerland.
"He has shown he can be very competitive at the Nor-Am level and he did a really good job last year," Bélisle said. "Hopefully he can keep moving things forward and generate some good performances. We are just hoping he can ski to the best of his abilities and we will see what happens."
Canadian Alpine Ski Team member McLeish and Canadian Prospect Team racer Freeman, who both made their World Cup debuts at Lake Louise, Alberta, earlier this season, are the most experienced members of a youthful women's roster. McLeish was 14th in the super-G at last year's world junior championships and Freeman was ninth in downhill. At the other end of the spectrum, Edelweiss Ski Club's Mikaela Tommy, of Wakefield, Quebec – a member of the Quebec Ski Team – is the youngest member of the squad at 16 and one of the nation's brightest young talents. She recently competed at the Youth Olympic Games in Innsbruck, Austria, finishing 11th in the super-G.
"We've brought in some young ski racers. Some of the girls don't have a lot of experience racing in Europe," said Jean-Sébastien Labrie, head coach of the women's team. "Mikaela is pretty young but she's also one of our best giant slalom skiers.
"We don't go there with the biggest team but in technical events and downhill I think we can have some good results. I would like a few top 10s, especially in giant slalom and in downhill."
Before they head to Italy, the Canadian squad will take part in a Red Bull-sponsored training camp in Seefeld, Austria, from Feb. 23 to 27. The team will spend time together on and off snow before the competition starts.
"It is important to provide the environment and the support these athletes need to perform at their best," said Jean-François Rapatel, Alpine Canada's national athletic director. "Our two head coaches, Jean-François Bélisle and Jean-Sébastien Labrie, are leading a very experienced squad of staff coming from the Canadian Alpine Ski Team and our Provincial Ski Teams. Red Bull has also graciously offered to partner with us in organizing a preparation camp in the Innsbruck area in Austria, so that our team will benefit from the best preparation they can get."
Canadian men's team:
| | | | | |
| --- | --- | --- | --- | --- |
| Name | Born | Hometown | Ski Club | Team |
| Morgan Megarry | 1993 | Collingwood, Ont. | Craigleith Ski Club | Ontario Ski Team |
| Trevor Philp | 1992 | Calgary, Alta. | Banff Alpine Racers | University of Denver |
| Andrew Solomon | 1992 | Toronto, Ont. | Alpine Ski Club | Ontario Ski Team |
| William St-Germain | 1992 | St Ferréol-les-Neiges, Que. | Mont-Sainte-Anne | Quebec Ski Team |
| Ford Swette | 1993 | North Vancouver, B.C. | Whistler Ski Club | B.C. Ski Team |
Canadian ladies' team:

| | | | | |
| --- | --- | --- | --- | --- |
| Name | Born | Hometown | Ski Club | Team |
| Tianda Carroll | 1993 | Jasper, Alta. | Alberta Ski Academy | Alberta Ski Team |
| Sarah Freeman | 1992 | Pincher Creek, Alta. | Fernie Alpine Ski Team | Canadian Prospect Team |
| Natalie Knowles | 1992 | Toronto, Ont. | Osler Bluff Ski Club | Ontario Ski Team |
| Stephanie Marcil | 1992 | Montreal, Que. | Mont Ste-Marie | Quebec Ski Team |
| Madison McLeish | 1992 | Whistler, B.C. | Alberta Ski Academy | Canadian Alpine Ski Team |
| Randa Teschner | 1992 | Petawawa, Ont. | Upper Ottawa Valley | Ontario Ski Team |
| Mikaela Tommy | 1995 | Wakefield, Que. | Edelweiss Ski Club | Quebec Ski Team |
Schedule: 2012 FIS Alpine Junior World Ski Championships
| | | | |
| --- | --- | --- | --- |
| Date | Discipline | Gender | Category |
| 29-Feb | Downhill | M | Training |
| 01-Mar | Downhill | M | Training |
| 01-Mar | Giant Slalom | L | World Junior Championship |
| 02-Mar | Downhill | M | World Junior Championship |
| 03-Mar | Slalom | L | World Junior Championship |
| 04-Mar | Super-G | M | World Junior Championship |
| 05-Mar | Team | A | World Junior Championship |
| 06-Mar | Downhill | L | Training |
| 07-Mar | Downhill | L | Training |
| 07-Mar | Giant Slalom | M | World Junior Championship |
| 08-Mar | Downhill | L | World Junior Championship |
| 09-Mar | Slalom | M | World Junior Championship |
| 09-Mar | Super-G | L | World Junior Championship |