Moscow, Russia - The Russian alpine skiing federation on Tuesday announced suspensions for two of the country's snow sports athletes — one snowboarder and one alpine skier — after blood tests drawn this past winter revealed banned substances.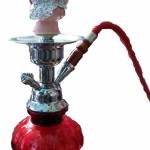 Snowboarder Svetlana Vinogradova, 24, received a two-year ban after testing positive for carphedon, a prescription drug developed  in Russia that is said to improve stamina and resistance to cold weather. The decision announced on Tuesday eliminates any hope that the halfpipe specialist had to compete in the 2014 Winter Olympic Games to be held in Sochi, Russia.
Separately, alpine skier Andrei Bystrov provided a blood sample on March 21, during Russia's national alpine skiing championships in Sochi, tested positive for marijuana and received a five-month suspension. Bystrov blamed the presence of the drug on a hookah that he smoked with strangers just prior to the competition.