Virgil, NY – Unable to secure alternative financing and facing an estimated $35 million in debt, owners of central New York State's Greek Peak ski and snowboard resort last week filed for Chapter 11 bankruptcy protection.
Chapter 11 of the United States' Bankruptcy Code permits reorganization under the bankruptcy laws without the risk of foreclosure by creditors. It does not include the liquidation of assets required under Chapter 7 of the Bankruptcy Code.
In recent weeks, Greek Peak officials and U.S. Senator Charles Schumer (D-NY) urged the Federal Deposit Insurance Corporation (FDIC) to approve new financing for the resort. Because the ski area's previous lender, the Tennessee Commerce Bank is in receivership, the FDIC must approve any new loans to Greek Peak.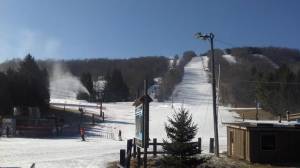 "In the five and a half months leading up to the filing date, Greek Peak has worked tirelessly with BDO Capital Advisors to resolve their financial situation with the FDIC, while minimizing expenses and maximizing profits," resort officials said in a prepared statement. "Despite these efforts, Greek Peak Mountain Resort has not been successful in negotiating a reorganization plan with the FDIC. The Federal Agency will provide funds through a 'Debtor in Possession' financing to continue and sustain operations."
As Cortland County's largest employer, as many as 1,000 area residents work at Greek Peak during the winter. Even though resort president Al Kryger earlier cautioned that Greek Peak may not open for the coming winter season, he now assures that it will be business as usual at the resort this winter, and all season passes will be honored.
"I want you to know that we have worked as hard as possible to resolve this issue and will continue to pursue a resolution,"  said Kryger. "With the protection afforded under Chapter 11, a successful reorganization can be achieved, enabling Greek Peak to emerge from this process as a stronger and more vibrant resort."
Greek Peak's massive debt load arises mainly from its recent construction of the Hope Lake Lodge and Cascades Indoor Waterpark, as well as an Adventure Center including a mountain coaster, zip lines and other summer attractions.