Salt Lake City, UT – Salt Lake City's population swells twice a year with nearly 30,000 outdoor industry exhibitors, buyers and media when the semi-annual Outdoor Retailer trade show comes to town. Held downtown in the Calvin L. Rampton Salt Palace Convention Center following a one-day outdoor demo, it's a gathering of the outdoor industry on a size and scope like none other.
The winter edition of Outdoor Retailer held each January showcases gear available to consumers the following winter, enabling retail buyers an opportunity to preview gear and apparel and fill their orders for the coming season. Similarly, the show's four-day summer edition does the same for next summer's outdoor gear and concluded on Sunday.
"In terms of trade shows in either surf or outdoor industries, this is the show where all the retailers are, it's the right time of year for us to start taking orders," said Huntley Dornan with Surftech, a manufacturer of surf boards and stand-up paddleboards.
"I'm here to meet with vendors to discuss possible equipment and clothing that could help the U.S. military," added John Hurley, a buyer with the U.S. Army. "The demo and Outdoor Retailer are great because it brings everybody throughout the U.S. to one central location so we can have 80 meetings in three days."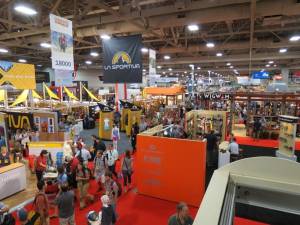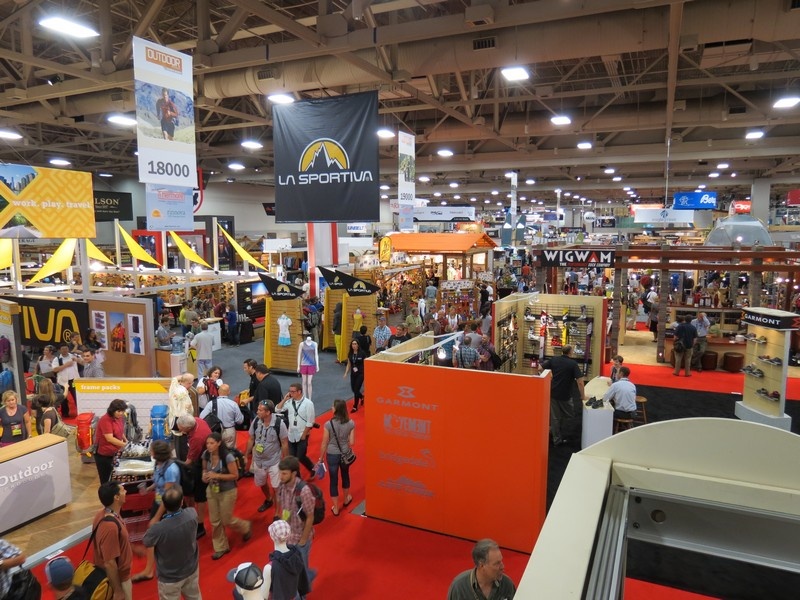 Those meetings have all now concluded. Workers are busy today tearing down booths and stuffing shipping crates with every manner of outdoor gear and apparel imaginable.
As a snow sports periodical, our focus is largely on the show's winter edition, but we were nonetheless able at this year's summer show to preview the world's lightest four-buckle alpine touring ski boot from Garmont, set to debut in 2013, and a new powder carver ski from H2O Gear. At Outdoor Retailer Summer Market (ORSM) we pay special attention to products with crossover appeal to skiers, which this year included items as diverse as a new solar-powered 2,800 mAh USB charging solution from Brunton that fits easily into a shirt pocket, and ViewRanger GPS, an app for iOS or Android that's perhaps the best topographic routing and mapping mobile software that we've ever encountered. Even so, much of our time at ORSM is spent greeting, schmoozing and maintaining relationships with our winter colleagues as we hold on for Outdoor Retailer Winter Market (ORWM).
As a publishing company based in Salt Lake, right now we have the good fortune of eschewing airline travel and hotel bookings to attend Outdoor Retailer in favor of a six-mile drive to the Salt Palace, and the shows are committed to remaining in Salt Lake City through summer 2014. There are, however, a pair of issues afoot that threaten to dislodge the Outdoor Retailer shows from our home town.
One of those issues is space. Although Nielsen Expositions VP and Outdoor Retailer Show Director Kenji Haroutunian acknowledges that the trade show space is littered with the corpses of dead expos that "attempted to be all things to all people, and ended up being nothing to no one," he said on Friday that Outdoor Retailer's ever-increasing demand has filled the 515,000 square-foot Salt Palace and forced new exhibitors to set up shop in a pair of temporary structures erected across the street just for the occasion.
Haroutunain is reluctant to place limits on show exhibitors. One only needs to wander the floor of the New Exhibitor Pavilion, however, to question that position. Among the stand up paddleboard manufacturers and shoe brands were exhibitors displaying wares as disconnected from the outdoor industry as an air blower to hold a wiffle ball in place for batting practice, and a variety of hot sauces and salsas. Such exhibitors dilute the show's importance to the outdoor industry, and a more careful vendor selection may be necessary to ensure the show's relevance.
The other issue casting doubt on Outdoor Retailer's continued presence in Salt Lake City is political. The outdoor industry has taken formal exception to to Utah Governor Gary Herbert's proposed legislation regarding federal public lands and RS 2477, which was enacted by the U.S. Congress in 1866 to encourage the settlement of the western United States by the development of a system of highways. Shared-access advocates, including Governor Herbert's administration, claim that neither the Bureau of Land Management (BLM), U.S. Forest Service nor other federal agencies, nor even private landowners have the authority to close RS 2477 roads. The issue arises when such roads cross federally designated wilderness areas.
Ahead of ORSM, the Outdoor Industry held a press conference in Salt Lake City decrying Governor Herbert's effort to transfer title to federal lands, which comprise 80 percent of Utah, to the state, threatening to take the Outdoor Retailer trade shows elsewhere if the Governor will not relent. The majority of Utah counties have filed lawsuits against the U.S. Department of the Interior and the BLM seeking title to more than 18,000 RS 2477 roads within their boundaries, and in March, Governor Herbert signed Utah HB148 which seeks the transfer of title to public lands to the state. John Swallow, a Republican candidate for Utah Attorney General and the current Chief Deputy Attorney General, has made the Governor's position a central plank of his campaign platform ahead of November's election.
Some critics view Herbert's plan as a short term sell-off that almost exclusively benefits private developers and the oil, gas, and coal industry, without regard to the value of conservation and recreation interests. The active outdoor recreation industry creates an estimated 65,000 Utah jobs and over $4 billion in annual sales and services.  The simmering dispute even prompted Peter Metcalf, the CEO and founder of backcountry ski and climbing brand Black Diamond Equipment, to resign from the Utah Ski and Snowboard Industry working group last month.
"For over 20 years, I have worked to help protect and steward Utah's iconic wildlands and rivers alongside former Utah governors Leavitt, Walker and Huntsman," said Metcalf. "The current administration's pursuit of federal land transfers and their proposed battle to wrest title of remote trails could open up pristine wilderness, national parks and monuments to drilling and extractive uses, let alone destroy human powered recreational values. These policies would saddle a heavy economic burden on Utah taxpayers and be detrimental to sustainable management of public land. They are hostile to the interests of the outdoor industry and ignore sizable contributions to the state's economy."
Civic groups including the Salt Lake Convention and Visitors Bureau, and politicians including Governor Herbert, met last week with show executives in an effort to keep Outdoor Retailer in Salt Lake City. With $40 million in direct economic impact to the state from the trade shows, based on a 2006 estimate that has only grown in the interim, most observers expect the effort to be lively, spirited and creative.
Haroutunian succinctly summarized on Friday the three options facing his company: leave Outdoor Retailer in Salt Lake, move either the summer or winter editions elsewhere (the summer edition is somewhat larger), or move both. He named as the most likely alternative location Las Vegas, Nev., which enjoys direct flights from most major U.S. cities and a plethora of large convention space.
A decision on Outdoor Retailer's location beyond Summer Market 2014 is expected this fall.