Reno, NV – Squaw Valley President & CEO Andy Wirth received the honor of the Chairman's Outstanding Service Award from former Airport Board Chair John Wagnon at Thursday's Reno-Tahoe Airport Authority Board of Trustees Meeting.
John Wagnon, Vice President of Sales and Resort Marketing for Vail Resorts Inc., and past Chair of the Airport Board, 2011-2012, selected Wirth to receive this distinguished award for his ability to understand not only the ski market, but also the important role air service plays in sustaining the ski industry.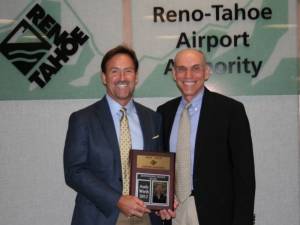 "Since arriving at Squaw, Andy has demonstrated a true passion and understanding of air service initiatives and has offered his assistance in air service business development," said Wagnon.
In addition, Wagnon indicated that Wirth has showed his continued support for the aviation industry through building relationships with the airlines; leading the charge to bring in ski charters from the United Kingdom, the resort's number one international ski market; and addressing the Southwest Chapter of the American Association of Airport Executives in 2011 as a keynote speaker.
"Andy is a great champion of the Reno-Tahoe International Airport," stated Wagnon. "He exemplifies the kind of support we need in air service development to continue to grow this economy and is most deserving of this service award."
"When I arrived in the region and contacted the airport, it was immediately clear that this was a highly professional and effectively run airport," said Wirth. "It has been my pleasure to offer my air service background to partner with the region and to work with the great leadership here among the airport board and staff.
"I am truly honored to receive this award from not only a competitor at Heavenly, but someone who is also a friend," added Wirth.