Breckenridge, CO – A pair of appeals have been filed to challenge the August approval of the Peak 6 expansion project at Colorado's Breckenridge Ski Area.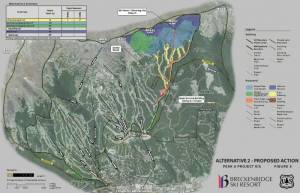 The two appeals represent a total of 45 individual citizens and environmental groups opposed to the 543-acre expansion, which would add a new high-speed, six person chairlift and a new fixed-grip chairlift to another peak on the Ten Mile Range north of the existing ski area, adding an intermediate-level high alpine bowl to Breckenridge's terrain mix. The new lifts would access 400 of the new acres, while the remaining 143 would require a hike to reach. The ski resort's owner, Broomfield, Colo.-based Vail Resorts, hopes to open Peak 6 in time for the 2013-14 ski and snowboard season.
First proposed in 2007, resort officials contend that the Peak 6 expansion is necessary to accommodate ever-growing visitation to Breckenridge, one of the country's most popular ski areas. White River National Forest supervisor Scott Fitzwilliams agreed in a Record of Decision dated August 15. Opponents, however, argue that the expansion will merely draw more visitors to Breckenridge, aggravating the overcrowding problem while also disturbing lynx habitat.
The U.S. Forest Service now has until Nov. 23 to submit its final written decision. If constructed, Peak 6 will be the first ski terrain expansion on U.S. Forest Service land in Colorado since 2008 and the first at Breckenridge since the Peak 7 expansion in 2002.