Killington, VT – The construction crew officially broke ground on Vermont Adaptive Ski and Sports' new $1.3 million state headquarters at Pico Mountain ski area on Oct. 29. On Tuesday, Erin Fernandez, the group's executive director, led a special ceremonial celebration and groundbreaking at the site to kick off this next phase of the building's development.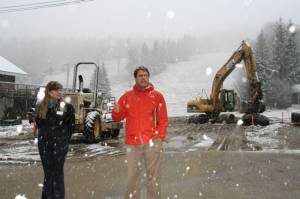 Dubbed the Peak Lodge, the building at Pico Mountain is the first of three phases of Vermont Adaptive's Permanent Homes Campaign. This building will be the first of its kind in Vermont.
Vermont Adaptive will own the first floor of the 6,000 square foot facility. Located between the existing Pico Ski Club building and the Pico Base Lodge, the facility will connect to both buildings via outdoor balconies and decks on the second floor. The building is specifically designed by N∙B∙F Architects of Rutland for participants in Vermont Adaptive's programs, providing easy accessibility for all, regardless of one's disability. An elevator will connect the first and second floors.
Utility and water lines are being rerouted to prepare the site for its foundation, and footings and frost walls should be ready to pour shortly. Framing will begin in April 2013 with a significant seasonal head start. Fundraising will continue in earnest throughout the winter and several fundraising events are taking shape.