Aspen, CO – Although Aspen has evolved over the years from mining town to ski town, the Hotel Jerome has been there throughout the decades to see it all. Auberge Resort's iconic Aspen staple is scheduled to reopen next week following a massive design transformation and historic restoration.
The hotel, built during the height of Aspen's silver boom in 1889 and now a National Historic Landmark, has a colorful history. During the early years, luxuries including electricity, indoor plumbing and hot water earned the hotel $4 per room per night. Legendary patrons over the years have included Hunter S. Thompson, who used the hotel as his de facto office, prompting actor Johnny Depp to hold the late writer's memorial service at the Hotel Jerome in 2005. The 123-year-old hotel is so beloved by the Aspen Community that it is known as the city's "crown jewel."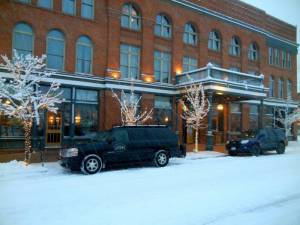 The architect of record for the restoration project, Sarah Broughton, of Rowland + Broughton, is a member of the Aspen Historical Commission and has spent more than 200 hours of archival research to ensure that the hotel retains its original structural integrity.
"The hotel has great bones," says Broughton. "We are respecting the historic structure and essence while updating it for the modern traveler."
Meanwhile, interior designer Todd-Avery Lenahan is reinterpreting the design aesthetic of the hotel's wild West roots in a richer way, working to balance authenticity with luxury and preservation. Lenahan is the design force behind the renovation of the hotel's Grand Ballroom, which has been architecturally preserved but significantly redesigned.  It is Aspen's only above ground ballroom with 16-foot ceilings, streaming natural light and sweeping views of the surrounding Elk Mountain Range.  The Grand Ballroom comfortably hosts as many as 500 with standing bar tables and 250 for a formal reception with sit-down dinner. The elegant 3,450-square foot  room no longer boosts opulent Victorian hues and adornments but has a neutral palette to better accommodate Aspen wedding receptions.
Highlights of the renovation set to debut when the hotel reopens on Dec. 14 also include a redesigned lobby or "living room" to warmly welcome travelers, a re-envisioned fine-dining restaurant, Prospect, and renovated guest rooms. New executive chef Rob Zack will oversee not only Prospect, but also the soon-to-be unveiled Living Room and J-Bar, a legendary Aspen watering hole.