Ramsau, Austria – When the announcer says, "They've got a really deep squad," you'd think he was talking about a basketball team, not ski jumping. With five Americans finishing in the top 12 in Friday's World Cup event in Ramsau, the U.S. Women's Ski Jumping Team has positioned itself firmly in first place in the Nations Cup heading into 2013.
Veterans Lindsey Van, 4th, and Jessica Jerome, 5th led the team — the best results for both so far this season. Sarah Hendrickson, who already has a World Cup win, was 7th.  Abby Hughes was 11th. Alissa Johnson was 12th, her best World Cup result ever. All are from Park City, Utah.  Friday's competition was won by Japan's Sara Takanashi, defending World Cup champion Hendrickson's primary competition for this year's title.
"It's pretty amazing to have these results as a team. We work really well together and feed off each other," Van said. "It was a hard comp and we have a lot of experience as a team to get through that."
Head U.S. World Cup Coach Paolo Bernardi said other coaches have stopped him to say how impressed they are with the team. "Having five athletes in the top 12 is a really, really big deal. … We are definitely the strongest team right now.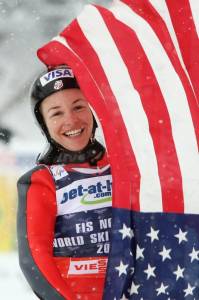 "Fourth and fifth for Lindsey and Jessica is perfect for today (Friday) and a great start. I know when they both make two normal, great jumps in one comp, they will be on the podium."
Van had put up three short jumps in a row in training (as short as 66 meters) and knew she had to  not over think it during the comp.
"I've really been off-balance in the in-run. So I tried to focus on the basics and make it as simple as possible," she said. "I literally told myself to just stand-up at the take off. My body knows what to do better than my mind.
"Of course I'd love to be on the podium, but I am really happy with my results and with my teammates."
Jerome came into Friday's comp determined and ready to "jump farther" than her disappointing performance in Sochi the week before. She was 2nd in qualification on Thursday and was 3rd after the first round on Friday.
"I figured this time I couldn't screw up as bad as I did last week," she quipped. "I had good training on the hill before Sochi and good training in Ramsau and so I know I can do well, it was just a matter of doing it. I'm really excited."
Jerome said the conditions were tough because there was a lot of tailwind – exactly what you don't want as a ski jumper. She says the American team has an advantage over others on a hill with tailwind. "It feels a lot like how we jump in Park City because of the higher elevation. We know how to handle those conditions better than other jumpers on the tour.
"It's so amazing and I'm so psyched for all the girls on our team. No other team has come close to doing that right now," Jerome said of Friday's results. "We have a good dynamic off-hill and we have a lot of fun. All that translates into good results on the hill."
Ramsau was the final World Cup (WC) competition for 2012. There are 12 more World Cup comps left when the tour starts back up in Schonach, Germany, on Jan. 5. Now the team gets to fly back home for a little rest during the Christmas holiday.
Asked what was the special sauce that's making his team consistently perform at the top, Bernardi joked that is was "relaxing and getting to stop at the girls' favorite fast food restaurant while on the road."
OFFICIAL RESULTS
FIS Ski Jumping World Cup
Ramsau, Austria – Dec. 14, 2012
Women's Normal Hill – HS98
(with wind system calculation)
1. Sara Takanashi, JPN, (86.5m, 91.5) 241.0
2. Coline Mattel, FRA, (86.5, 93) 238.6
3. Daniela Iraschko, AUT, (84, 94) 235.5