Mt. Crested Butte, CO – Crested Butte Mountain Resort (CBMR) has submitted its new 2012 Master Development Plan (MDP) to the U.S. Forest Service (USFS) for review and acceptance.
The new MDP incorporates previous approvals at the Colorado ski and snowboard resort's Main Mountain along with adjacent private land development projects, new lifts and terrain in the Teo Park and Teo Drainage expansion area, and potential backcountry-style recreation on Snodgrass Mountain, the site of a previous failed attempt to add lift-served terrain to the resort.
CBMR officials say that they've developed the resort's Master Development Plan to attract and retain destination visitors for longer durations and provide additional terrain variety. The MDP is a five- to ten-year plan that is designed to act as a guide for future developments at the resort.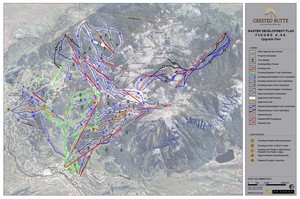 "The 2012 MDP provides CBMR's vision for the use of public lands and will assist the Forest Service to plan for anticipated future uses," says John Sale, director of planning and sustainability for CBMR. "The plan will also provide local governments, agencies and the public with information about near- and long-term plans for CBMR.  Acceptance of the MDP by the Forest Service will enhance opportunities for a sustainable tourist economy for CBMR and the entire Gunnison Valley throughout the next decade."
The CBMR Master Development Plan submitted to the Forest Service calls for upgrading and relocating the resort's existing North Face surface lift to a fixed-grip triple chairlift to increase its hourly capacity and allow for better accessibility for intermediate and advanced skiers and riders into the Teo Drainage and Park areas.
A new "Teo Park" lift would provide lift-served egress from the Teo 1 and Teo 2 Bowls as well as new terrain in the Teo Park area. Conceptually designed as a fixed-grip triple chairlift with an approximate 6.1-minute ride time, a carrying capacity of 1,200 people per hour  and a total vertical rise of approximately 511 feet, the entire alignment of the lift is in the current Special Use Permit (SUP) and will access a wide variety of terrain ranging from intermediate to expert from the top, including Spellbound and Third Bowl, and both Teo 1 and Teo 2 Bowls. This lift would also provide egress from the proposed Teo Drainage expansion area and terminate above the North Face lift upper terminal.
A "Teo Drainage" lift would access brand new terrain outside CBMR's existing permit area. It's conceptually designed as a fixed-grip chairlift with a slope length of almost 6,000 feet, a carrying capacity of 1,200 people per hour  and a total vertical rise of approximately 1,628 feet. This lift may utilize a conveyor system to increase rope speed and shorten the length of ride. The Teo Drainage lift would access new intermediate and advanced terrain that has a distinctive backcountry feel currently sought by customer demand. Several trails are conceptually planned with the longest being over 1.22 miles in length.
Under the plan, CBMR's Gold Link lift, first approved in 2008, would be relocated to a new lower area and upgraded to a detachable quad. This would accommodate increased skier traffic when necessary from the Prospect Junction area and access to and from the North Village Interconnect lift, when constructed.
The Red Lady Lift is approved to be upgraded to a 2,400 person per hour capacity via additional chairs on the cable, and resort officials want to add an undetermined amount of gondola cars that would allow for pedestrian access to the approved Red Lady Restaurant, once built. The Painter Boy Lift was already approved in 2008 to be upgraded to a detachable quad to provide easier loading for beginners and a faster ride for all guests.
The lower terminal of the High Lift, a surface lift, is already approved to be relocated 400 feet higher on the mountain so that it does not impede skier circulation between Silver Queen and Paradise Bowl via North Star. The Twister Lift is already approved to be realigned to allow for access into Paradise Bowl via the Silver Queen Road, and the new MDP calls for an upgrade to a detachable quad to increase use of the underutilized Twister Pod.
Although the bottom terminal will remain in its current location, the 1998 Decision Notice approved the Teocalli Lift — a fixed-grip double — to be realigned/extended to the west so that its upper terminal is located adjacent to the top terminal of the Red Lady Express and the future Red Lady Lodge. The MDP seeks approval to upgrade the lift to a fixed-grip or detachable quad.
New, upgraded and realigned lifts deliver a need for new and improved terrain. CBMR's new MDP calls for adding a total of 14 new trails and four previously approved trails for 133 new acres of developed terrain. At build-out, CBMR would have 101 trails at 771 acres, which is a 21% increase in developed ski acreage.
The upgrading plan also adds over 300 acres of undeveloped terrain in the Teo 2 Bowl, Teo Park and Teo Drainage ranging from intermediate to expert ability levels. CBMR currently has 542 acres in the Extreme Limits area and 367 acres of gladed skiing, and with new proposed lift access CBMR would see a 33% increase in undeveloped terrain. CBMR is planning a 440-acre expansion of the current Special Use Permit (SUP) boundary to accommodate development into the Teo Drainage.
Under the MDP, Snodgrass Mountain would be studied and tested for potential low-impact backcountry or Powder Cat skiing, offering an additional experience for resort guests. CBMR has abandoned earlier plans to try to install lift service on Snodgrass Mountain.
In addition to the proposed Red Lady restaurant, the MDP highlights a 500 square-foot addition to Uley's Cabin for back-of-house storage and kitchen facilities; continued renovation and energy efficiency upgrades to the existing Paradise Warming House; a potential new restaurant on private land at the top of the Gold Link lift; upgrades or renovations to the Butte 66 restaurant; a new restaurant or cafeteria at the Base Area; and a new Ski Patrol and Warming House facility at the top of the North Face/Teo Park lift.
Fifty acres of new snowmaking was approved for CBMR in 2008, contingent upon the resort building a three-million gallon water storage pond. CBMR plans to use a 31.1-acre credit of previously accounted snowmaking acres to improve existing and planned trails. At build-out, snowmaking coverage would expand from 297 acres to 378 acres.
The MDP also calls for upgrades to CBMR's summer activities. An additional 20 miles of biking trails are planned for the Main Mountain and will utilize the operating Red Lady and Silver Queen lifts. Five miles of new hiking trails are also planned on the Main Mountain, and another 12 miles of biking/hiking/riding trails are planned for Snodgrass Mountain.
Prior to submitting its 2012 MDP, Crested Butte hosted an open house in August to brief interested parties and solicit written comments. Once the Forest Service completes its review of the MDP, it will open the National Environmental Policy Act (NEPA) review, part of which is completion of an Environmental Impact Statement (EIS). The Forest Service then issues its Record of Decision. All told, the process can be expected to take a minimum of two years.