Lake Placid, NY – The 31st Lake Placid Loppet cross-country ski races will be held this Saturday at the Olympic Sports Complex Cross Country Ski Center, in Lake Placid, N.Y.
The Lake Placid Loppet has established itself as one of the best events of its kind in the country.  Over the past 30 years, thousands of skiers have enjoyed skiing and racing on the challenging Mt. Van Hoevenberg trails at the Olympic Sports Complex course.   As a member of the American Ski Marathon Series, this event attracts hundreds of skiers from across the United States and Canada. It consists of a 50 kilometer Loppet (30.1 miles) and a 25-kilometer Kort Loppet (about 15 miles).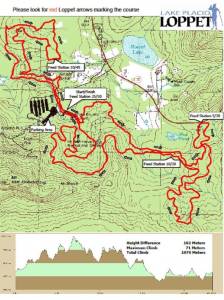 Traditionally, the race has been held in early February; however, organizers decided to move the event up by one week, taking into consideration another race in Craftsbury, Vt. and the desire of many skiers wanting to participate in as many Loppet races as possible during the winter.
The cost to participate in the Loppet or Kort Loppet, which includes an awards banquet, is $80.
There will be classic technique and free technique race starts for both the 25K and 50K races. Bib pickup will run from 3-8 p.m. this afternoon in the cross country lodge,and on race day, bib pick-up runs from 7-8:30 a.m. There is no race day registration.
The 50K classic technique race begins at 9 a.m. followed by the 25K classic race at 9:15 a.m. The 50K free technique race starts at 10 a.m. and the 25K free technique race will follow at 10:15 a.m.  Each finisher will receive a commemorative pin, gold for the Loppet and silver for the Kort Loppet.
This year's event includes a free .5K (less than ½ mile) kids race for ages 12 and under, set to get underway at 6:30 p.m. this evening under the lights in the Cross Country Stadium with fun prizes for finishers. All participants are to register on site.
To register for the Lake Placid Loppet, or for more information, log on to www.active.com/winter-sports/lake-placid-ny/lake-placid-loppet-2013.