Laax, Switzerland – Current World Snowboard Tour Halfpipe Champions Iouri Podladtchikov and Kelly Clark were upset by a pair of youngsters, 16-year-old Arielle Gold, of Steamboat Springs, Colo., and 14-year-old Japanese wunderkind Ayumu Hirano in the Burton European Open halfpipe contest in Laax on Saturday.
Under challenging weather conditions the women's final started Saturday's competition, and American riders filled five of the six finalist slots. Gold stole the show, throwing down a Method Air, to Frontside 540 with Stalefish Grab, into a Backside 540 Mute Grab – Frontside 720 Indy Grab, rounding it off with a Cab 900 Mute Grab, leaving leading lady Kelly Clark, of W. Dover, Vt.,  in second place after falling after her first trick, a Frontside 900. Ellery Hollingsworth, of Stratton Mountain, Vt., landed her first 6Star TTR World Snowboard Tour podium spot, very satisfied with third place.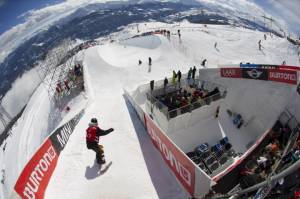 "I am so stoked, it is my first 6Star title, I didn't expect it," said Gold. "When we started today, the conditions were pretty hard, but I am super satisfied. I can't believe it!"
Hirano's winning run consisted of a stylish and huge Method Air, into a Frontside 1080 Tail Grab – a Cab 1080 Nose Grab and Double Cork 1080 Double Grab finishing of with a Haakon Flip 720. Smooth style was certainly a winning factor.
"I was very happy with my run today. I had good results at every World Snowboard Tour event this season, and am trying to keep this level – maybe winning the Halfpipe Tour Championship, hopefully,"  said a slightly shy Hirano.
With his third place result, Seabrook, N.H.'s Scotty Lago moved in to first place on the World Snowboard Tour Halfpipe ranking, closely followed by Luke Mitrani and Greg Bretz, both of Mammoth Lakes, Calif.
"It was probably the best I could do in the Halfpipe today, with it being rather slow…thank God I put down one of my better runs," said Lago. "It will come in handy, cause I'm in the hunt for those World Snowboard Tour points. Happy to be leading!"
The Men's Halfpipe Championship will be hard to predict this season, as it will all come down to Halfpipe podium spots on the two upcoming 6Star Men's competitions: the Burton U.S. Open in Vail, Colo., and the Tour finale in Oslo, Norway — The Arctic Challenge.
The Women's World Snowboard Tour Halfpipe Champion will be crowned at the Burton U.S. Open in two weeks in Vail, where it will be a tight battle between Clark, the current leader, and Gold, who sits in second. With her podium spot, Hollingsworth climbed into the top 10 of the Halfpipe rankings. This season's favorite Elena Hight, of South Lake Tahoe, Calif., who missed the podium in Laax, will also throw everything in the mix to become the next World Tour Champion.