Rossland (BC), Canada – It's not every season that a ski area tacks on 1,000 additional acres of new terrain to its trail map, but this winter, British Columbia's Red Mountain Resort is doing just that.
Some would say that Red's Grey Mountain project is the biggest news around Rossland since gold was discovered in 1890. The two-year development of Grey Mountain marks the single largest expansion of an existing resort in North America in four decades and places Red Mountain firmly in the scale of resorts like Breckenridge, Jackson Hole and Snowbird in terms of acreage. Grey adds nearly 1,000 acres to Red's in-bounds terrain, bringing the resort's total skiable acres to 2,682, among the 20 largest ski resorts in North America and the eighth largest in Canada.
Grey Mountain was accessible by snowcat for the 2012-13 winter, and the project's second phase — a new Poma quad chairlift — is currently being constructed and will be ready this winter to complete the expansion. Grey's shape allows 360 degrees of  skiing off the top, much like Red's existing Granite Mountain, which will be complemented by Grey's largely intermediate terrain. With 2,919 feet of vertical available from the top of Granite and 2,048 off the new peak on Grey, the skiing possibilities are substantial.
"This new Grey terrain alone is about the same size as Mount Baker. It has to be skied to be believed," says an enthusiastic Howard Katkov, CEO of Red Mountain Resort. "There's the same fall-line runs that Red is famous for, some new tree runs that already seem like favorites, and plenty of mellow glades on the southern slopes. We feel the new lift will enhance the experience for all our customers.  Lift lines have never been a deterrent around here, and the new lift on Grey will spread guests out even more. Local powder fiends have nothing to worry about and new visitors have a lot to look forward to."
Funding for the new chairlift came in part from a loan from the Southern Interior Development Initiatives Trust (SIDIT), which are specifically targeted toward investments in self-sustaining projects that support ten mandated themes as defined in legislation, including job creation, retention and enhancement, increased revenues, sustainability, leverage and economic diversification to the Southern Interior area of British Columbia.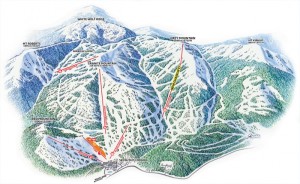 "Having the Southern Interior Development Initiative Trust involved in the Red Mountain Resort Development is not only good for Rossland, it also benefits the entire Boundary Region as a whole", says Grace McGregor, SIDIT Chairperson. "Southern Interior Development Initiative Trust supports investment in sustainable economic development initiatives throughout the Southern Interior and is very pleased to support the Grey Mountain expansion at Red Mountain Resort."
"History shows that resort terrain expansions entice new, passionate visitors," says Fran Richards, Vice President of Marketing at Red. "We expect a significant increase in lift ticket sales as a direct result of this new, lift-accessed terrain — and that obviously spells good news for the local and regional economy. Red is already here and already a huge draw for the region. We want to grow, but only in a sustainable, organic way that respects the experience — a ski experience that we all love and that is harder to find these days."
Red Mountain's $10-per-run snowcat skiing will move from Grey Mountain to nearby Whitewolf Ridge for 2013-14.  And a new mountain just wouldn't be proper without its own restaurant, so skiers on Grey can now enjoy beer and brats, and even gourmet veggie dogs at Wiener Take All, located next to the new lift.