Taos Ski Valley, NM – Taos Ski Valley on Tuesday announced that beginning this winter, visitors will be able to access the mountain's celebrated Kachina Peak via a chairlift for the first time ever.
Following the sale of the resort and a resultant infusion of cash, Taos' long-proposed Kachina Peak Lift will be installed this summer and will summit at 12,450 feet, making it one of the highest chairlifts in North America. The lift will increase the mountain's advanced and expert lift-service terrain by 50 percent.
Up until now, skiers and snowboarders could access terrain on Kachina Peak only by hiking. Taos Ski Valley founder Ernie Blake originally envisioned the lift nearly 50 years ago. The U.S. Forest Service approved plans to add lift service to Kachina Peak in 2012. as part of the New Mexico ski resort's Master Development Plan.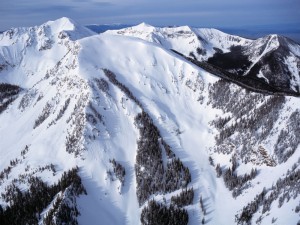 "In many ways this lift is a tribute to Ernie and his legacy," said Mickey Blake, son of Ernie and current President of Taos Ski Valley.  Blake recently announced the sale of Taos Ski Valley to conservationist Louis Bacon.
The Kachina Peak Lift will offer access to a variety of terrain, including advanced trails, tree chutes and open bowls. Additionally, skiers and riders will be able to hike from the lift drop-off to the summit of Kachina Peak to enjoy some of the most spectacular scenery in the Rocky Mountains.
Taos Ski Valley has also committed to preserving a majority of the hiking terrain that is currently available.
The triple-seated fixed grip lift will rise 1,100 vertical feet in five minutes to a top elevation of 12,450 feet. The additional elevation will give Taos a lift-served vertical drop of more than 3,000 feet.
"It was Ernie Blake's vision to establish a ski area that was as spectacular as the resorts he knew in Europe with above-treeline, wide open terrain and fantastic views," said Jean Mayer, owner and operator of the Hotel St. Bernard and Technical Director of the Ernie Blake Ski School. "The new Kachina Peak Lift will allow snow sports enthusiasts who come from low altitude to enjoy the total beauty of Taos Ski Valley, while also preserving most of the hiking terrain for those of us who enjoy the climb. This lift will be an important development on Ernie's goal of building a challenging mountain that can be shared with all."
By installing lift service to Kachina Peak, Taos Ski Valley will also be able to increase ski patrol in the area and perform more extensive snow control efforts more quickly, which will likely result in the terrain being open more often. Skytrac, an American company based in Salt Lake City, will manufacture the lift.
"The Kachina Peak Lift will bring us to the forefront of skiing experiences in North America, providing new access to unparalleled terrain that is uniquely Taos," said Gordon Briner, Taos Ski Valley Chief Operating Officer.